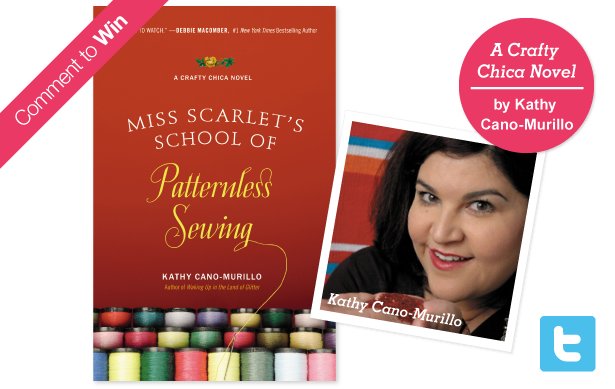 ShareThis
Comment on the blog or follow us on Twitter to win "Miss Scarlet's School of Patternless Sewing," a novel by Kathy Cano-Murillo of Crafty Chica!
Book Description:
Scarlet Santana is never happier than when creating fabulous fashions for women of all shapes and sizes. Now, after years of hard work, she finally has the chance to live her dream and study under the hottest designer in New York. To raise money for her move, Scarlet opens an after-hours sewing school in a local record shop, teaching a type-A working mom whose rigid parenting style is causing her family to unravel and an enigmatic seamstress with a mysterious past.
But as stitches give way to secrets and classmates become friends, the women realize an important truth: There is no single pattern for a good life. Happiness is always a custom fit. For more information, check out the book trailer.
Until, Tuesday, May 10th at 12 p.m. EST you can win a copy of this fantastic novel. Two winners will be selected in total. To enter, answer the following question: If you were writing a sewing story, what genre would it be? Would it be a mystery? romance? a comedy?
If submitting an answer via Twitter, be sure to include the @BurdaStyle tag and the hashtag #comment2win.
Can't wait to read this book? Click here for purchasing information.
Good Luck!
- David @ BurdaStyle
P.S. – Congratulations to lrm and SewGal39 on Twitter, who won patterns from Amy Butler in our previous "Comment to Win!"