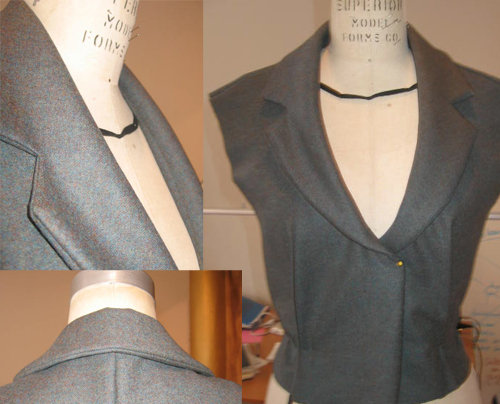 ShareThis
Collars are an integral part of fashion. Peter pan collars- collars that lie flat against the garment- and stand up collars- like mandarin collars- are always coming in and out of style, and can drastically change the look of a blouse or jacket. Even tailored-wear has to keep up with trends in lapel size and collar stand height. A bigger lapel can make a classic-fit jacket immediately trendy. Adding a shawl, or roll collar, to a blouse or jacket quickly softens the silhouette and accentuates the feminine neckline and collarbone.
There are several terms that are important to know when working with collars. Collar itself means a separate piece of fabric attached in a special and careful way to the neckline of a top. The collar stand refers to the height and part of the collar that is above the neckline it is attached to. The roll line refers to the point on the collar at which it turns back onto itself, and the height of this indicates the height of the collar stand, and determines the fall of the collar. The outside edge of the collar is the color stand line and can be almost any shape.
There are also three main categories of collars. Separate set collars are entirely separate pieces that are sewn into the neckline, usually sandwiched between the body and the facing. There are also collars that are part of the bodice, like the shawl or revere collars. Third are the two-piece collars, which have separate collar and lapels.
As you soak in all this information, you might like to check out this weeks How To on sewing the collar found in the Eva Jacket. This is separate set collar, made to look like a 2-piece notched lapel, and quite easy to make. More collar lessons to come! And see Mirela's How To on hiding collar seam allowance, as well as her tutorial on Sewing a shirt with a collar stand.