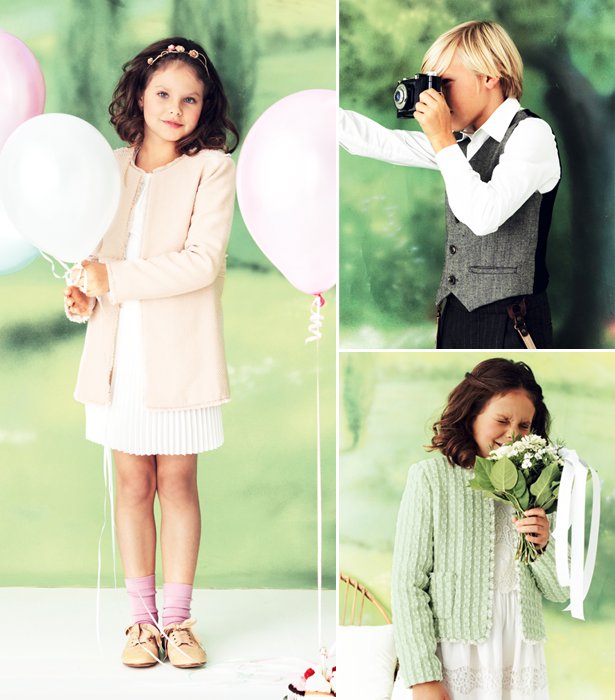 ShareThis
Springtime is almost around the corner, and your little ones are going to need the finest of clothes to wear to all the special occasions. This new children's pattern collection from burda style magazine's February issue is filled with wonderful designs for your children to wear and feel important. Beautiful white lace and tulle are paired with cute bouclé jackets for the girls and the boys will feel dandy in handsome vests and trousers.
This is a glamorous Tiered Maxi-Dress perfect for any special occasion. She will be talked about for ages, and feel like a princess. The floor-length tiered skirt is adorned with crochet lace and the bodice, with cute little pleats.
Your little one can look pretty while staying warm in this light, lined natté Long Jacket. Fringed edges and a stitched-on waistband are its sophisticated features. It looks just darling paired with this draft-it-yourself Pleated Circle Skirt. This skirt is delicate, light, and pleated. It is straight-forward and comfortable with its waistband made of elastic rib-knit fabric.
Taffeta and tulle in abundance! This long Dress will make any little girl feel special. This close-fitting lace bodice is a lovely counterpart to the full skirt. It is lined in cotton and closed at the back with several small buttons. A wide batiste belt with small pleats accentuates the waist.
This little man in this dandy Waistcoat will get plenty of admiring glances! This fitted waiter-style waistcoat features pointed hem edges and cute slashed pockets. To complete the look pair with these loose-fitting Trousers that boast waist pleats and angled hip yoke pockets. The suspenders go perfectly with the outfit. You can make them yourself out of twill tape and leather remnants.
This airy Dress with embroidered border is simply enchanting. It is lined with batiste and has a loop fastener at the back – as uncomplicated as it is pretty.
Just look at this sweet short Chanel-Style Jacket! It is closed edge to edge and without a fastening. Its eye-catching details include two patch pockets and an all around fringed hem.
Happy Sewing!