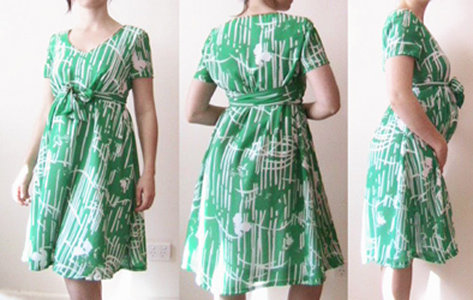 ShareThis
This week I made my second version of Celestina. I felt I could improve on the alterations I made last week which consisted of shortened cuffed sleeves and increasing the waistline to fit my pregnant belly. The waistline increase did not give as much extra room as I had hoped so this week I decided to omit the side panels and back waist piece of the dress altogether and widen from the armpits down to the hem. And since I was widening the dress there was no need for a zip as I could just slip it on over my head. I lengthened the ties and made them the same length (why are they different in the original pattern?) so I can wrap them around and i moved them up to just under the armpits so they would tie above my bump. I feel the fabric I used this time is more suited to this dress; I used some thrifted chiffon type fabric and it's wonderfully floaty. Since the fabric is sheer to protect my modesty I made an under dress from some cotton eyelet fabric I had in my stash which I sewed in like a lining. This version was so easy and quick to make, it took me all of one afternoon. I think the only thing I would change is to enlarge the armholes slightly, I'd feel more comfortable. I'm happy with the sleeve length and did toy with the idea of adding elastic but I had none in my stash, so that was that!
I'm really pleased with how this version has turned out, in total it has cost me approximately $8 to make and I can see many of them being made for the summer ahead. Oh just imagine, me with my increasingly pregnant belly floating around in my summery dresses looking fabulous, in reality I'll most probably be complaining about the heat and be incredibly tired but at least I'll still look good while I do so.
As I said last week my next challenge is to alter the Steffi jacket, I've had a number of suggestions for how to do this and so far my favourites have been to crop the jacket into a bolero or cut away the front of the jacket in a curve from the neckline to the bottom side seams to allow my bump to show. Yes, I know I said I was going to make it for an unsuspecting friend but hey! You wonderful people have so many fabulous ideas that I got selfish and decided it was going to be mine after all. Not many of my clothes fit me now so I really should be making for myself…….back me up please! I'm also going to shorten the sleeves, maybe capped or to the elbow.
Let me know which suggestion you prefer or if you have another altogether. I'd also like fabric suggestions, remember, I'm going to be wearing this in the spring and summer so it needs to be something light.