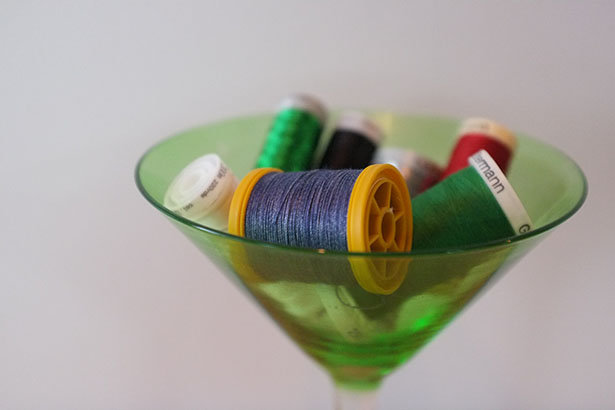 ShareThis
No plans for the upcoming weekend? Skip the pricey restaurants and crowded clubs, and host the soiree of the season… A sewing party!
What is a sewing party, you ask? It's the perfect way to have fun with friends while improving your sewing skills!
No matter what your skill level is, every sewer can learn something from the next. That's what makes sewing with friends so exciting! As the host of the party, the theme of the night is in your hands… and the options are endless. We've come up with a few fun ideas to get you started!
Mending Madness
Have a pile of garments to mend, tears to fix, or alterations to do that just keeps growing and growing? Chances are you're not alone. Have your guests bring along whatever mini sewing projects they've been avoiding, while you provide a colorful array of thread, needles, snips and other useful notions. Set up your sewing machine and iron as well. Swap projects with a friend, or stick with your own. You'll be forever known as the host who took the "bore" out of this chore!
Strength In Numbers
Pick a project for the group that everyone will enjoy. You could each sew matching pajama pants, tote bags… you name it! Pajama pants are a great choice: they are easy to sew and often come in one-size-fits-most pattern. You can have guests bring their own fabric for the project, or you can pre-cut out all of the pattern pieces ahead of time so you can get straight to sewing. Set up a sort of "sewing circuit" where each friend can work on the project step-by-step. This party-plan doubles as a great birthday party idea for any young fashionista. A sewing themed slumber party where guests get to sleep in their very own custom made PJ's is sure to be a hit!
Movie Night
Why watch another rom-com when there are so many great sewing videos and tutorials right here! Pop some popcorn, sit back and learn all kinds of new sewing and drafting techniques! Have your sewing machine set up nearby with pieces of scrap fabric so everyone can try putting their newfound knowledge to use!
Are you (and your future guests) new to sewing? Even better! You can all take an introductory sewing course together, right at home. The LoveSewing DVD will teach you everything you need to know about sewing, from setting up and threading your machine to useful tools, seam finishes and more. Part 1 of the DVD covers the basics, while Part 2 will guide you through the construction of three projects from start to finish, demonstrating all kinds of useful techniques along the way. So, set up your TV as well as your sewing machine! You and your guests can work on the projects as a group, taking turns to get a feel for sewing. Watching each other and working together to fix any mishaps or mistakes along the way is a great way to prepare for sewing on your own.
Hopefully you have a few creative and crafty friends to invite!
What other sewing-related activities will you be involved in this spring? Fill us in!