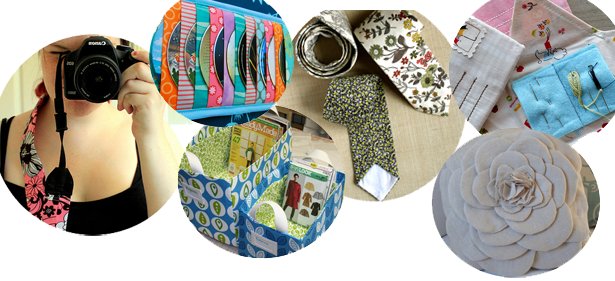 ShareThis
How many buckets, plastic bins and sacks of fabric scraps do you have lying around? Leftovers from garment projects, dresses gone wrong or pieces that you were sure you'd use (eventually) but have instead ended up relegated to some long lost corner of your sewing nook. Well, get ready to break out those banished scraps because in honor of Earth Day I've pulled together some really fun ideas and tutorials from around the crafty web to show you just how many ways you can put those leftover pieces to good use!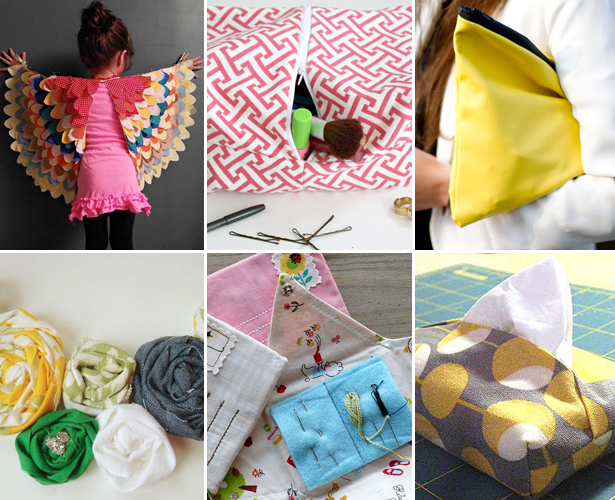 -Whether it's Halloween, a birthday party or a random Saturday afternoon, children love to play dress up. These fun and funky DIY bird wings from Handmade Charlotte are not only a great way to use leftover fabric but also make a fun addition to your kiddie's dress up box. Grownups, don't be jealous – you can rock this too! For proof check out BurdaStyle's own nattyjane who made these amazing fabric wings for her Halloween costume!
-Toiletry bags can be expensive and unfortunately the probability of said bag being ruined by the spilled contents of a rogue lipstick tube or powder compact is quite high. Make your own with Momtastic's tutorial for a chic DIY cosmetic bag that's the perfect size for all your necessities – and makes the perfect Mother's Day gift!
-Loads of fashion lovers and industry insiders have been seen carrying uber-chic leather bright leather pouches from Celine. Rather than shelling out the thousands of dollars that bag no doubt costs (I love you Pheobe, but I just don't have the cash!) try this great leather clutch tutorial courtesy of Andy at Style Scrapbook. This is beautiful in solid leather, but would also be super fun in a bright pattern or funky textured fabric!
-I'm a sucker for oversized neckwear and I love the bib necklace trend. Use leftover fabric scraps to create rosettes which you can turn into a super adorable necklace using this tutorial from Mary Janes & Galoshes.
-These Little Needle Books from M-a-k-e are the perfect way to stash your sewing needles and also make a great gift for the crafter who has everything.
-Never have a tissue when you need one? These tissue cases made by Holland Cox are a chic way to stash your Kleenex and make sure you always have a few on hand.
-What every good fabric stash needs is a great storage bin. Make use of those extra pieces and give them a good home by trying out this storage bin tutorial from J. Caroline Creative.
-Liven up a boring couch pillow by turning it into a chic home interiors piece (and a surefire conversation starter) with this easy flower pillow tutorial from burlap & blue.
-With the advent of mp3 players and usb drives, hardly any of us tote around CDs anymore. But for those of us that do, this car CD holder tutorial from Puking Pastilles is a great way to keep them organized during road trips and long work commutes.
-I've been searching for the perfect wallet for something like three years now. I find ones that are almost there, but something is still amiss whether it's functionality, aesthetics or ergonomics. On multiple occasions I've considered making my own and this fabric wallet tutorial from That Darn Cat is what I think I'll start with.
-Judging by the gorgeous pictures you guys post of your equally gorgeous creations, I think it's safe to say that more than a few BurdaStyle members are talented photogs as well. Personalize your camera with this super simple camera strap tutorial courtesy of the folks at Craft Blog.
-How much more fun would your workday be if you had an office chair that matched your creative personality? While it probably won't work for all chairs, this office chair upholstery tutorial from Remodelaholic is an easy guide to try it yourself.
And while this has nothing to do with fabric scraps, I could not possibly pass up sharing this tutorial with you. One of the best DIY's I've come across in a long time! Courtesy of Natalie's Creations.
Have some tee shirts lying around? Why not make yourself a Prada dress – love it!
How are you celebrating Earth Day this year? Have any other great uses for fabric scraps or DIY ideas?