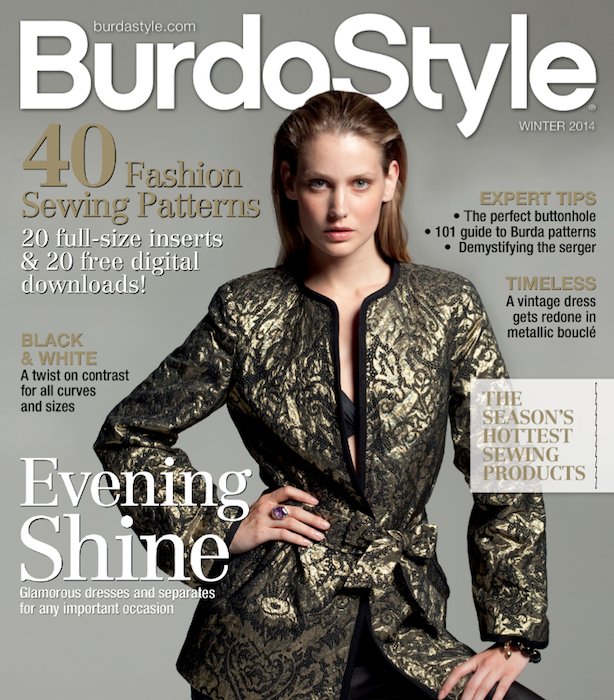 ShareThis
The very first issue of BurdaStyle magazine's US edition is now on newsstands!
We are so happy to announce that the premier issue of BurdaStyle US (Winter 2014) has finally arrived! It's been months and months in the making, and we've been eagerly awaiting its release. And that day is finally here!
BurdaStyle magazine is available in 90 countries and is published in 17 languages. And we now have our very own US edition! The magazine is 112 beautiful pages including 40 BurdaStyle pattens (20 as full-size inserts), more in-depth instructions for each of the 40 patterns, the gorgeous fashion spreads BurdaStyle readers already know and love, plus it's full of great sewing tips, techniques, and information, DIY pages to take runway trends home, a fabulous contest, and BurdaStyle member tips.
If you're interested in subscribing to the BurdaStyle US edition, we've got details below. We ship around the globe, so you don't have to have a US address to get this magazine in-hand. If you live in Canada or the US and you already subscribe to BurdaStyle, you're receiving the English translated copy of the original German magazine. So if you want the US edition, you'll have to start a new subscription as below.
You'll find the Winter 2014 issue of BurdaStyle US at major bookstores (Barnes & Noble, Books A Million), major craft stores (Michael's, Jo-Ann's), plus independent book and craft stores.
If you're a retailer and you want to carry copies of BurdaStyle US, call 866-949-1646 or email sales@interweave.com.
I look forward to hearing your feedback on the magazine! Enjoy! And happy sewing!
BurdaStyle US magazine subscription information:
Get 4 issues for only $24.99, 58% off the cover price!
Send a check in US funds payable to BurdaStyle to:
BurdaStyle
PO Box 5009
Iola, WI
54945-9909
Include your full name, mailing address, city, state/province, zip/postal code, and email address. If you live in Canada, add $9 postage. For all other countries, add $20 postage.
UPDATE (Oct 25): The digital version of the premier issue of BurdaStyle magazine is now available!