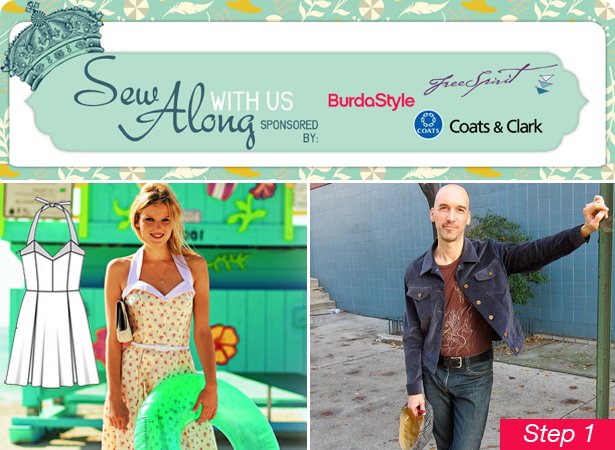 ShareThis
For the month of September we're hosting a Sew Along with our good friends at Coats & Clark, FreeSpirit Fabrics and Tula Pink. Each week we'll be posting steps for our Halter Dress Pattern courtesy of Peter Lappin! Click through for Peter's instructions for getting started on this sassy project and stay tuned for more steps and info throughout September!
Peter Lappin's Step 1:
Hello, sew-alongers (and others) and welcome to my first sew-along post for the Burda Halter Dress #116. Whether you're sewing this dress pattern or another of your choice, I think you'll find everything I share today to be relevant to your project.
If you've ever glanced through my BurdaStyle studio, you know this isn't the first dress I've ever made, but it is my first halter dress, so we may be making some discoveries together.
I'm very excited to be sewing this dress for my friend Leah, a real New York actress! We'll be seeing much more of Leah in the weeks ahead.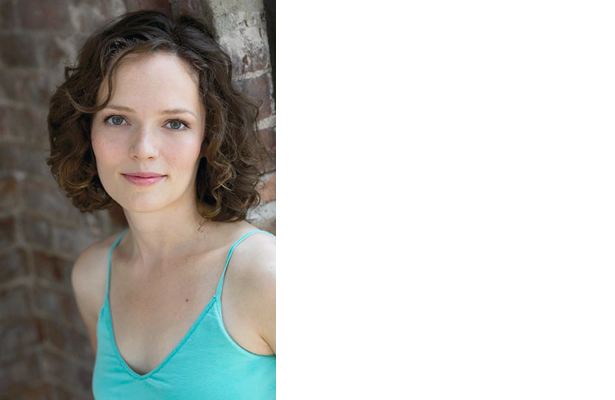 I'm thrilled to be leading a sew-along here on BurdaStyle, and will do my best to be clear. If you have any questions along the way, please feel free to ask and I'll try to answer.
With no further delay, let's get started.
Fabric
The first thing we want to do when we're starting any sewing project is to make sure we select the proper fabric. This project calls for batiste or other lightweight dress fabrics, with piqué as the contrasting fabric. Since Leah is likely going to want to wear this dress into the early fall, I decided to choose a somewhat heavier cotton, which I selected from the "Tea Cakes" line by Verna Mosquera, available through Westminster Fabrics.
Since the dress features a full skirt with an underlay, I have decided to use two different, complementary prints: "Enchanted Rose" (in Cornflower), and "Floral Paisley" (in Vanilla). The dress will be primarily done in the cornflower fabric, with a peek of paisley when the skirt underlay shows. The trim will be done in the same cornflower blue.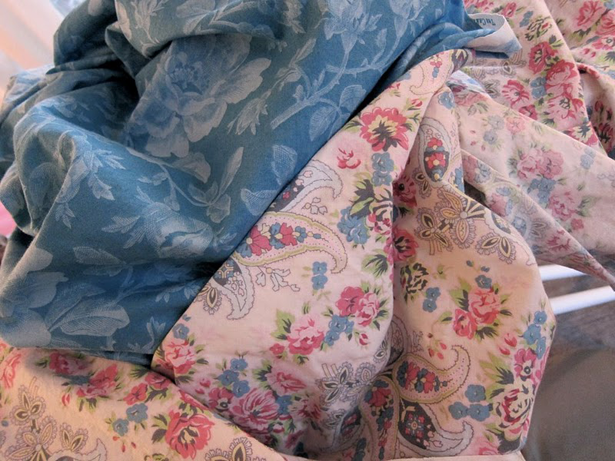 This may seem obvious, but pay close attention to the yardage needed. I misjudged and had to order more, as my bolt was 44" and the necessary yardage was based on a 55" bolt. Remember, too, that if your fabric's design is directional (can only be cut in one direction, like flowers that need to be petals-up and stem-down) or the design elements repeat infrequently, you may need more fabric.
Fabric Prep
Nearly all fabric needs to be pretreated, especially cotton, which has a tendency to shrink and sometimes has a coating on it called sizing. The first thing I did when I received my fabric was to launder and dry it completely. I then ironed it flat.
Now the fabric is ready to be cut — but before we do that, we must prepare the pattern.
Preparing the Pattern
The beauty of BurdaStyle patterns is that they can be downloaded and printed at home. It's not difficult to prepare a pattern, but it does take some time. Make sure you have a large, uncluttered space in which to work. I generally trim off two sides of each four-sided sheet, line the pattern edge up with the previous sheet, and tape them together (within the body of the pattern piece itself, so the tape doesn't get cut away when I cut out my pattern pieces). Needless to say, I don't use my fabric scissors to cut my paper pattern and neither should you!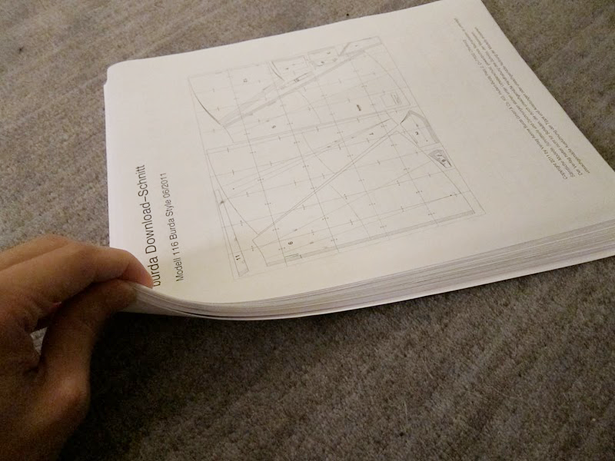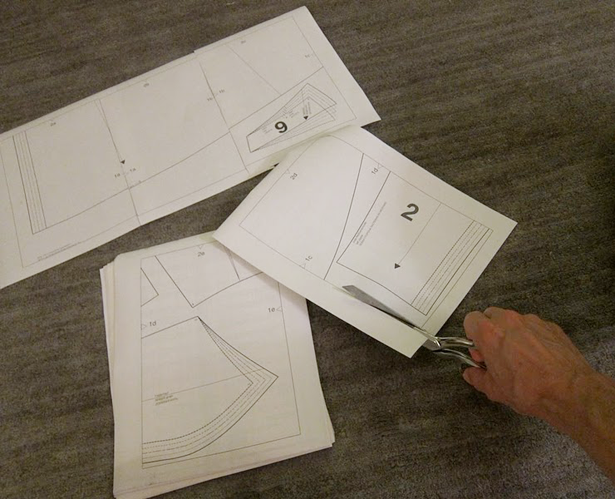 Little by little, the pattern comes together…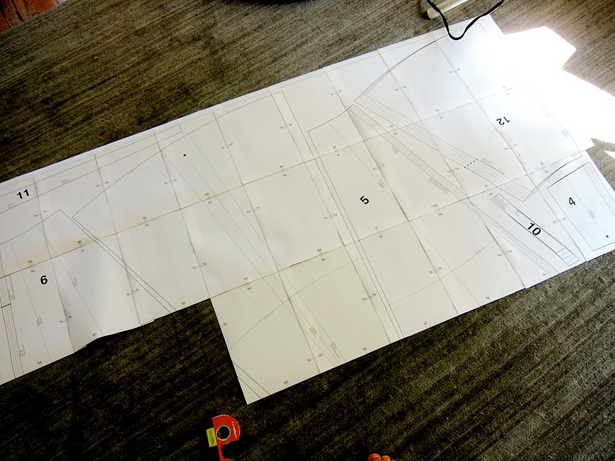 Now I'm ready to cut out my pattern pieces. I follow the printed instructions and make sure I clearly identify each pattern piece and the number of times each piece will be used.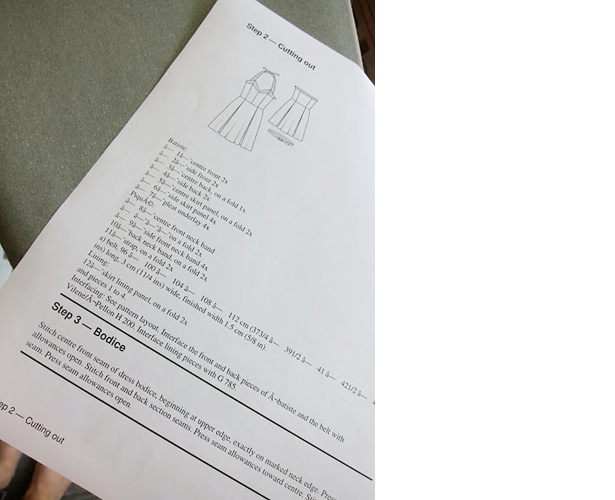 Although I have Leah's measurements, I'm not exactly sure which size I'll be cutting. I cut the pattern pieces at their largest, and trace the size I think I am most likely to need. This takes a little more time, but it's worth it.
I label all my pattern pieces carefully.
Using yellow tracing paper, I trace the four pattern pieces for the bodice, which will require a precise fit. I trace Burda size 36, and leave a wide 1" seam allowance to allow for adjustments,. Remember that the original pattern pieces DO NOT include seam allowances. YOU must add them.
I label all my pattern pieces with its number, the size cut, the width of the seam allowance, and the number of times each pattern piece needs to be cut.
Making a Muslin
Making a muslin isn't always necessary, but since I've never sewn for Leah before, and the bodice needs to fit Leah snugly, I decide it's worth the extra time. Since I'm not muslining the entire dress, it's less time-consuming than you may think, and it also familiarizes me with the pattern.
I use part of an old cotton sheet and I mark my seam allowances on it. Voila!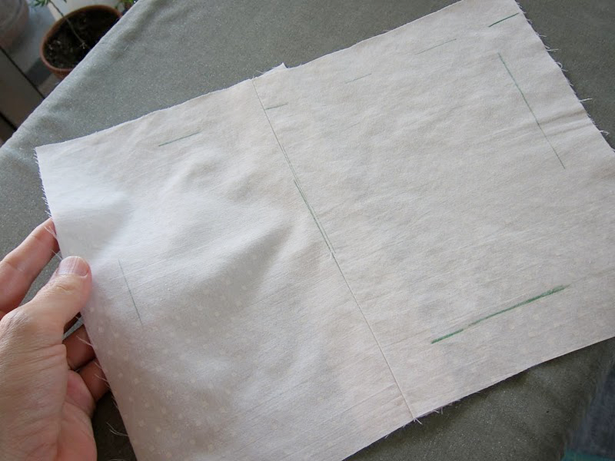 It's now ready for Leah to try on.
So, did it fit?
The bodice fit Leah well in front, but it was tight at the sides and back, leaving me no seam allowance where the zipper will be inserted on the left side. I'll have to add approximately 1.5" to the width of the bodice, which I'll distribute evenly by narrowing the side and back seam allowances. The bodice also needs to be lengthened by approximately half an inch. You can make these adjustments to your muslin and use your muslin as your pattern moving forward, or record the changes on your traced paper pattern pieces. Use the method that makes most sense to you.
Readers, that's all for this first installment! Next time we'll be cutting our fashion fabric and then begin to assemble the dress.
Have you gotten started yet?
How's it going so far?
~Peter