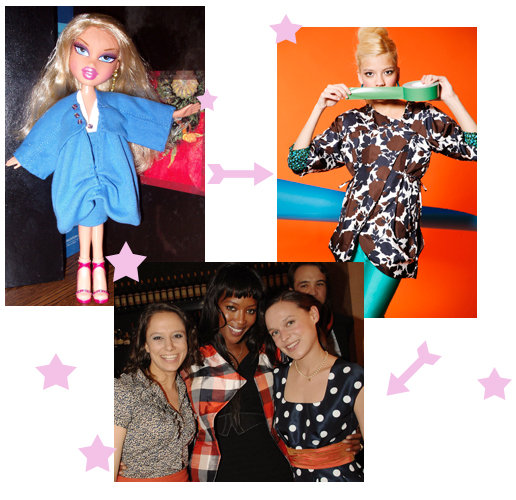 ShareThis
In the wake of globalization, socialite's favorite pastime is the so-called "Kevin-Bacon"-game: establish your connection to just about anyone in the world via six degrees of friendship: Shelly knows Kelly, Kelly knows Tricia, Tricia knows Molly, Molly knows god knows whom who is a cousin thrice removed to Michael Jackson.
So we tried and tested the grounds and – voila! – We are now ready to present the visible link (plus pattern) to connect any BurdaStyle fashionista with the very catwalk of fame. The story begins on a miniature scale, i.e. Bratz Doll. Member Kasia26 constructed a truly incredible jacket on a tiny doll. Once the BurdaStyle team saw her amazing design (see above) it quickly swept through the headquarters and through a little tweaking, a pattern was born.
As a milestone of BurdaStyle's international mission in the name of DIY-fashion, where did the creation venture? What started out as Kasia's jacket on a doll's humble plastic collarbone, quickly made its way into a pattern and then a creation. From there it was packed in Benedikta's and Nora's luggage when leaving for Burda's Digital Life Design convention. Once there, where else was the jacket to end up but on the hallowed shoulders of larger-than-life catwalk queen, Naomi Campbell! Hence, from puppet to supermodel", the Kasia Jacket has seen all scales of size and fame – and now it is your turn to suit yourself. Here is the pattern to show your friends that the Kevin-Bacon-game owes it all to you.
You can find the very fabric of Naomi's jacket here .