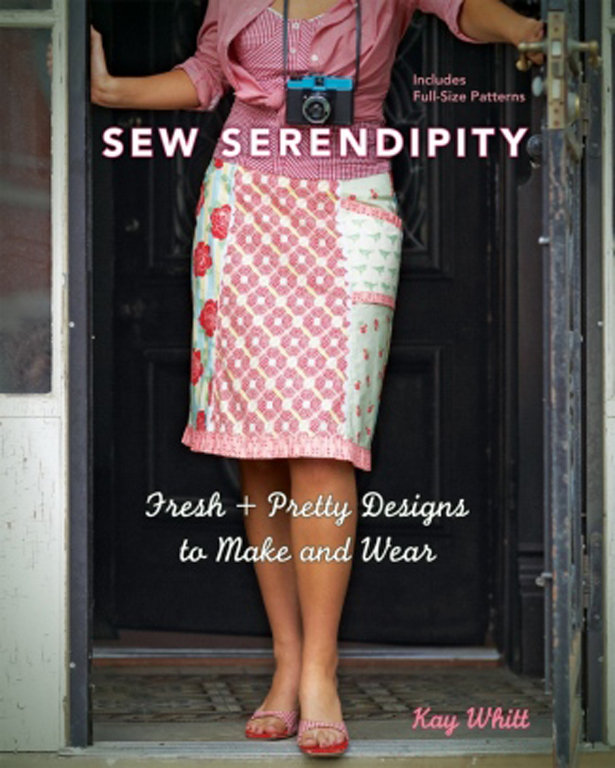 ShareThis
Kay Whitt has a certain style that makes her patterns so distinctive. I've long admired some of her bags and dresses, so when I saw she was writing a book, I put it on my Amazon wishlist. I've had several weeks to thumb through Sew Serendipity: Fresh and Pretty Designs to Make and Wear
and I have to say, I'm not disappointed.
The thing that impressed me most about this title is that there is an entire section devoted to "Custom Fitting". While this area isn't extensive, there are tips on how to do some basic adjustments (length of skirts, jackets, sleeves, bodice, as well as adjusting the neckline and shoulders and hip\waist) – something that seems to be missing from most books with similar projects. I think that this is an important section for books that deal with creating your own clothing, especially if the recipient is someone with limited experience in garment making. I will also add, there is a great, illustrated, step-by-step guide on installing invisible zippers which I found very helpful – I always seem to have a problem setting them in correctly.
The patterns themselves are adorable. Although I've got to admit, not all of them are quite my style – as much as I like the shabby chic look, I just don't pull it off well. That's not to say that I didn't find several patterns that I intend on sewing up for myself (or maybe even Taylor): The Geometric Tunic Dress, Damask Tunic, the Classic Tailored Jacket, and yes, even the Multi-Fabric Skirt (as seen on the front cover of the book). All the patterns are neatly stored in a envelope in the back of the book and are all full size (I find this a very important feature as I absolutely despise having to enlarge my patterns), best of all, the book is spiral bound – so there's no wrangling with the pages (or cracking the spine of the book, something that is a 'no-no' in our house) while you're sewing! I'm looking forward to sewing one of these patterns up in the near future, but if you've already had a chance to do this, I'd love to hear about your experience with it!
Overall, Sew Serendipity
isn't just a pretty book to look at, but it has great patterns and information included as well. A good book for beginner and advanced sewers alike that are looking for a title where they can create cute dresses, tunics, and jackets.