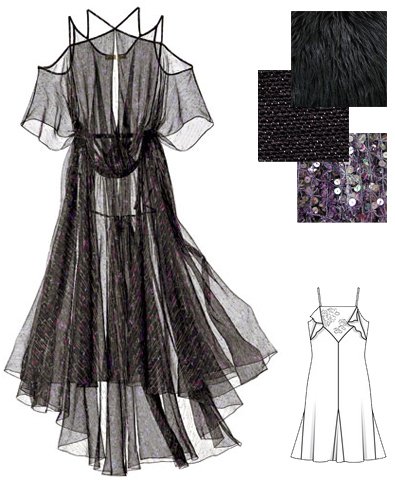 ShareThis
Black on black is something we see in New York city all of the time. Sometimes it can seem a bit boring or dull— especially in the winter months when we crave warmth, but sometimes, varying monochromatic textures can be exciting!
To create a monochromatic look you can begin with textures! Mixing differing fabrics together can get really exiting. Blending velvet and silk, or fur and leather (faux or real) can make a monochromatic look really pop.





Staple Fabrics: Black faux Mongolian fur, black metallic woven Lurex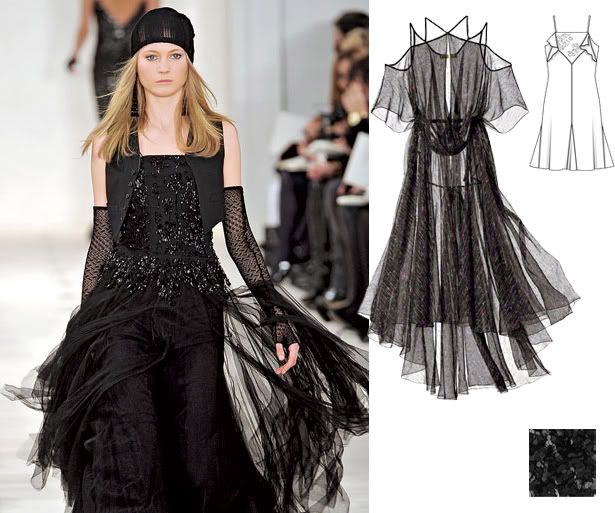 Stevie Nicks in the inspiration behind creating a gypsy look— Left is a look from Ralph Lauren, right, a Lurex spaghetti strap dress by Vanessa Bruno. Check out this dress pattern with spaghetti straps and godets to make a similar look.




Is a leather top practical? I don't know, but this tunic top with embellished sequins is lovely and subtle. Check out our leather top pattern here.




Wool crepe and leather combined create a futuristic look. Michael Kors' peplum waist dress is fiesty and right along the same style lines as our Judy Jetson-esque dress. Get the Puff Sleeve Dress pattern here.





Vests are a huge staple in the winter. Try to make one with faux fur, or create a Russian inspired piece that's heavily embellished. Get the Lambskin Vest pattern here.




A simple, draped black cardigan with metallic trim is the perfect layering piece for a winter's evening. Check out this Embellished Jacket pattern to make one for yourself.




Lastly, a black lambskin (faux or real) is a hot commodity in a cold city. Check out our pattern for the Lambskin Jacket here.