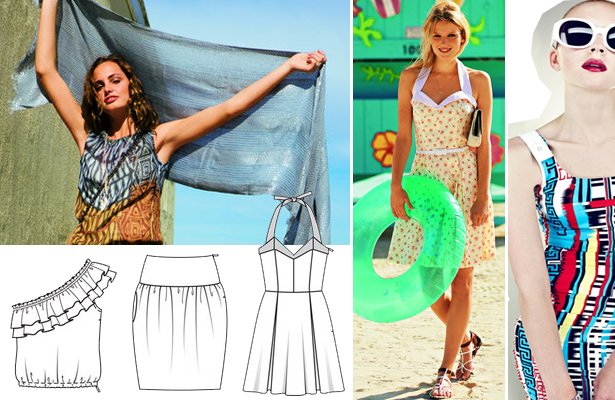 ShareThis
Yesterday our resident sewing and style expert Peter Lappin lamented his wardrobe choices as summer's blazing heat descends upon New York City. I don't know about you, but I am seriously feeling his pain as my clothing options seem to get slimmer and slimmer as the temperatures get hotter and hotter. I pride myself on being a tomboy who loves her pants and button-up shirts, but I admit to completely wimping out during summer's intense heat and find that it takes all of my strength not to wake up and throw on a giant linen muumuu every morning (call it my equivalent to Peter's pajama suit).
The one thing I miss about living in a city where you need a car is that you can go from place to place in relative comfort (thanks to the a/c in your car!). However in New York (as in other cities that rely on public transportation), between the hot pavement and the even hotter subway stations, you arrive at every destination feeling as though you need to immediately jump in the shower – or douse yourself with the nearest fire hydrant.
I know us New Yorkers aren't the only ones dealing with summer's unforgiving swelter, so I pulled together some of our best patterns, as well as some great sewing and styling inspiration, to help you stay chic in the heat!
Many people live by the philosophy "less is more" during the summer months and while there are few who can get away with sporting a bathing suit all season, the rest of us shouldn't have to suffer through 90+ degree temperatures looking sloppy and disheveled. When planning your warm weather sewing projects, remember that cotton, linen and silk are the most breathable fabrics, but don't be afraid of synthetics. Nylon is a super durable fabric that (depending on it's combination with other synthetic fibers) dries quickly and doesn't wrinkle so it's great both for keeping you cool and looking pulled together. Seersucker is another summertime fabric option, which was favored by gentlemen in the South for it's ability to keep the wearer cool due to it's intricate weaving which creates pockets between the fabric and the body. And I'm sure I don't need to tell most of you this, but just in case remember to choose light colors for your summer sewing, as they keep you cooler by reflecting rather than absorbing the sun's rays.
For shapes, think loose and easy – but not sloppy or ill-fitting. Draped tops and dresses, full skirts and wide-leg or harem (love them or hate them, they will keep you cool!) pants are your best options as keeping fabric away from your body is as key to staying cool as fabric choice. And while your first thought might be to wear as little clothing as possible, a better option is to strategically show skin; halter tops, side slits and cowl necks are all great ways to add ventilation while remaining chic. And if all else fails, I always carry around cloth folding fan as a last minute cool-down resort.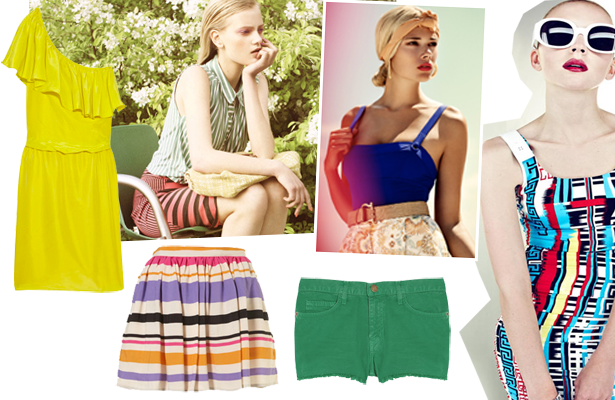 Dress by Tibi, skirt from Topshop, shorts by Current/Elliot.
---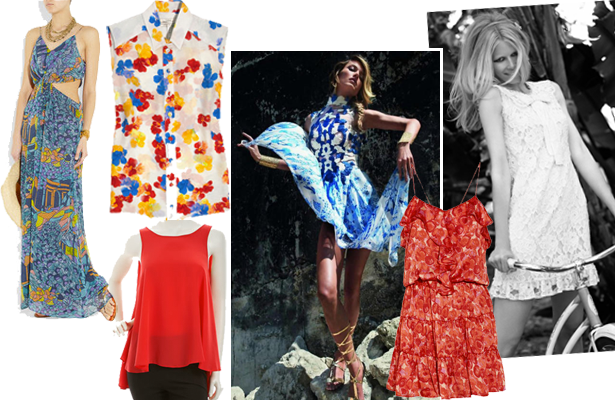 Dress by Zimmerman, button-up top by Erden, tank by BCBG, ruffled dress from T-bags.
---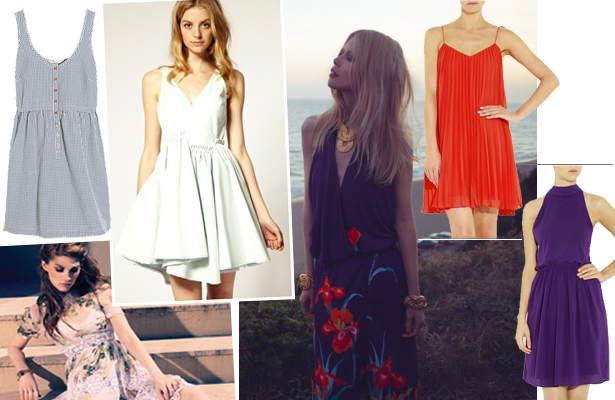 Chambray dress from Aubin & Wills, white dress from ASOS, pleated dress by Halston Heritage, halter dress by Alice + Olivia.
---

Dress by 3.1 Phillip Lim, tank from Graham & Spencer, pants by Theory, tank from All Saints, skirt by Kate Spade.
---
A few patterns for you to consider…
Tops: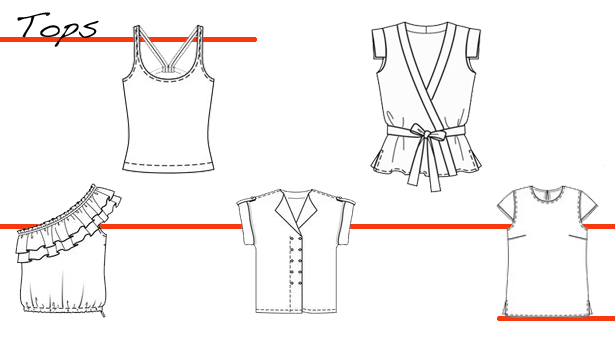 From left: One Shoulder Blouse, Cross Back Tank, Slouchy Blouse, Desira Wrap Top, Lace Tunic.
---
Bottoms:


Skirts: Sean Skirt, Bubble Skirt, A-line Skirt. Pants: Wrap Trousers, Wide Leg Trousers, Harem Pants.
---
Dresses:


Top row: Azalea Dress, Drawstring Dress, Dress with Pockets, Tiered Mini Dress, Halter Dress. Bottom row: Maryy Dress, Mini Tank Dress, V Neck Dress, Tank Dress, Long Dress with Side Slits.
What are your tips for keeping cool in the summer heat? Any special sewing projects planned to help you stay chic during the sweltering months?