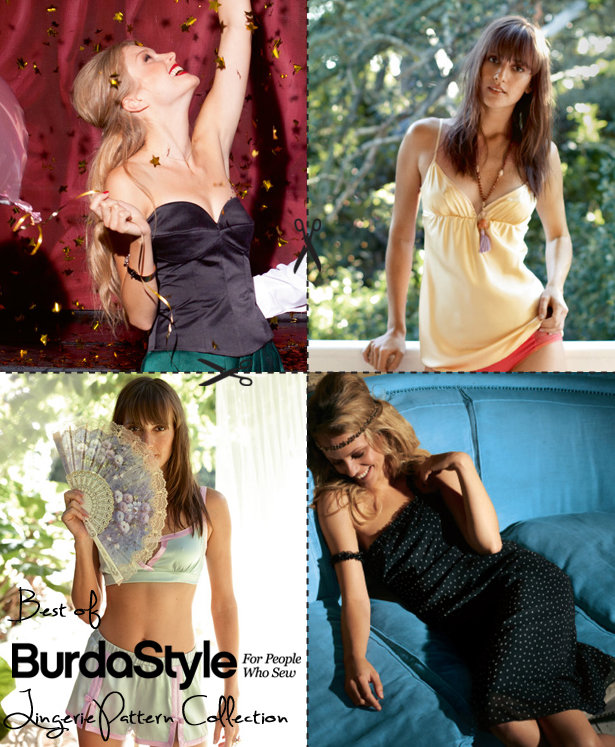 ShareThis
The last lingerie kit was so popular, we're launching another bundle for the boudoir! The Best of BurdaStyle: Lingerie Pattern Collection is pattern focused, with nine pattern PDFS and a bonus web seminar by Meg Healy.
This collection features a full lingerie and loungewear wardrobe, with pieces like a matching bra and knickers set, sheer bed jacket, satin bustier, and satin camisole. They're perfect for relaxing at home or putting a little something extra under your everyday clothes.
Take a peek at all 9 patterns included in this collection.
These are some of our most popular lingerie and lounge patterns: the Silk Robe, Sheer Jacket, Satin Bustier, Bra and Knickers, Slip Dress, Spaghetti Strap Camisole, Petticoat, Panties, and Nightgown..
You'll also get a web seminar with Burda editor Meg Healy. Lingerie 101 covers fabric selection, fit, a tutorial for sewing the included bra and knickers set, and tips for customizing your handsewn lingerie. You'll be slipping into something more comfortable in no time.
The Best of BurdaStyle: Lingerie Pattern Collection includes all nine patterns and the web seminar for $24.99.
The first Lingerie Kit was technique focused, with three videos, three patterns, and a web seminar. If you're wondering, the panties pattern PDF is the same for both kits, but the rest of these patterns are all different!
Looking for more pattern bundles? Check out the Best of BurdaStyle: Knits Pattern Collection (currently $19.99!), or Back to Basics Pattern Collection!