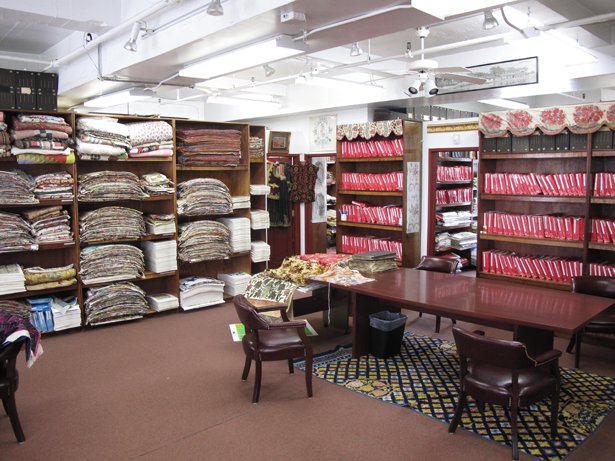 ShareThis
A few months ago, Jamie and I headed a couple blocks down from our Midtown office to spend the afternoon immersed in one of the most amazing textile archives in the city. Dimitrios Apostolou has been collecting vintage textiles, swatches, paintings and garments from estate sales, auctions and private collectors for over 40 years. His collection boasts nearly 4 million pieces from all around the world including a hand embroidered shawl from 13th century China as well as an entire collection of swatches from the house of Chanel. Check out some of the amazing things we found in Dimitrios' collection after the jump!
To walk into Dimitrios' showroom is like walking into a time capsule of fashion, culture and art. From early 20th century paintings to hand embroidered quilts from the 1700's, Dimitrios' variety of archival pieces are a wealth of inspiration for any design project whether it be home interiors, craft or fashion. Independent designers, mass market fashion companies as well as interior designers and craft companies all seek out Dimitrios for his amazing and extensive collection of textiles from around the world including Tartan plaids from the 1800s, original Chanel swatches and loads of museum worthy pieces that would make any history buff (me included) drool with envy.
Stacks of paintings from the late 19th and early 20th century.
Many of the paintings in Dimitrios' collection are from the 1920s and 30s, but still have a surprising air of modernity. You can see so many other decades in the work, especially in the geometric prints below, which have a very 60s pop-art feel to them, as well as a few of the florals which echo 70s bohemia.
And remember those Hawaiian prints I was talking about back in the spring? Further proof that everything (most notably in fashion) come around again and again.
According to Dimitrios, there was an entire factory in Paris dedicated to creating paintings that would later be turned into textiles (unfortunately it was closed down during WWII). Along with his stacks of larger paintings, he also has books (and books and books) of smaller samples from the artists.
Along with the painting samples, Dimitirios has an extensive collection of textile swatches including these (on the left) dating back to the early 1800s.
While these nautical and plaid shirting samples seem right in step with the upswing in popularity of preppy styles.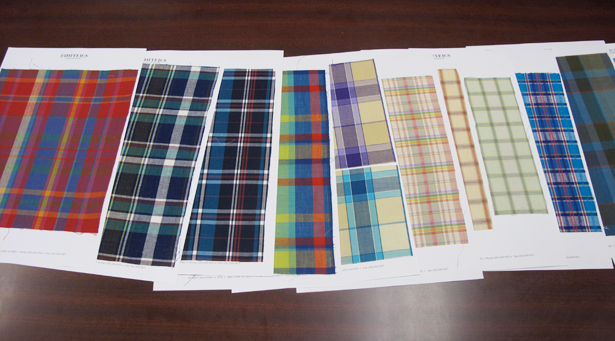 Loads of silk jacquard, like the samples below from Lyon, France dating back to the late 19th/early 20th century, were created after the invention of the jacquard loom made the production of these styles faster and easier. They have a bit of an 80s air to them, no? That light pink on the right totally reminds me of pillow shams my mom had when I was a child.
Other textiles, like these embroidered pants and woven textiles from Southeast Asia, could easily fit in with modern prints and patterns.
A beautiful silk kimono and traditional South American woven textiles.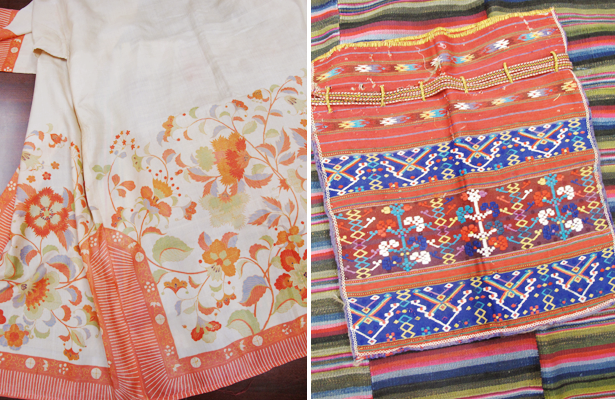 And ikats, which were huge this past summer – one silk and the other a hand made quilt.
One of my favorite parts of Dimitrios' studio was his huge collection of antique books filled with pages and pages of fabric swatches and print sketches, like this one of Tartan swatches broken down by Clan which dates back to 1835.
Or this book of hand sketched prints from the 1700s.
Dimitrios also owns over 120 books of Chanel swatches, dating from 1928-1969, which he purchased from the original Chanel textile mill.
Another amazing piece in Dimitrios' collection is this gorgeous Chinese shawl from the early 1500s. The story goes that an entire village worked on the embroidery for this shawl which was later presented to the Emperor of China. The detail is unbelievable and even more unbelievable that it was all done by hand!
There's also a huge selection of quilt samples and quilting fabric.
And some beautiful hand embroidered blankets and throws. The one on the right is hand woven and embroidered cashmere! The ultimate in luxurious housewares.
And for our final jaw-dropping moment – Dimitrios has in his personal collection one of the oldest textiles on record. This piece dates back to the Incas circa 1100BC!
Thanks to Dimitrios and his awesome assistant, Kait, for walking us through this amazing and inspirational archive!