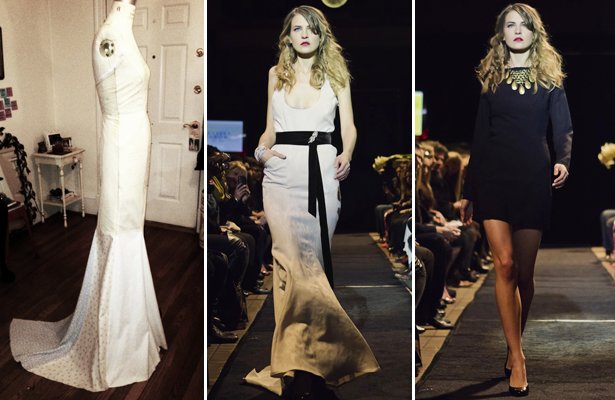 ShareThis
Editor's Note: I met Melissa Tabor a few years ago while I was living in Atlanta, Georgia and was (and continue to be) so incredibly impressed with her talent as a designer. She has since moved to Nashville, Tennessee where she continues to build her label and after hearing that Melissa was showing her line at the very first Nashville Fashion Week, I wanted to give her the opportunity to share her experience with our community and show that designers don't have to be in New York or Paris or Milan to be successful. I'll let Melissa take it from here…
My name is Melissa Tabor and I am a Nashville based womenswear designer. I initially started my clothing when I was living in Atlanta in 2006—(that is where I met Lindsey Ibarra who asked me to share my experiences with the BurdaStyle community). Looking to relocate my line to a new city in 2009, I moved to Nashville and relaunched my line last Fall.
Nashville has proven to be such a great fit for my line and since it is a community built so heavily on arts and entertainment, so many wonderful opportunities have been offered to me since starting my line here last September. The biggest so far has been the opportunity to show at Nashville Fashion Week last March. This was the first Fashion Week held in Nashville and it proved to be the highlight of my career.

The initial draping process—evening gown/final look. The Storyboard.
I chose to do a Fall line since I had pieces already completed from the line I created in September. The line consisted of textured brocade dresses with contrasting industrial zippers, short minis, full-skirted knee length dresses, a jacket with a cascading collar, and an evening gown.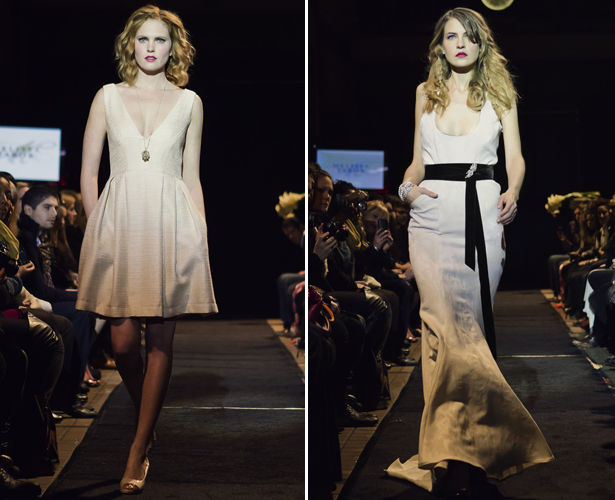 Photos from the runway.
The night of the show was incredible. Seeing the 15 models lined up in my collection—that was a first for me—was one of the best moments of my life…so emotional, in fact, that I shed a few tears while watching them prep to hit the runway. Up to this point in my career, I have never had a prouder or more exciting moment.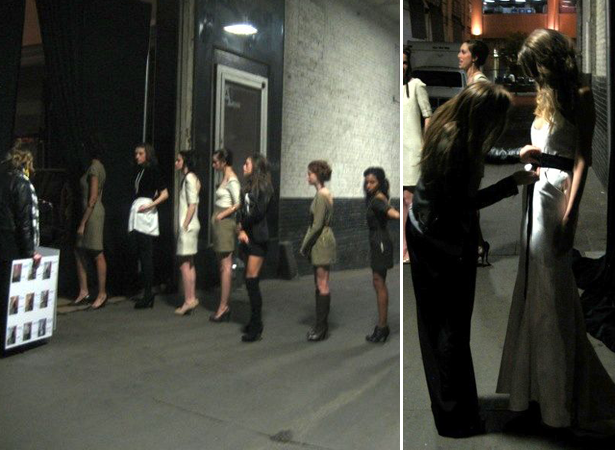 Girls lined up for show. Prepping model Renee in the final look.
As luck would have it, I actually decided prior to the final fitting that there was a large chance that I wouldn't use the evening gown I had made as the final look. In fact, once it was completed, I had all but sworn off evening gowns entirely. It was so time consuming and difficult to manage because of the amount of fabric and shape…I wasn't sure if I wanted to use it in the show. Ironically it ended up being my favorite piece in the show. The model that wore it, Renee Peters, complimented it perfectly and it looked absolutely amazing on the runway. Not only was I so happy that I used it, but I also vow to forever include at least one evening gown into my collections from here on out.

Evening gown on runway and a view from the back (inset).
It was an amazing experience to say the least and am beyond honored that I was given the opportunity. And the doors it has opened since have been so incredible. For example, as I type this I am on my way to Cincinnati to show in their fashion week finale show. And as of August, I will be selling my line in boutique in Nashville as well as beginning trunk shows across the Southeast. It not only opened up doors for me and got my name out to the public, but it gave me the ultimate jolt to push forward and pursue my career with full force. It (along with all the experiences since) have been absolutely amazing and am looking forward to hopefully much, much more!
You can view my line in it's entirety on my website MelissaTabor.com as well as subscribe to my blog Style in the Music City to stay up to date with all news and events concerning my line.
Thanks so much BurdaStyle for letting me participate on your site! As a girl whose passion in life is sitting behind a sewing machine, I am honored to be a part of such a wonderful site that offers fun tools for this! Keep sewing!!
Xo,
Melissa Tabor
Melissa Tabor is a Nashville based Clothing Designer specializing in womenswear. Her
philosophy is to create a line that focuses on classic styles, clean lines, and tailored fit
made from rich, textured fabrics. She designs for the fashionable woman in search of
rare finds that can be worn for years to come.
Having a love of fashion since she was a young girl, she began her career in design
when she was 20 years old while studying Fashion Merchandising at the University of
Alabama. While obtaining her degree, she took a required intro sewing class that further
piqued her interest not only in studying fashion, but creating it. From there, she began
making her own patterns and sewing garments, which lead to selling them to fellow
students. Before she knew it, she was spending the majority of her time at the sewing
machine and could never seem to get enough.
After discovering her true love, clothing design, she decided during her last semester at
the University of Alabama to pursue her career further in New York City. She moved
there in 2002 where she interned at Gucci and later worked at Giorgio Armani before
heading back to the South to pursue a degree in Design in Atlanta. She felt she had
the love and the drive, but there were basic aspects of design in which she still needed
training, such as pattern making and draping.
She launched her line in 2006, after obtaining degrees in Fashion Design and Marketing
at Atlanta' s AIU. During her time in school, she spent a summer apprenticing at the
prestigious design house of Oscar de la Renta in New York City. She' s since been
featured in publications such as Lucky Magazine, Daily Candy, Atlanta' s Sunday Paper,
The Atlanta Journal Constitution, and The Tennessean. Seeking a new location for her
line, she relocated to Nashville and relaunched her collection in fall of 2010.
Since relaunching her collection, Melissa has been in the process of taking the next steps
to gaining exposure and building a brand that stretches to different markets across the
US. She will begin taking her line on the road with trunk shows and carrying her line
in boutiques in and around the South later this fall. You can purchase her line directly
through her site, www.melissatabor.com as well as through Project Artisan.