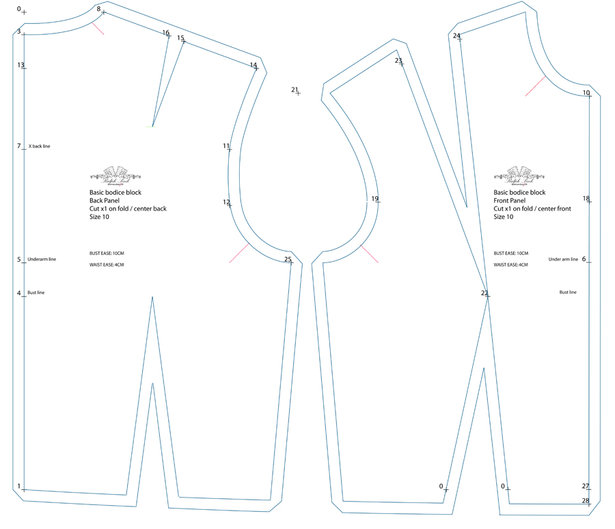 ShareThis
Do you own any basic slopers or pattern blocks? Well, if you went to fashion school, you do, and you know how incredibly useful they are. But if you didn't- well perhaps you don't have to go to school for this, with the resources available to the sewing community these days.
Today I've been researching what is out there in terms of free, download-able, basic sloper patterns for our users. Every single piece of clothing that is not draped is derived from a basic pattern block or sloper. I must stress the importance of creating your own, customized slopers. Once you have taken the time to create your basic patterns (designed off of your personal measurements or your fit model's measurements) you can make anything. Seriously.

Ralph Pink of Fashion-Gorgeois has offered to share with us his basic sloper patterns, listed below. He also has the cutest onesie, corset & menswear patterns. His website alone is a bundle of inspiration.

Basic 1-Piece Dress Sloper. Created by the extremely talented Fashion-Gorgeois this dress pattern will tale you places you've never been!

BASIC SKIRT SLOPER Created again by Fashion-Gorgeois this 5-piece basic skirt pattern holds many opportunities.

Basic Bodice sizes 32-46 uploaded to BurdaStyle by our fruitful member JJ. As you can see from the finished projects, the possibilities are endless.

Basic Bodice UK size 10 by Fashion-Gorgeois. This pattern can easily be altered and the tutorial links are listed on the pattern page.

Basic Long Sleeved Top in European size 36. Created by our Serbian-based member teodora.godar, you have the chance to make yourself an important wardrobe staple.

Click here to view our Size Chart.

The Basic Sloper pictured above was created by Fashion-Gorgeois, click this link here for more information.