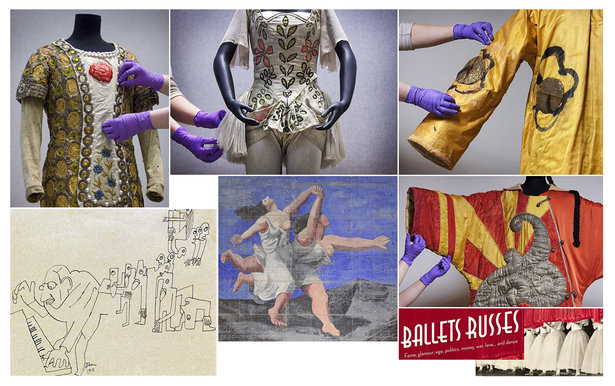 ShareThis
Are there any costume designers out there in our community? Browsing through the V&A's website I discovered some astounding costumes created for the Ballet Russes.
I have often mused that if I were living in another time it would be fantastic to create costumes for ballet or opera. One summer, in between studying Fashion Design in Italy, I interned for Emerson College's Costume Design Department where I assisted the head designer who creates all of the costumes for Boston's Shakespeare In The Park series. I realized I was not cut out for costume design, but that doesn't keep me from admiring the handiwork.

The collage above features costumes designed for the Ballet Russes in the early 1900s. The first picture, clockwise from top left, is one of Vaslav Nijinsky costumes for "Le Festin". The beading, jewels and embroidery is luscious (the lovely purple gloved hands belong to an employee of the V&A). The second costume, created for Alice Nikitina as Flore in Zephyr et Flore, is so beautifully embroidered and whimsical, I could see it translated into a dress I'd wear. Henri Matisse created the painted dress coat for the Mandarin from Le Chant du Rossignol. Picasso even lent his creative expertise and designed The Chinese Conjuror's robes with gorgeous quilting detail and bright colors. I am in love with this front cloth used for Le Train Bleu after a painting by Picasso (1924). Lastly is an adorable drawing by Jean Cocteau of the composer Igor Stravinsky playing the music for Le Sacre du Prentemps (1913).