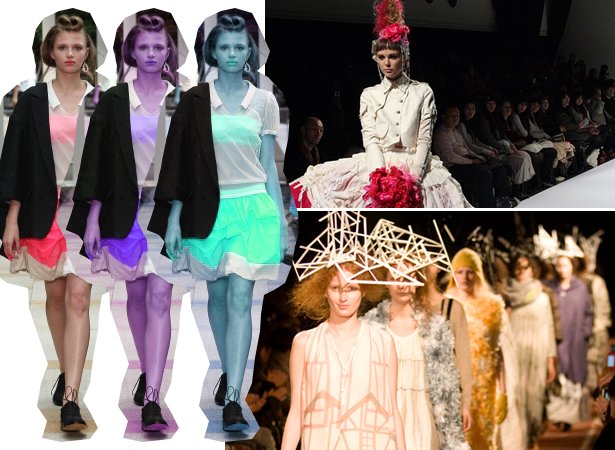 ShareThis
With all of the hustle and bustle surrounding New York, London, Milan and Paris fashion weeks – we can often forget that there are loads of other fantastic fashion week showcases all over the world. From Nashville to LA, Berlin to Moscow – fashion is an international language with each city putting it's own unique spin on clothing and style. One of my favorite places to watch fashion unfold is Tokyo. Japanese designers and fashionistas are known the world over for their trendsetting (or trend bucking) creations – from the high-fashion, avant garde designs of Yohji Yamamoto and Rei Kawakubo to street style trends like Lolita and Agejo, Japan is an amazingly artistic and unique environment that provides loads of inspiration for almost any sewing or DIY endeavor.
I spent an afternoon scanning through the recent collections shown for spring 2012 and pulled together a few of my favorite looks that could just spark your next great garment project…
Everlasting Sprout
Polka dots are great, but big polka dots are even better. I love the juxtaposition of girly ruffles and polka dots paired with slouchy boyfriend trousers. And socks with high-heeled mary janes is a look I can always get behind.
---
Fur Fur
Feminine yet edgy, I love delicate elements used in an unexpected way. Lace and ruffles are just a little less girly when strewn asymmetrically onto a garment. And how about those foral headpieces…
---
GVGV
Futuristic-retro-glam – sheer materials mixed with 50s style peplums makes for a cool mix of the past and present. Extra points for the super-cool wedge saddle shoes!
---
Plumpynut
Possibly the worst name for a fashion line ever (or a close second to Virgin Only which I spotted a few years ago at a boutique in LA) – but I can't deny that I'm really drawn to the clean suiting, especially that slick floral duo which feels equal parts Céline and Paul Smith.

________________________________________________
Johan Ku
The ease of loopy knits and draped silhouettes creates a thoroughly modern and relaxed aesthetic. Johan Ku's pieces could easily take you from lounging around the house to a cool art opening without missing a beat.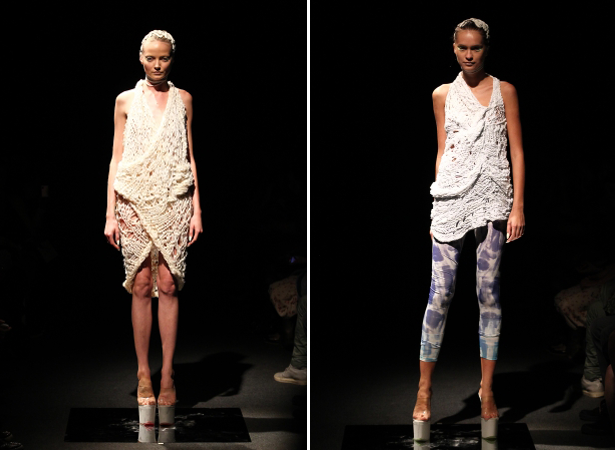 ---
mintdesigns
Quirky and youthful – I adore the silver star print paired with a peplum. In any other incarnation this could seem over the top, but paired with the boyish shape of a simple button up shirt the whole look comes off as more funky than sticky-sweet.
---
Somarta
Tribal femininity – I'm especially drawn to the grey dress and it's layers of tulle mixed with edgy jewelry and space-age makeup.
---
Shida Tatsuya
The interesting ways in which the designers behind Shida Tatsuya re-imagined the trench coat was what first caugh my eye – but their use of asymmetry as well as the fun mix of bright color, nautical stripes and voluminous layers made the collection one of my favorite of all the Tokyo shows.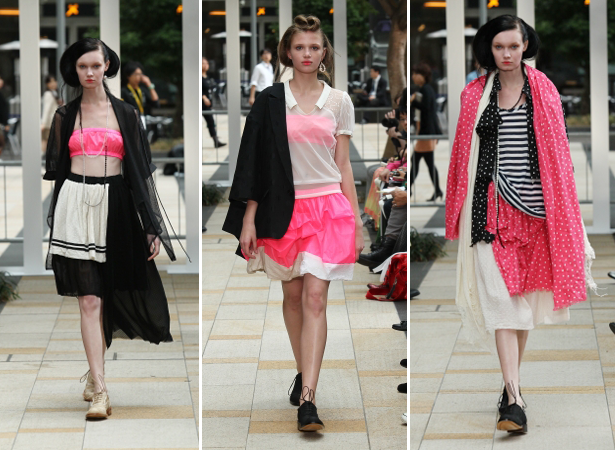 ---
Shiroma
Another favorite, I love the mix of beautiful marbled fabric and tough, sporty elements. The collection is fresh, modern and totally wearable.
What about you? Any favorites from the Japanese shows?