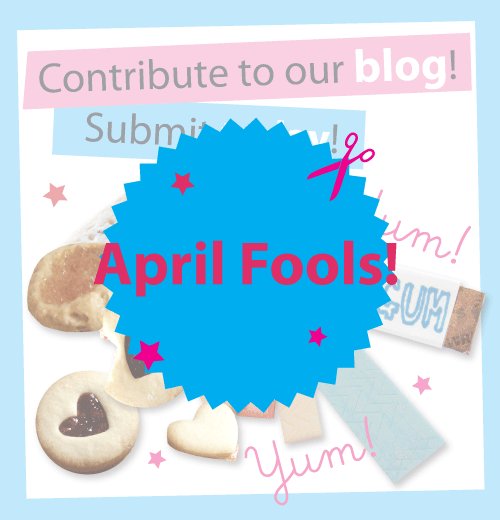 ShareThis
April Fools! We are so sad to say it, but there will be no cookies and fun gum weekly blog. Yet again we were so impressed with the quality of the writing and the thought that went into your submissions, you made us wish that this blog really did exist!!! Here are some excerpts from our favorite submissions:
"Years ago I was skiing at Mont Tremblant. After a long day on the slopes I went into the village (the real one not the touristy one) and in a small convenience store I found chlorophyll flavored gum! I bought it wondering what on earth chlorophyll tasted like. It was a strange flavor, kind of a mix of lettuce and mint. I loved it but cannot find it anywhere in the States!"
"A few post ideas … the magical gum that my husband brought back from Japan which transforms him into a cowboy… the cookie wrappers whose contents were so delicate and tasty, I had to frame them when I was done… finding a perfect fun gum/cookie and handing it to some unsuspecting stranger who appears to be having a bad day… not to mention trader joe's frozen chocolate chip cookies that are almost better raw than baked! cookie satisfaction without the oven! oh yeah, and recipes. mmm… do you think one can make gum at home? oh! do you remember Baskin Robbin's bubble gum ice cream? … were you supposed to eat it along with the horrid day glo pink ice cream? save all the pieces till the end of the cone? avoid it like the plague?"
"I've had it for a few years, two or three maybe, and it lives with it's hardy companion the Lewis and Clark
bar of soap. They're a team, nestled in a squat plastic box full of expensive paper, crayons, photos and empty, dry glue sticks. What is it? Brown Noser Gum…My mother mailed them to me for my birthday along with a Man Ray photography book and a massive pile of oilcloth. Now, you must understand that my mother has never, and will never do anything without a clear thesis attached, and her gun choice was no exception, but years later, I still have no idea what she was
trying to say."
Chlorophyll gum, the bubble gum ice cream (yeah I remember that!), and gum with a hidden message…great stories everyone! If only we could have seen what would have come out next week! Ah well, I guess we will just have to stick to your incredible creations! We hope you had a great April Fools Day!