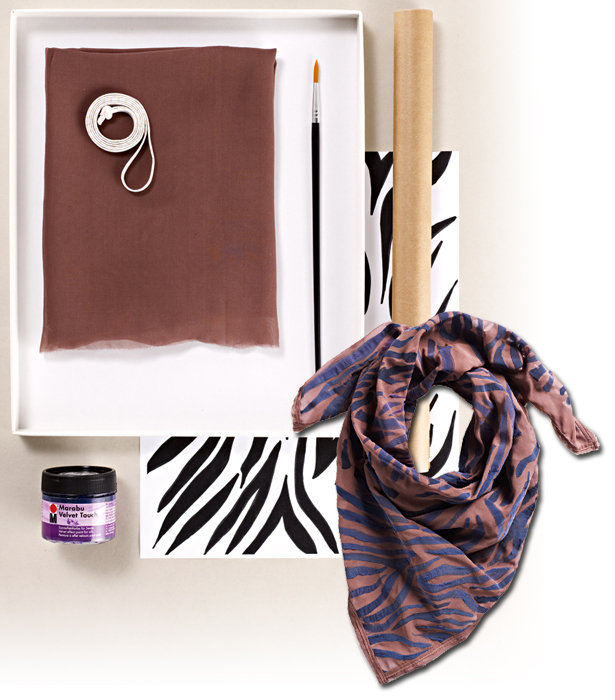 ShareThis
Bring the safari to the city in these fun animal printed DIYs!
Take a basic silk scarf and add a touch of color and print.
Materials:
-Transparent silk fabric.
- Paint (Velvet Touch from Marabu).
- Brush. Lid of shoe box.
- Rubber band.
- Baking ­paper.
- Paper.
- Black felt-tip marker.
- Shoe box lid.
Cut a silk scarf in the desired size. Our scarf is 100 × 100 cm (40 × 40 ins). Make a pattern. To do this, use black felt-tip marker to draw the zebra pattern on a piece of paper in the size of the shoe box lid. Paint the scarf and iron it to fix the paint.
Step 1:
Use the lid of a shoe box and cut your piece of paper to fit inside. Use your felt-tip marker to draw a zebra pattern.
Step 2:
Place the paper template on the top of the shoe box lid. Place the scarf over the template and secure with the rubber elastic around the edges.
Step 3:
Paint on the scarf according to the zebra pattern template. Shift shoe box lid and repeat pattern until scarf is fully covered. To fix paint in place, use the baking paper over the painted scarf and lightly press with iron.
For the outer edges, tear 4 strips, each 6 cm (2 1/2") wide and in length to match scarf edge, from the remaining scarf fabric. Fold each strip lengthwise so that the upper long edge lies 1 cm (3/8") from the lower long edge. Press strip. Stitch strip to scarf edge, with open edges lying toward outer edge. Stitch 1 cm (3/8") from fold edge. Fold fold edge of strip toward edge of scarf, press, and edgestitch in place.
Still have a hunger for animal prints? Turn some other accessories (like bags) into printed pleasures! Print and use the template below to help you (right click and save to desktop and then print).
Zebra Tote
Materials:
Canvas (heavy cotton fabric), 140 cm (55 ins) wide: 0.45 m (18 ins). 3 different cords, each 0.90 m (36 ins) long. Fabric paint in purple and orange. Brush. ­Sewing thread. Carbon paper.
Cutting:
Bag piece, 43 cm (17 ins) wide, 93 cm (363/4 ins) long, (incl. allowances).
Instructions:
Fold bag piece in half, mark lower fold, and unfold again. Enlarge pattern (below) to 200% with a photo­copier (or in Photoshop before you print out). With the help of carbon paper, transfer zebra pattern to front half of bag. Paint zebra with purple paint. Let paint dry. For the "leopard skin" (below), make a stamp, see project 159. Print "leopard skin" with orange. Fix paints following manufacturer's instructions. On bag piece, press each short edge to wrong side, 1.5 cm (5/8 in) wide, turn raw edge under, and stitch in place. Fold bag piece in half, right side facing in, matching hemmed edges. Stitch side edges closed, 1.5 cm (5/8 in) from edges. Finish edges of seam allow­ances. Turn bag right side out. For the handles, cut each cord into 2 equal pieces. Plait groups of 3 cord ­pieces together. From fabric scrap, cut 4 rectangles, each 4 × 6 cm (1 1/2 × 2 1/2 ins). On each rectangle press edges to wrong side, 1 cm (3/8 in) wide, then fold to 2 × 2 cm (3/4 × 3/4 in) and press. Insert plait ends in folded rectangles. Topstitch close to all edges of rectangles. Pin handle ends to inside upper edge of bag, 10 cm (4 ins) from side seams. Stitch handles ends in place, along line of previous ­stitching.
Leopard Clutch
Materials:
Canvas (heavy cotton fabric), 25 × 40 cm (10 × 16 ins). Small piece of turquoise leather. Zipper, 20 cm (8 ins) long. Orange fabric paint. Brush. Sewing thread. Thick craft foam rubber and cardboard, for the stamp. Craft knife and cutting mat. Pinking shears. ­Fabric glue. Golden tassel cap. Buttonhole thread.
Cutting:
2 bag pieces, each 24 cm (9 1/2 ins) ­wide, 17 cm (6 3/4 ins) high (incl. allow­ances).
Instructions:
Make stamp: Trace pattern and transfer it to the craft rubber. Use craft knife to cut out pattern pieces, then glue them to pieces of cardboard. To make the stamp easier to hold, glue several layers of cardboard together. Apply paint to the stamp, with a brush, and print the bag pieces. Fix paints following manufacturer's instructions.
From the leather, cut 1.5 cm (5/8 in) wide strips, as follows: 3 strips, each 22 cm (8 3/4 ins) long, and 2 strips, each 15 cm (6 ins) long, using pinking shears to cut one long edge of each strip. Lay one long strip on upper edge (24 cm long edge) of each bag piece so that points lie on bag piece – bag piece extends 1 cm (3/8 in) past ends of strips. Glue strips to seam allow­­ances of bag pieces. Glue remaining strips to lower and side edges of one bag piece in same manner. Open zipper. Pin zipper tapes face down to upper edges of bag ­pieces – zipper teeth lie on bag ­piece, over pointed edge of leather strip. Edges of bag ­piece must extend equally past ends of zipper. Stitch zipper tapes in place, 1 cm (3/8 in) from pocket piece edges, catching leather strips in seams. Press seam allowances onto bag pieces.Close zipper half way. Lay bag pieces together, right sides facing. Stitch along side and lower edges, stitching 1 cm (3/8 in) from edges. Turn bag right side out and press.
For the tassel, cut a piece of leather, 8 × 13 cm (3 1/4 × 5 1/4 ins). Beginning at one long edge, cut fringes, 5 mm (3/16 in) wide and 7 cm (2 3/4 ins) long. Roll up upper edge of tassel, spread­ing glue on wrong side of upper edge while doing so. Make sure that the result­ing tassel will fit in the tassel cap. With a leather needle, pull buttonhole thread through upper end of tassel. Pull these threads from below through the hole in the tassel cap and slide the cap over the upper end of the tassel. Knot threads onto zipper pull.
Happy DIYing! What else would you print these animal skins onto? Shoes? a T-shirt?