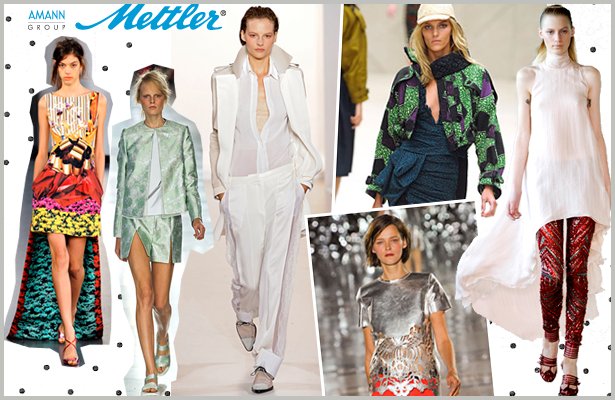 ShareThis
Ah, London…I've always had such a romantic notion of London and the UK in general. I suppose I naively base my assumptions on one too many Masterpiece Theatre dramas, but a girl can still dream, right? Another reason I am so in love with London is that I feel like fashion is much less restrained than it is here in the US.
Some of the most artistic and closely watched designers have come out of Central Saint Martins (Alexander McQueen, John Galliano and Gareth Pugh – just to name a few); influential people like Isabella Blow, Daphne Guinness and Susie Bubble are (and were) avid champions of experimental talent; Brit-based magazines like POP, Dazed and Confused and Love continue to push the boundaries of art, fashion and style; and every season the London designers seem to be having so much more fun than everyone else – at least that's how it appears on the runway.
So, here they are – a few of my favorite looks and trends from the London shows…
Cropped Jackets
One peek in my closet and you can guess that I love jackets. They are the perfect finishing touch and can alter a look in an instant. While London-based designers don't seem to be as heavily dependent on "trends" as some of the more commercially focused designers in the US, one thing I did notice popping up on more than a few runways were cropped jackets. Suit jackets, sport jackets, parkas and everything in between, if you are starting your sewing for spring 2012 (or even for now) make sure to toss in a cropped jacket or two to freshen up your look.
Hi/Low Dressing
No, this doesn't mean mixing your Vuitton with your H&M. Rather this hi/low (otherwise known as "the mullet") takes a slanted look at tops, dresses and skirts. Short in the front and long in the back, designers like Antonio Berardi and Tamara and Natasha Surguladze of Tata Naka spun the idea into an ethereal, romantic look while the ladies behind Sass & Bide whipped up hi/low pieces in bright colors and fun fabric for an edgier effect. What do you think of this look?
Super-sized Florals
Florals are synonymous with springtime and these oversized, hyper-colored versions are the perfect way to celebrate the season. Whether you're drawn to Mary Katrantzou's realistic blossoms, or the more abstract floral patterns from Peter Pilotto, start stocking up on super-saturated floral fabric now!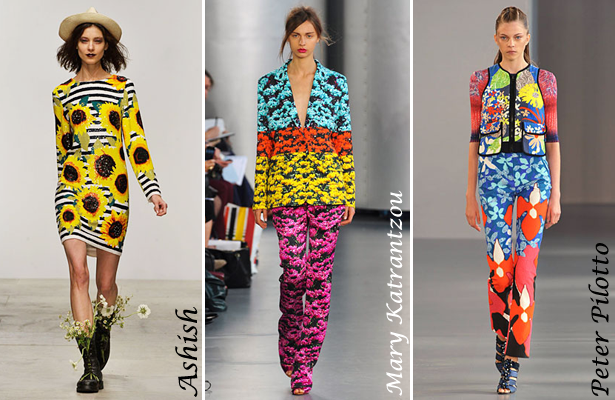 Heavy Metals
Strike it rich in gold, silver, champagne. While we might be still climbing our way out of a recession, fashion is thinking about luxury and what better way to fake-it-til-you-make-it than with a heavy does of metallics. Who needs expensive jewelry when you can swath yourself in precious metal hues? Would you rock this head-to-toe, or do you prefer to use metallics as an accent?
NOTE: If you're sewing with thick metallic and brocade fabric, stock up on Amann Group Mettler's Poly Sheen Multi® thread. It's perfect for heavy-duty sewing and has a brilliant range of rich colors that will match whatever luxurious fabric you choose.
Boyish Charms
Menswear for women has always been one of the main themes that I've based my wardrobe around and I often find myself buying things from the boy's department or stealing pants and shirts from my boyfriend's closet in the never ending attempt to capture just the right balance between the masculine and the feminine. For the upcoming spring season, try a pair of hip-slung pants and a perfectly fitted button up shirt to create your own fashion gender balance and top off the look with a razor sharp blazer or slim trench coat.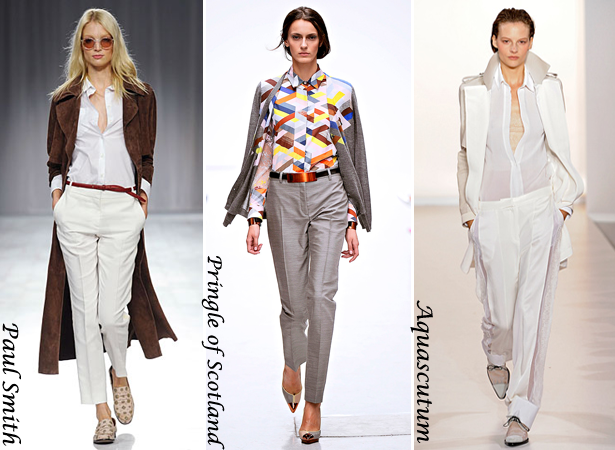 What were your favorite looks from London Fashion Week? Are there any British designers (past or present) who influence your sewing and designing?
Speaking of London, the amazing Knitting and Stitching Show returns to the city October 6th – 9th and Amann Group Metter will be there hosting a booth alongside some of the most fantastic textile manufacturers, manipulators and creators in Europe. If you're attending the show, make sure to stop by stand L19 and say hello to the Amann Group Mettler crew!