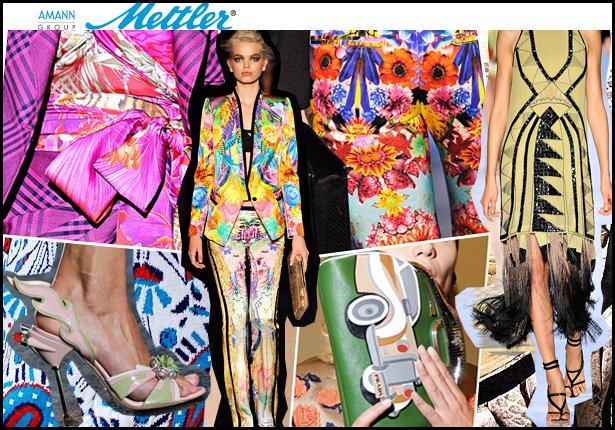 ShareThis
Italian designers and fashion houses are known the world over for their luxury and flair for the dramatic, and this season during Milan fashion week it was no exception as designers like Miuccia Prada, Consuelo Castiglioni and Roberto Cavalli turned out fresh, fun and daring looks for spring 2012. Ready to get a jump start on the season? The Milan runways were full of vibrant patterns ranging from the pop art florals at Marni to the jazzy art deco looks at Etro and we pulled together a few of our favorites to inspire you to dig through your fabric stash and start playing with your prints!
En Fuego at Prada
Tongues were wagging after this show and everyone was exclaiming how Miuccia had once again revitalized fashion week with her fun and funky hotrod-inspired looks. Ms. Prada is a known lover of art and avid collector (she and her husband Patrizio Bertelli recently moved their impressive Prada Foundation collection to Venice in conjunction with June's Venice Biennial, which was profiled in Vanity Fair) and you can feel that artist's touch in her collections. And let's talk about how everyone is going to have mini pink Cadillacs on their feet come springtime, I'd put money on it!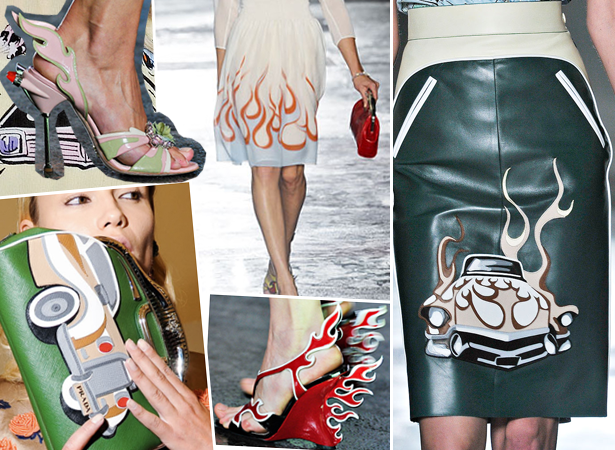 Pop Art Florals at Marni
Consuelo Castiglioni doesn't do anything quietly, but none of her designs ever feel offensive or too over-the-top. She has the uncanny ability to strike just the right balance and her past-meets-future pop art prints are all at once reminiscent of Pattie Boyd-esque 60s ingenues and sleek, futuristic style.
Mix 'n' Match at Ferragamo…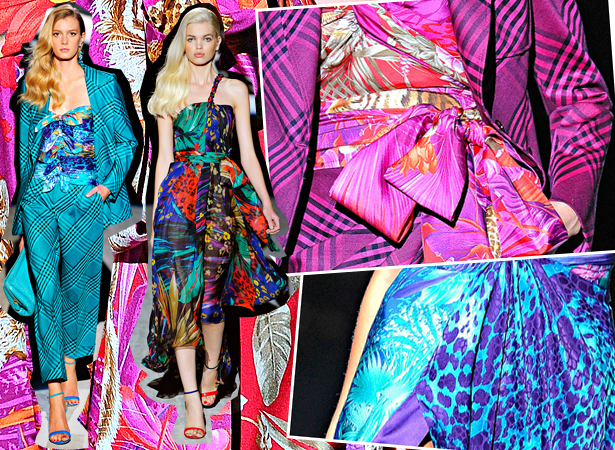 …and Cavalli
Both Roberto Cavalli and Massimiliano Giornetti at Ferragamo played with a mix of animal and floral prints in acid bright colors. Giornetti added a bit of a traditional slant with oversized plaid motifs, while Cavalli played with sequins and embossed python.
Art Deco at Etro
Etro collections are always such a fun bohemian romp. I like to image that I'm skilled enough to pull off one of Veronica Etro's designs, and although I might muster the courage someday – for now I'll leave that challenge to the true fashion chameleons and gypsetters. However, her fresh Art Deco inspired prints and 20s style drop waists definitely have me tempted to give it a try sooner than later…
Pretty in Paisley at Jil Sander
I love how Raf Simons continues taking the traditional minimalism at Jil Sander in a refreshing and decidedly optimistic direction. While there are few people outside of Anna Dello Russo or Iris Apfel who could pull off a head-to-toe paisley look, I do love the idea of an oversized print on a sleek pencil skirt to simple top.
Inspired to give these printed looks a try? Here are a few simple ways to incorporate the looks using some of our BurdaStyle patterns.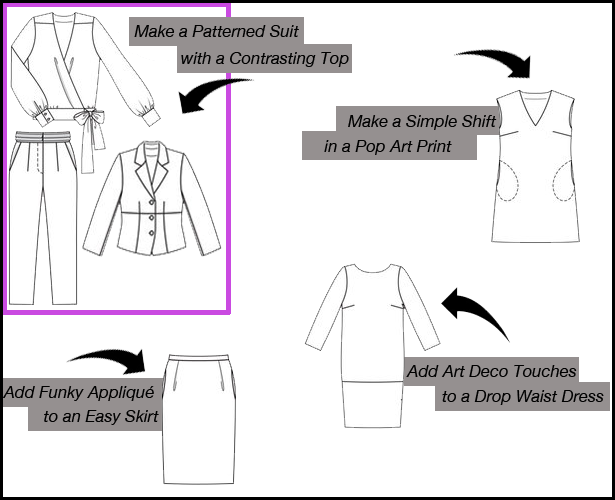 And make sure to stock up on thread from Amann Group Mettler, like their all-purpose Seralon® or heavy-duty Poly Sheen® that are perfect for all your basic and decorative sewing needs!
Which runway show in Milan was your favorite? Who are you looking forward to seeing during the Paris shows?