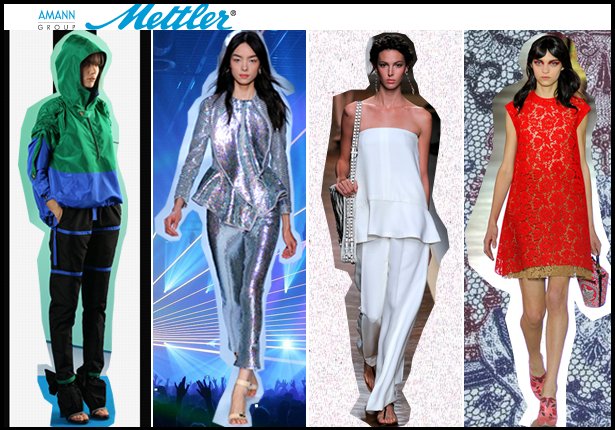 ShareThis
Ok, I'm going to make a little confession: as soon as fashion week starts I always wish I had a fast forward button that would skip immediately to the Paris shows. It's not that I don't love what designers in New York, London and Milan are doing – but there's something about the beauty and artistry of Paris fashion week that still makes me as giddy as it did when I was a little girl waiting by the mailbox for my giant copy of Vogue to arrive. Regardless of where your favorite designers show or what city inspires you the most, there were loads of great looks on the Parisian runways just begging for you to try them next spring, and we rounded up our last batch of favorites as fashion month officially comes to a close and we eagerly anticipate the arrival of spring 2012.
Cut it Out
This is a look I've been noticing a lot lately – especially on street style blogs: cut-out shoulders. At first glance the idea seems like a serious ode to the 90s, but in the hands of Yohji Yamamoto it becomes more of an element of deconstruction, while at Roland Mouret it exudes glamour and seduction. What are your thoughts? Any plans to start hacking out the shoulders of your garments come springtime?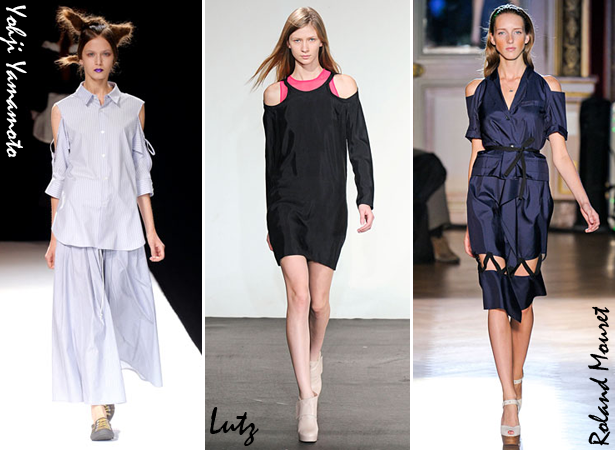 Disco Divas from Space
In my opinion, any excuse is a good excuse to throw on a glittery ensemble. Metallics were a big trend on the London runways and Ricardo Tisci at Givenchy and Manish Arora continued the party in Paris with disco ball looks in body skimming silhouettes. And I don't know about you, but I have a sudden and completely irrational need for a pair of sequin cropped pants…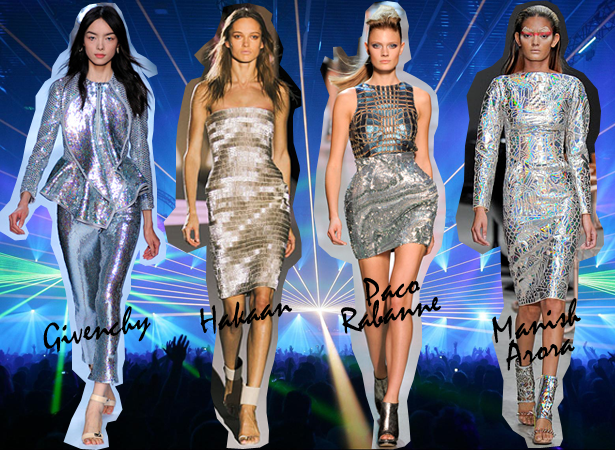 Note: Plan to whip up your own disco diva ensemble? Give your garment a little something extra with Amann Group Mettler's Metallic Thread! Perfect for embroidery, it provides a long-lasting 3D effect that is the perfect finishing touch for your special sewing projects.
Volume and Shape
Exaggerated proportions and voluminous shapes are not always the easiest thing to pull off – too much volume and you get swallowed up, not enough and it simply looks as though your clothes are too big. The key is to play with volume in small doses and balance it out with more tailored pieces
Sports Night
I've said it before and I'll say it again, I love it when fashion is influenced by sports. I know, I know – that seems really weird, but in my defense I do love a good juxtaposition. For me, a rough and tumble parka paired with a pretty dress, or a pair of sports-inspired trousers with a killer high heeled shoe strikes just the right balance between the casual and the chic.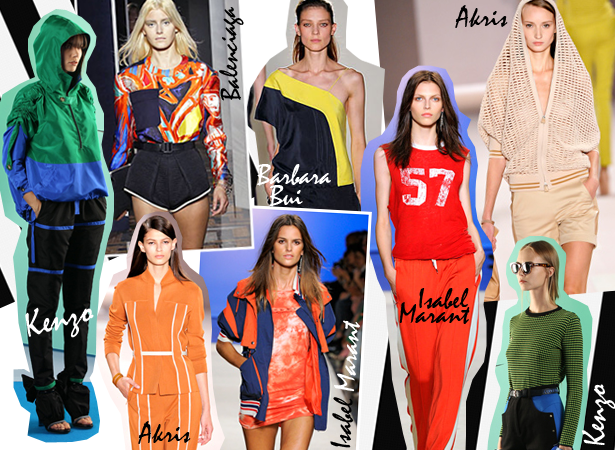 White Out
There's nothing more beautifully clean and simple than a white on white look. While I'm on the short list for "World's Biggest Klutz" and always manage to spill something on my whites no matter how careful I am, I suppose now is the right time to start brushing up on those table manners because it appears that spring is all about the white out. And as an added bonus, nothing looks better with a summer tan than a crisp white ensemble.
The Lace Race
I wouldn't really call lace a "trend" per se, but I always love seeing new and innovative ways designers use the material – whether as an accent or as the main attraction. The oversized eyelet lace at Louis Vuitton was perhaps the most fun interpretation this season, while Valentino's more traditional take was the epitome of modern romance.
Meanwhile, I loved the lace sleeves and appliqués at Carven and the really interesting way that Chitose Abe mixed eyelet lace with knits at Sacai to create multi-textured garments that from a distance appeared to be one thing (a sweater and skirt) but upon closer inspection were actually another (a dress).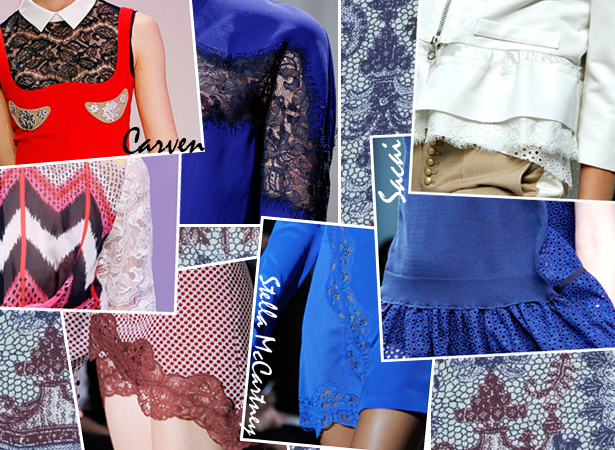 So now that fashion month is officially over, what trends are you looking forward to trying for spring? Any that you're planning to incorporate into current sewing projects?