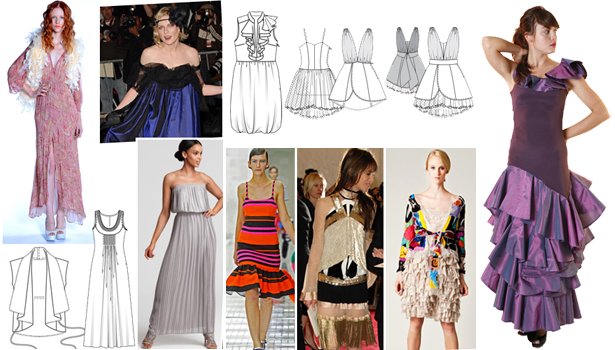 ShareThis
Ah, the prom. For high school girls, does the Spring season mean anything else? The dress, the shoes, the date….all in an attempt to make it the most memorable night of your high school life. Well, if you were (or are) anything like me, you generally grabbed your dress at the last minute, asked one of your friends a few days before and tried to hide your parent's camera so they wouldn't embarrass you by documenting every movement while you waited for your date to arrive.
I can't say that there wasn't at least one thing that excited me about prom and that was the excuse to dress up. I actually did spend a fair amount of time looking for a dress, even if it was generally the week or two before the dance when most of my friends has theirs picked out by Christmas. Are any of you BurdaStyle members planning on hitting the dance floor on Prom night? Or maybe you have your own anti-prom party planned? Whatever you choose to do, you're going to need to look good and if you've decided to make your ensemble for the big night I've pulled together some great looks and patterns to help you get inspired!
When I was in school (let's not talk about how long ago that was….) it seemed that girls only had one aesthetic corner they pulled from: all-out-glam. I swear my friends wore dresses that weighed more than a Thanksgiving turkey. Between the beads and the glitter it was hard to tell whether we were taking a limo to a school dance or a Miss Universe pageant. Now I see a lot more options for girls to express their creativity and individual style and with a whole new generation of young kids getting interested in sewing and design, there's no end to the possibilities.
Now, let's talk about the ensembles….
The Prom Queen
Maybe it's you, maybe it's your best friend, maybe it's even your worst enemy but there is always that girl who comes to the dance looking like a princess. Who can blame her – we all (ok, maybe not all but many) of us wanted to be a princess when we were younger and prom is just the catalyst we need to unleash our inner Cinderella. Take a cue from Glee star Lea Michele when she strolled into the 2011 Golden Globe Awards in that pink Oscar de la Renta confection. Yep, you can bet she'd be going home with that prom queen tiara on her head!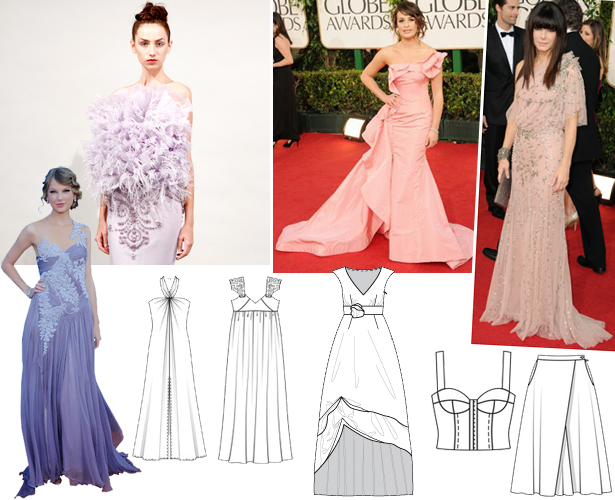 From left: Marchesa on Taylor Swift and on the runway, Lea Michele in Oscar de la Renta, Sandra Bullock in Jenny Packham.
Patterns from left: Halter Criss-Cross Dress, Long Evening Dress, Heidi Prom Dress, Bustier Top and Maxi Skirt.
And what's a princess without her tiers of ruffles? The ultimate in girly-girl style.

Dresses by Atelier Versace, BurdaStyle's Benedikta Dress pattern.
The Boho Babe
Slightly off the radar and one cool chick, you don't follow the rules and probably don't care to. Dresses are meant to be comfortable and fun (you're going to be dancing til the sun comes up anyway) so try out an easy shape in a fun, bright fabric. Add a vest or bolero jacket for a little extra drama.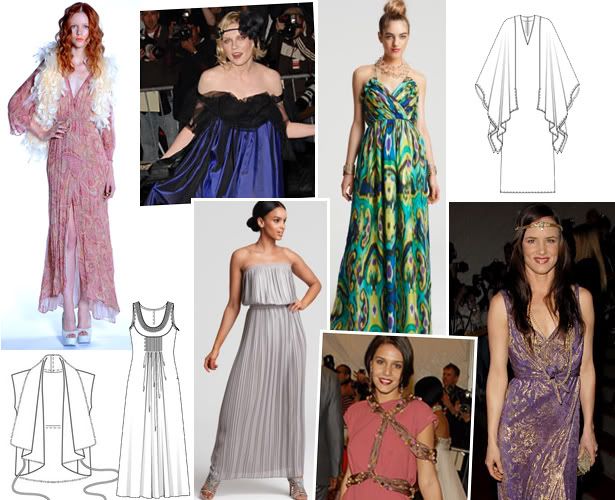 Clockwise from left: Dress and vest by Alice + Olivia, Kirsten Dunst on the red carpet at a Costume Institute Gala, dress by Shosanna, Juliette Lewis, Margherita Missoni, dress by BCBG.
Patterns from left: Lambskin Vest, Chiffon Maxi Dress and Bat Sleeve Gown.
Short & Sassy
According to the rules of "formal" dances, short dresses should be reserved for the more casual events like Sadie Hawkins or Court Warming. But what fun is it to follow fashion rules? Short dresses are youthful and totally modern, plus there are tons of great options to make one that you can wear long after the hanging lights and paper streamers have been removed from your school's gym ceiling.

Clockwise from top left: Anna Sui, Asos, Kate Bosworth looking flapper chic, dress by Maria Bianca, Notte by Marchesa dress, ADAM, Sue Wong and Azzedine Alaïa.
Patterns from left: Bow-Back Dress, Dress with Flounces, Scarf Front Dress, Lace Detail Dress and Sibylle Dress.
The Sleek Sophisticate
No ruffles, no beads, no extra fluff – just a sleek, simple and timeless dress that won't cause you to cringe when you see yourself in pictures 10 years from now. The silhouette can be loose or form-fitting and it's best kept in a neutral color that will stand the test of time. Minimal jewelry and a simple up-do complete the look.

Patterns clockwise from top left: Drape Dress, Sleeveless Column Dress, Drop Sleeve Dress and One-Shoulder Knit Dress.
From left: Giorgio Armani, Poltock and Walsh for Asos, Michelle Williams in Chanel Couture, dress by Akris.
Non-Traditional
Whether you're bucking the system or staging your own prom-esque party, you don't need a floor length gown and a corsage to have a good time. Avant garde shapes, interesting patterns, and cool combinations of separates are a fresh take on traditional "formal" wear.

Patterns from top: Wrap Blouse, Suit Jacket, Skinny Ankle Trousers, One Shoulder Ruffle Blouse, Sean Skirt and Asymmetrical Collar Dress.
Clockwise from top left: Mary-Kate and Ashley Olsen in designs from their line The Row, Prada on the runway, Charlotte Gainsbourg in Balenciaga, Chris Benz, Lanvin, and Lauren Santo Domingo in Nina Ricci.
And while we're on the subject of prom, can we talk about how many fantastic (and fantastically bad) movies have been centered around the big dance? Let's see, shall we…
Pretty in Pink
Who doesn't get a little misty eyed when Blane shows up at the dance by himself? However, I will always and forever be a Duckie girl.

Never Been Kissed
Doing high school all over again – no thanks. But you have to love how adorable Drew Barrymore is and that she gets the hot teacher in the end.

Grease
Need I say more?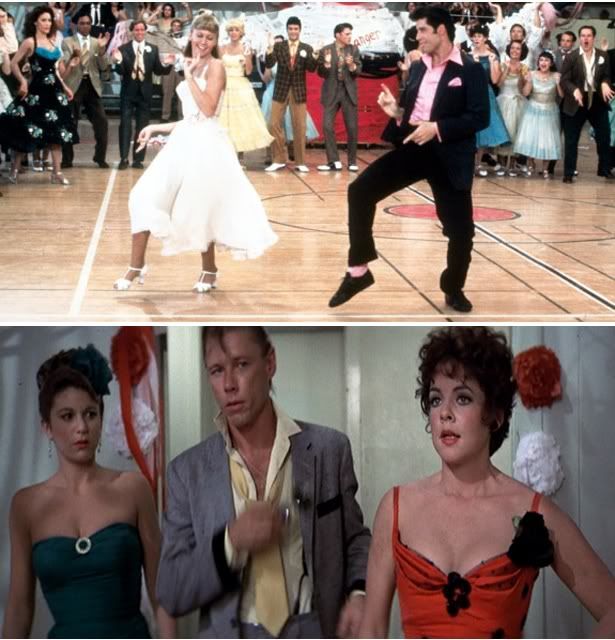 She's All That
The quintessential celluloid prom scene. After this movie came out I secretly wished that a group of people would break out into choreographed movements at my school dance (and no, the electric slide does NOT count).

Footloose, American Pie, 10 Things I Hate About You, et al….
If a movie was made about high school, chances are there was a prom scene involved.


Do you have a favorite?
And last, but certainly not least. Waaaaay back when (ok maybe not so far back) some of our BurdaStyle team headed off to the prom themselves.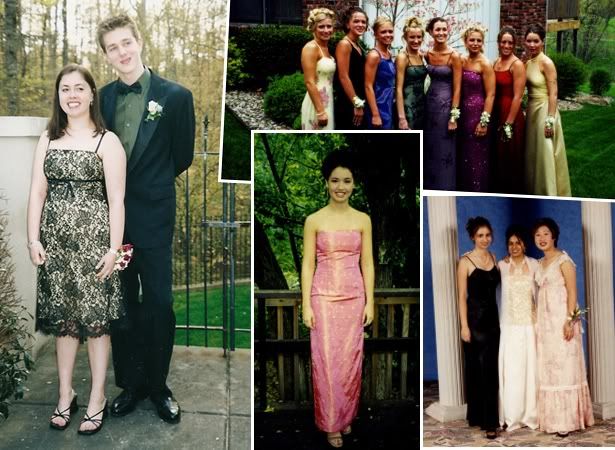 Clockwise from left: BurdaStyle's Community Manager, Rachel; my senior prom (that's me on the far right in the gold number); Partnership Manager, Carol; me again, this time for senior Homecoming, I loved that dress – so shiny!
Are you making your prom ensemble? Make sure to include the word "Prom" in your project title for the chance to be included in our Handmade Prom Slide Show which I will be pulling together in the next couple of weeks!