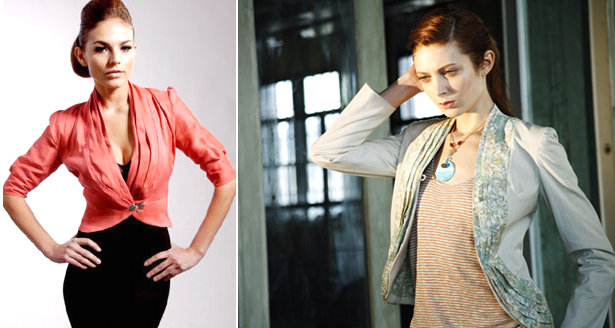 ShareThis
My dear friend Amy DuFault (who writes a cool fashion-conscious blog for EcoSalon) is opening up an eco-chic boutique on Cape Cod, where I'm from, and the opening ceremony is this Friday. Amy asked me if I had any jackets for the opening, and seeing that I am living in limbo, in the middle of moving, most of my patterns are packed deep in a storage unit & quite impossible to uncover- perhaps I don't even have them anymore. Amy sent me the above (left) image of a jacket I designed a few years ago, closure being my hand-made sterling
silver clasps, and wanted it in an organic material.
I thought about having my pattern-maker create a new pattern and have my factory sew them up, but for some reason I couldn't do that. I wanted a challenge, and I also didn't want to lose 75% of the profit from outsourcing (yikes!).

So for the last few days I have been cutting, sewing & ironing like mad. I showed Amy the BurdaStyle Stella jacket (pictured right- which is strikingly similar) and told her I could create a combination of the two. I had a hard time finding the organic silk-linen combo my original design was made from, but after much scouring, I found it. The boutique ordered 8 jackets in all: 4 in black, 4 in beige, in sizes S, M, L, & XL. My index finger is still numb from cutting and I have 3 new blisters, all matching in size & color on my knuckles. There should be a cutter's glove right? Like a fingerless golfing glove.

Plan of Action: I used the Stella pattern, the saving grace being that the sizes are already graded, and modified it a bit. I wanted to keep the retail price point lower on these jackets, so instead of the 4 strips in the front, I changed it to 1, and made a little box-pleat at the hip curve and am very happy with the outcome. This project was not a quick sew. Each jacket has at least 12 pieces and a complete lining (which has darts and pleats) so it has taken me a few days & countless hours to finish them. But I must admit, the feeling which comes with completing a complicated endeavor is worth the pain, and I can't wait to see these jackets hanging on the rack!

Next Week: Pictures from the shop opening & of the jackets- I was far too tired and didn't have any spare time to take pictures yet!