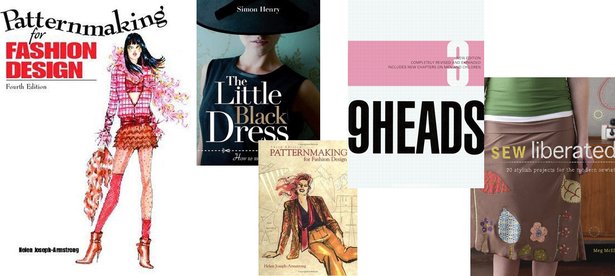 ShareThis
Do you make your own patterns? Are you frustrated with the outmoded looks or outdated texts in patternmaking books? Do you want to finally learn how to make your own patterns and do a good job? Well I have an answer for you.
Sewing, patternmaking & craft books are in hot demand right now and it is all the better for us creative types. For a start (as there are many wonderful books out there), today I have compiled a list of 6 essential patternmaking, sewing and technique books for the every day sewer/craftster to the advanced seamstress. Pattern making is full of absolutely endless possibilities, I know I sound like a broken record, but a single pattern consists of a bounty of variations. It is so key to your improvement and success as a sewer to have good patterns! These books range from fun to difficult and offer many fun project ideas and tips.

Design-It-Yourself Clothes: Pattern-making Simplified
Written by Cal Patch: the book's description mentions she designed for Urban Outfitters before writing this user-friendly book.

Make Your Own Patterns: An Easy Step-by-Step Guide to Making Over 60 Dressmaking Patterns
Written by Rene Bergh
User Reviews:
"Hands-on patternmaking occurs as you create your own "sloper" or pattern shell custom fit to you! You then use these basic pattern pieces to create almost limitless designs and styles all to your own preference and liking."
"My hat is off to Ms. Bergh. She has successfully illustrated a simplistic method to creating original fashions."
Bodymapping: The Step-By-Step Guide to Fitting Real Bodies
Written by Kathy Illian
According to one reviewer, this book is for folks who: "…whether you have a large or drooping bust, large derriere, low abdomen, flabby upper arms, etc. I personally prefer Boddymapping!"
Sew Liberated: 20 Stylish Projects for the Modern Sewist
Written by Meg McElwee
User Review:
"The 20 projects in this book are divided into three sections; domestic art, pampered artist and small stitches and all are relatively straightforward and easy to create. The author clearly has a fondness for appliqué and most of the projects include either turned, raw edge or reverse techniques."
The Little Black Dress: How to Make the Perfect One for You
Written by Simon Henry
User Review:
"The Little Black Dress book teaches basic sewing techniques in a step by step format, from sewing a straight seam to invisible zippers to boning. The author takes a fairly conversational tone, helping to remove the fear and build your confidence as you go along. "
"Rather than trying to fit a commercial pattern (which is an absolute nightmare), this book teaches you to make your own. What could be more practical than having a little black dress that FITS?"
This is the book I learned from, a quite quintessential pattern making book for everyone with an interest in sewing almost anything! Patternmaking for Fashion Design (5th Edition)
Written by Helen Joseph Armstro
User Review:
"This quintessential guide to patternmaking offers comprehensive coverage, clear illustrations and easy-to-follow instructions, providing users
with all the relevant information necessary to create design patterns with accuracy regardless of their complexity. "

What are your favorite patternmaking, sewing or project books?