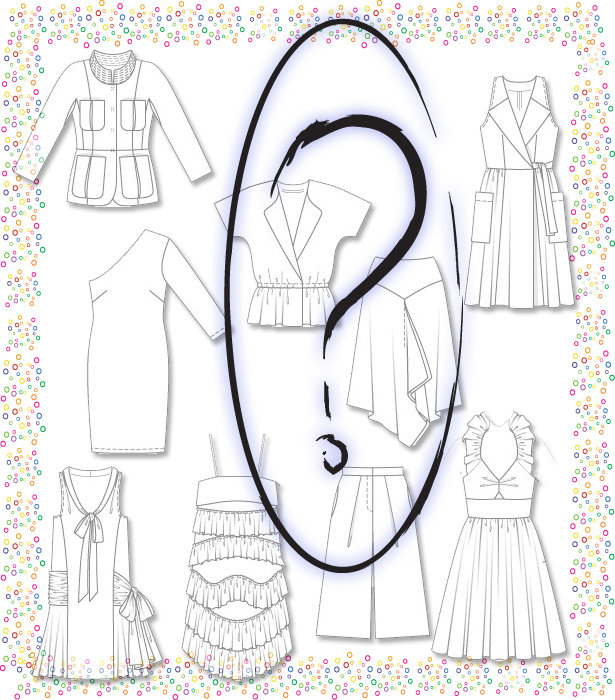 ShareThis
We had great success with our first member model challenge ( you can see all the winners here ) that we want to do it again! we have chosen a BurdaStyle magazine collection and we want you guys to submit submissions for ALL the patterns in the collection so we can replace the pattern main images with your pretty faces! You can submit a project for every pattern or just one. For this challenge we have chosen our Design Academy pattern collection for you guys to put your spin on. Read to find out more! DEADLINE EXTENDED (more time to sew, or even make another project!) upload your project by July 30th 11:59pm EST.
If you want to see all the entries so far type Member Model Challenge in the search bar and look under the projects section.
For this competition you will have until the END of July to upload as many submissions as you want! You can make variations of any of the below patterns. Just make sure when you upload your project that you link to the pattern so we can find your lovely project.
Remember if the pattern calls for silk, you can certainly make with cotton or lightweight wool and vice versa. Just stick to the rule of thumb… Woven patterns need woven fabrics and knit patterns need knit fabrics.
This gorgeous one shoulder dress hits at about knee-length and has one exposed shoulder. Make it is a stable knit or fabric with a bit of stretch in it, since this dress has no closure like a zipper.
This drop waist dress has a plunging neckline and sash that ties on the hip. It also features a playful front bow and has a modern flapper feel to it!
This mini dress is so adorable! The ruffles are stitched like the shape of waves and the spaghetti straps are slightly angled.
This blazer style top features short sleeves and a plunging neckline. Adorable for everyday paired with dark skinny jeans and heels!
This halter dress is made out with an elastic ruffled collar and cinches at the waist for a flattering silhouette and also features a tiny peek-a-boo cut-out. Perfect for any special occasion this summer!
These culottes feature front pleats, a waistband and hit below the knee. Culottes are very on trend right now, give them a try!
This versatile blazer has so many details that makes it a really special piece! It hits at about the hip and features a padded collar with parallel stitching. Throw this jacket on with almost everything in your closet for chilly spring days and summer nights.
This beautiful wrap dress has great structure and features elegant shoulder lapels. Wear this dress when you want to feel both feminine and powerful!
This beautiful flowy skirt features hip yoke seam and is a perfect skirt for a garden party or music festival!
Contest Outlines
- This contest is open to ALL our members!
- Member will sew ANY to ALL of the pattens in the Design Academy collection with no major outer construction changes (removing / add seamlines etc.)
- Member will photograph the project(s) and upload to our projects page with Ultimate Member Model Challenge somewhere in the title and linking to the corresponding pattern
- The top TWO projects chosen by the BurdaStyle.com team for EACH pattern will be voted on to select the winner! So there will be 9 votes in total, one for each pattern
DEADLINE EXTENDED: More time to sew, or even make another project!
In order to be considered for the contest you will need to upload your project by Thursday July 30th 11:59 PM EST. On Friday July 31st the BurdaStyle.com team will determine the two projects for EACH pattern and they will be up for YOU to vote on. Voting will close August 6th at 11:59 PM EST and the winners will be announced Friday August 7th and their photography will be uploaded as the main image for the pattern.
We will be looking for garments that have good photography / styling, quality construction, and best choice of fabric. Don't be afraid to panel fabrics and prints and add embellishments too!
If you are interested in making ALL or several of the patterns you can purchase the ENTIRE collection as a bundle here at a discount.
Have fun, and Happy Sewing!