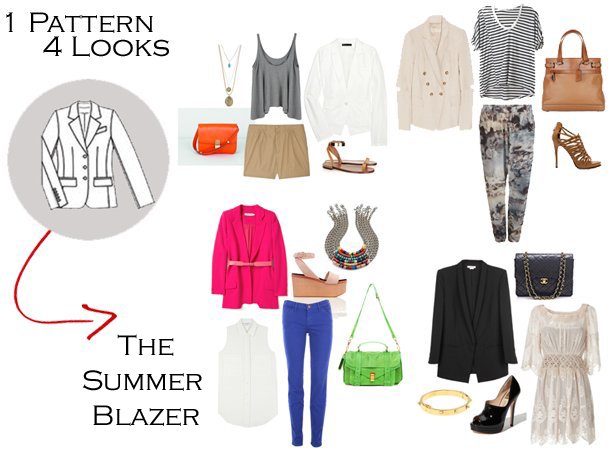 ShareThis
I broke out of my usual 3 looks this time to bring you 4 – hope that doesn't cause any problems!
One of my favorite pieces of clothing ever created has to be the blazer. There is something about slipping into one made so perfectly to measure that it almost feels like a second skin. It's a near religious experience. I have no less than 8 blazers of different shapes, sizes and colors floating around my closet with a long wish list of others I would like to add (I have never been ambitious enough to make one from scratch, only subtly nipped and tweaked ones I've purchased), and I can think of few occasions where sporting a blazer would seem out of place. Ok, well maybe the pool isn't exactly the best setting…
What breaks my heart about summer is that it's just too impossibly hot to even think about wearing a blazer. However, cool evenings and air conditioned office buildings are good enough excuses for me to pull a few lightweight ones out from their designated closet spot and give them a spin. We recently released a fantastic lightweight blazer pattern and I thought it would be fun to show you a bunch of great ideas for not only creating your own blazer, but also all of the different ways you can style and wear your finished project. Let's get started, shall we?
Basic Black:
A black fitted blazer, tuxedo jacket or boyfriend blazer is a must have for any well-rounded wardrobe. I have two on hand – a cropped one for formal occasions and an oversized boyfriend style that I like to pair with girly dresses (like the lace one below) to help balance the masculine/feminine ratio.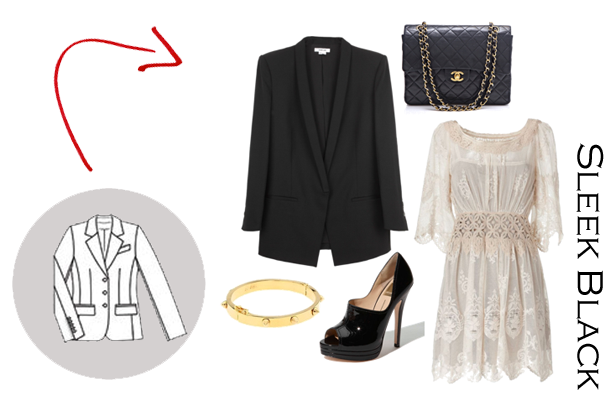 Blazer by Helmut Lang, bag by Chanel, dress by Alberta Ferretti, heels by Dolce Vita, bracelet by Cartier.
Christy Turlington and model Ruby Aldridge both show great ways to pair a black blazer with a femme dress to bring a more boyish slant to their ensembles.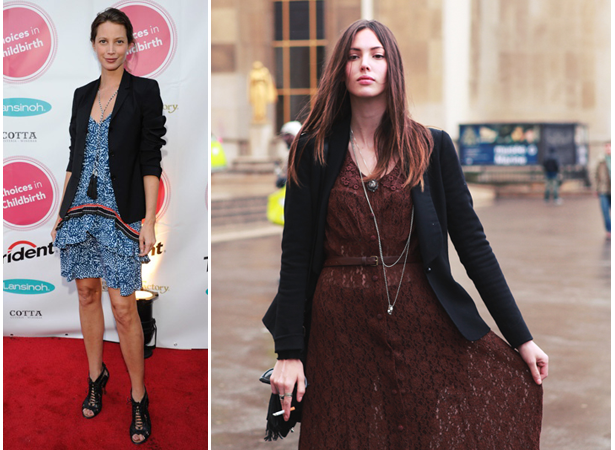 ---
White Out:
I don't own a white blazer yet, but definitely have a few styles on my radar. There's something fresh and very West Coast about a white blazer, it's like the LA way of dressing up – just formal enough to look like you're not trying too hard. It's also a great way to make a pair of casual shorts or pants appear more dressy and instantly pulls just about any outfit together.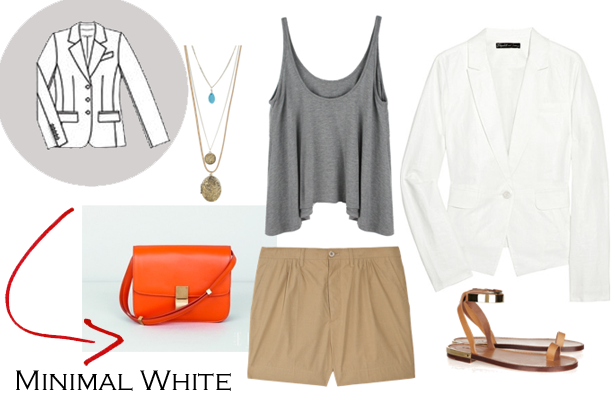 Necklace from Miss Selfridge, tank from T by Alexander Wang, blazer from Elizabeth & James, sandals by Chloe, shorts by Miu Miu, bag by Celine.
For more ways to rock a white blazer, check out these street style stars including blogger Hanneli Mustaparta (far left) who shows how to rock the summer white blazer right.
---
Color Play:
One of my favorite spring/summer trends is color blocking. Living in New York you definitely notice that black is the color of choice, but the sudden upswing in the amount of orange, pink, yellow, etc on the streets has been a refreshing break for my eyes. While pairing bold colors is not for the faint of heart, they can be mixed with more neutral pieces instead for a less in-you-face approach to the trend.

Blazer by Preen, platforms by Cacharel, necklace by Dannijo, bag by Proenza Schouler, pants by Current/Elliott, sleeveless top by Equipment.
For more ways to inject color into your ensembles, look no further than the stylish men recently snapped around Florence during Pitti Uomo. I love menswear and take a lot of inspiration from it, so I eagerly watch the street style blogs for what designers, buyers and general menswear fans wear to this Italian trade show. As for the girl on the right, I just thought this look was so spot on, I couldn't pass up sharing with you. Keep this one in the back of your head for fall, ladies – I know I am!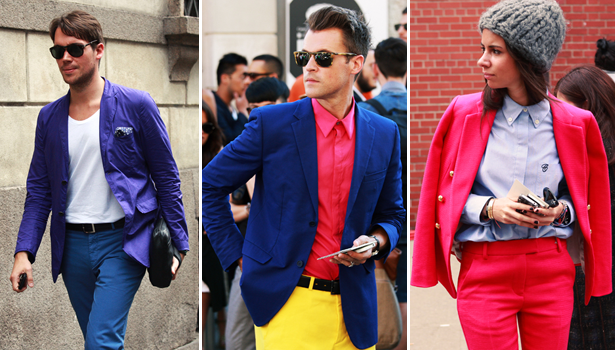 ---
Neutral Ground:
A khaki, tan or grey blazer is a great base to build an outfit around. By keeping your jacket neutral you can play around with color, pattern and texture in your other pieces without overwhelming the outfit (or yourself). Don't be afraid to pair stripes with prints, the key is to make sure they have the same base color or color family. And you can also bring your outfit back down to Earth by sticking with classic, neutral accessories like these simple brown sandals and leather tote.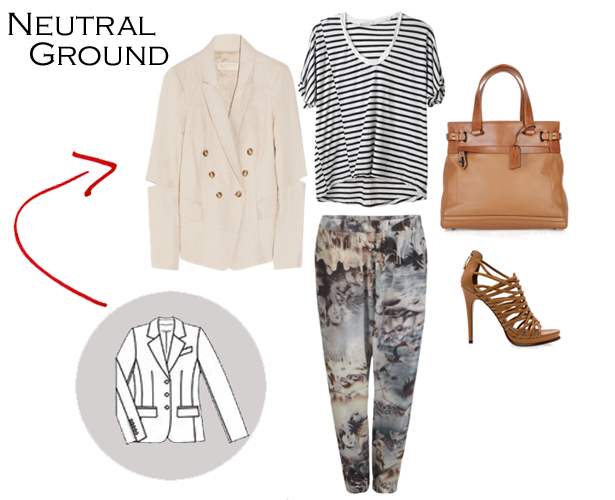 Jacket from MICHAEL by Michael Kors, striped top by Hope, leather tote by Reed Krakoff, sandals by Diane von Furstenberg, pants from All Saints.
The outfit above was inspired by the lady on the far right, whose cool mix of stripes and print is grounded by a carmel-colored jacket, while her shoes share both the jacket and shirt stripe colors. You can tell there was thought behind her choices but not so much that it looks contrived, which I love.
And of course here are a few of my favorite blazers created by BurdaStyle members: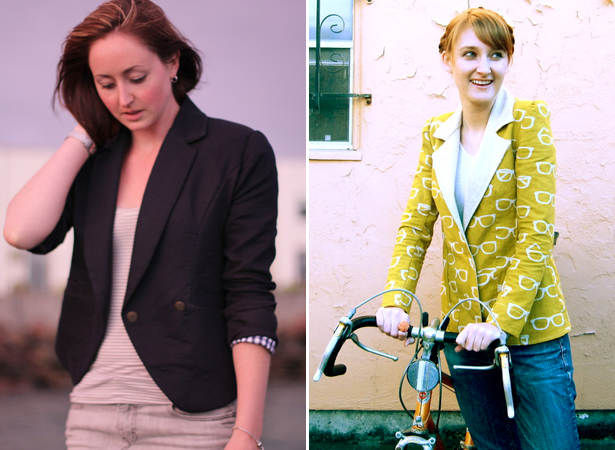 carolinesj's Senior Skip Day Jacket and the Glasses and Gold Blazer by sewhappyclothes.

Clockwise from top left: Blazer in Pastell by annablume-1, koffee's 3 Pocket Blazer and grainline's Knit Blazer.
Any plans on tackling a blazer this season? For those of you who have already made one, any tips for getting started?
Photos courtesy of STREETFSN, The Sartorialist, Garance Dore and Google Images. All mood boards made via Polyvore.