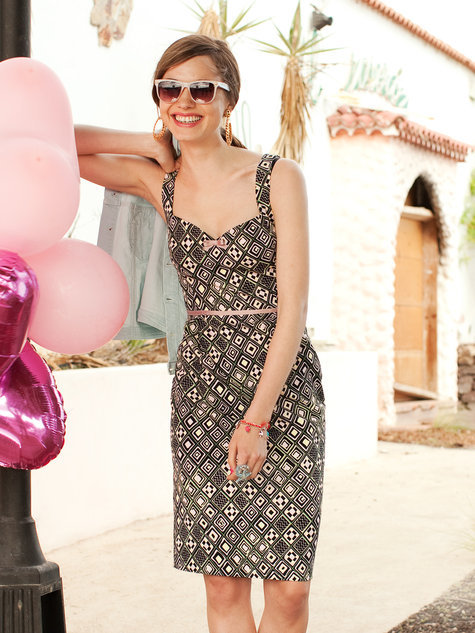 ShareThis
Make three gorgeous new dresses for spring… with 1 pattern!
We love this sweetheart dress! With a neckline that's both feminine and flattering, you won't want to take it off!
Here's a flat illustration of the the original:

Now a few easy ways you can switch up the style:
Add a waist and hem band, pick out a couple of colors, and you've got a delightful color block dress!

Use a ruler to measure out the desired widths of your hem and waistband. Cut out your side bodice waistband pieces and attach them to the center waistband pieces, front to front and back to back. You can see how they'll join in the diagram below. Cut both waistbands on the fold.

A full gathered skirt is perfectly breezy for spring!

You can use a gathered skirt pattern, or draft your own. To make a gathered skirt, measure both waistband pieces, and double the measurement. From here you'll draft a rectangle: Your doubled measurement by the length of the skirt. You can make it short, long, or anywhere in between. Sew a basting stitch and gather the fabric until it reaches the waistband measurement.
For step-by-step instructions on how to sew a gathered skirt, check out this video!
An exposed zipper and peplum skirt add extra flair to this style.

You can borrow the peplum from this peplum top pattern, or even use the same drafting method above and create a shorter gathered skirt! You multiplied the waist measurement by 100% above for a full-gathered skirt, so reduce that percentage if you'd like your peplum to have a little less volume at the waist.
For a front closure, you will cut two of each center front pattern piece (bodice, waistband and skirts). You don't need to add seam allowance along the center front when sewing an exposed zipper. The zipper tape is usually around 1/2" wide, so sew the zipper to your center front at 1/4" seam allowance, leaving 1/4" exposed. Baste the center front edge of the peplum skirt to the edge of the underskirt before attaching the zipper. Cut the back pieces on the fold.
And of course, don't forget add seam allowance to each new piece!