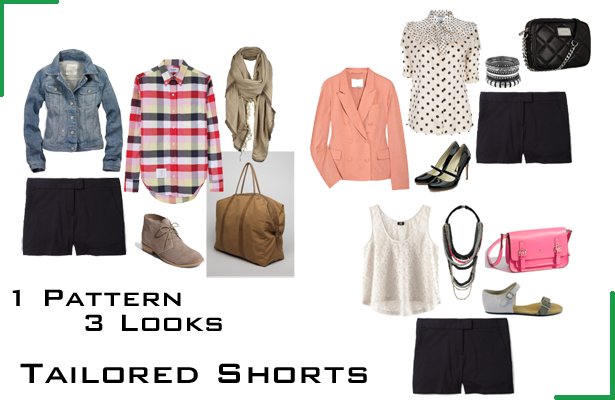 ShareThis
Shorts – once relegated solely to backyard BBQs and Summer beach parties – have taken a suddenly chic turn and become a standby for both dressy and casual attire. I vividly remember refusing to wear shorts from about the age of 15 to 21 (my mother thought I had completely lost my mind), but I finally gave in when the Atlanta heat proved too powerful for my feeble attempts at keeping cool in rolled up jeans and cropped pants.
I don't know what prompted my very strong aversion to shorts, but in the same way that I stubbornly stopped eating bacon for 4 years only to later question why in the world I would give up something so tasty, I too have now embraced shorts and look back at my years of covered legs wondering what the heck I was thinking.
How do you feel about shorts? Before you make up your mind for good, know that there are lots of options in a variety of lengths and for a range of different body types. While I now own my fair share of kick-around shorts, I am also drawn to more tailored, dressy options that work just as well with a nice blazer as they do with a comfy tee. See a few ways to style one of my favorite BurdaStyle shorts patterns and let me know how you rock (or why you don't rock) your shorts!
Option 1: Tailored for the Office
Last week I pulled together a post highlighting a few fashionable suggestions for the workplace and while I didn't add a shorts option, a sleek version paired with a tailored blazer is an office-appropriate way (depending on your job, of course) to give your shorts a professional twist.

Blazer – 3.1 Phillip Lim, blouse – Sonia by Sonia Rykiel, bracelets – Buckle, bag – Michael by Michael Kors, shorts – Theory (used throughout), shoes – Rupert Sanderson.
Options 2: Fun and Funky
As easily as shorts can be casual and laid back, they can also be fun and fashion forward – it's all in what you pair them with. A bright purse, a bold statement necklace and a trend-friendly lace top are all great ways to give your shorts a fresh kick.

Top – H&M, necklace – Jensen Conroy, bag – Kate Spade, sandals – 3.1 Phillip Lim.
Option 3: Casual Cool
For a quick weekend getaway, toss on a boyfriend button-up, desert boots and a perfectly broken-in denim jacket to give a casual, tomboy twist to chic shorts.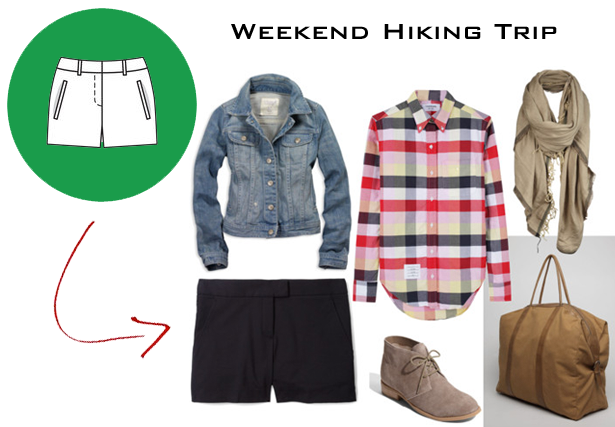 Jacket – American Eagle, shirt – Thom Browne, scarf – All Saints, weekender bag – Les Prairies de Paris, boots – Dolce Vita.
Shorts popped up in more than a few designers' Resort and Spring collections….
Tailored for Spring: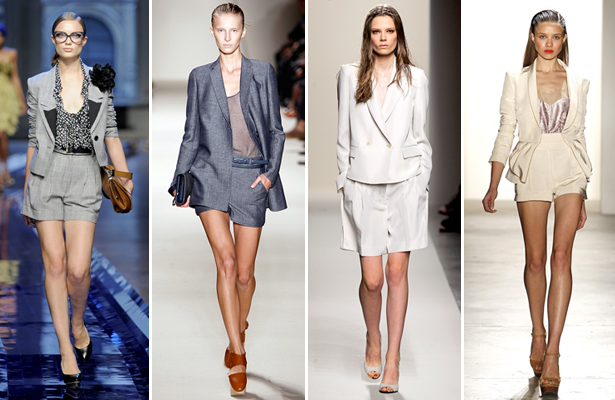 From left: Spring looks by Jason Wu, Akris, Bottega Veneta and Erin Fetherston.
---
Fresh and Funky for Resort:


From left: Resort looks from Prabal Gurung, Brioni, Jason Wu and No. 21 by Alessandro Dell'Acqua.
---
Even a few celebrities have been snapped wearing their shorts out on the town…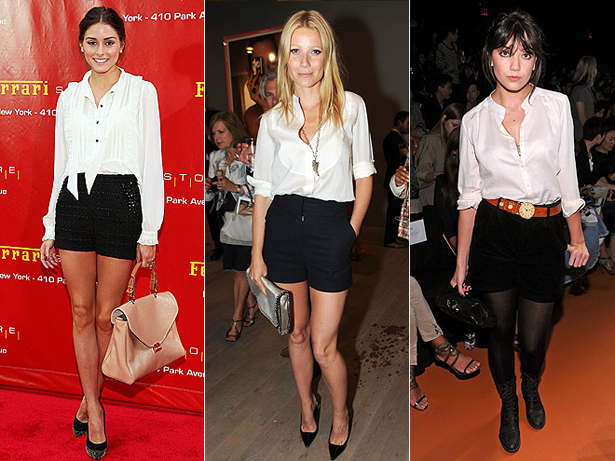 From left: Olivia Palermo, Gwyneth Paltrow and Daisy Lowe in virtually the same outfit!
---
And of course some of our fantastic BurdaStyle members have put their own unique spin on shorts with their sewing projects….

Clockwise from top: Chrysanthemum Shorts by macoskrm, Karl Lagerfeld Skirt Turned Shorts by ajtak7171, Laced Shorts from a Thrifted Top by remostar and Mossy Bow Shorts by nettevivante.
---
Now it's your turn. Take a few of my favorite shorts patterns for a spin and see what you think..


From left: Ruby Shorts, Bermuda Shorts, Bow Shorts and Back Pocket Shorts patterns.
So now you tell me: shorts or no shorts. What's the verdict?
All images via Style.com and Google images. Mood boards made via Polyvore.