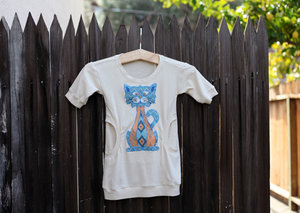 What do you get when you mix cats with puff paint?
A cute little sweatshirt for my niece, of course.
Once upon a time when I was a wee little girl, I had a favorite sweatshirt. It was pink and short sleeved. And, as if that wasn't enough to make it the best sweatshirt ever, it was appliqued with a colorful bunny that was outlined in puff paint and jewels. Yes, puff paint and jewels. When I saw BurdaStyle's Girl's Long Top 12/2011 #141 pop up in my reader a month or two ago, my heart leaped: my long ago favorite sweatshirt – with pockets!!