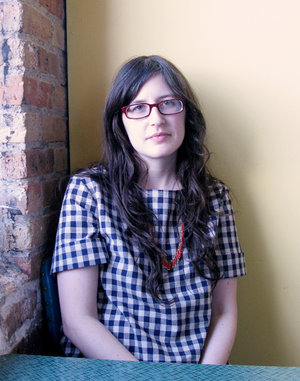 1. Where are you from and/or where do you live?
I grew up in the suburbs of Chicago, and I now live in Chicago. I didn't stray far.
2. What was the 1st thing you made? How did you start sewing?
The first thing I made on a sewing machine was a cheeseburger complete with swiss cheese, tomatoes, onions, pickles, lettuce and a bun. I was about 12 when I made this, my mom is a really good sewer and so I decided that I wanted to learn. She got a sewing for kids book with tons of fun projects aimed at improving motor skills with the sewing machine. I didn't realize that part though and just thought I was making the most awesome project of all time. I still have the cheeseburger on my dresser. I've been sewing by hand for much longer than that. When I was a toddler my mom got me this toy that was a few really heavy duty cardboard boards (almost like board books) with an image on them and holes drilled through. It came with an oversized plastic needle and you could sew yarn through the drilled holes. Did anyone else have these? I guess even as a toddler my mom had sewing plans for me.