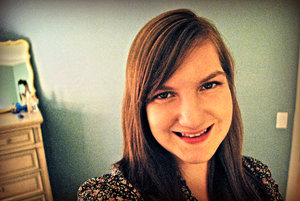 1.Where are you from and/or where do you live?
I was born in St. Louis, Missouri and when I was 8 moths old, my family moved to Phoenix, Arizona.
2. What was the 1st thing you made? How did you start sewing?
I can't remember exactly the first thing I sewed because I started learning at a very young age. I believe it was a stuffed animal kitty that came in a beginners sewing kit. I remember how impatient I was sewing it because I didn't use a sewing machine. I learned how to hand-sew first. But what really got me started sewing was when I sewed my first purse without a pattern. I was 11 or 12 and I was sitting in the car, and my dad, in the drivers seat, asked me if I made the purse I was wearing. I thought his question was absolutely ridiculous, but then I thought; wait a second, maybe I could make a purse like this! So I got to work right away and I made a pretty good looking purse for a 12-year-old who had no pattern or directions. I also started sewing stuffed bear clothes for my sister and friends. I have been sewing, designing, creating, and learning ever since!