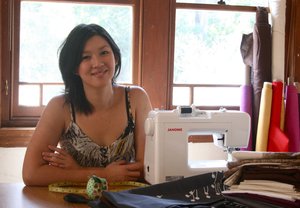 1. Where are you from and/or where do you live?
I live in Sydney, Australia. I actually grew up in Darwin in the far north of Australia in the tropics. I've also lived in California and London!
2. What was the 1st thing you made? How did you start sewing?
The first thing I made was probably something like a tote or zipper case in home economics at school. Do they even teach sewing at school these days? I remember watching my mum sew but I think my first experience was in that class at school. My favorite piece in my BurdaStyle studio is currently my Anda dress. It's so quick to make and easy to wear. I think if you can get a lot of wears out of a handmade item, it's a hit. I used to spend my time making complicated dresses that would barely get worn. An example of something I spent way too much time on making was when I decided to try my hand at tailoring using couture techniques on a blazer. It was literally sewn by hand and so laborious that I actually had to put it away for a few years before I could look at it again and finish it.