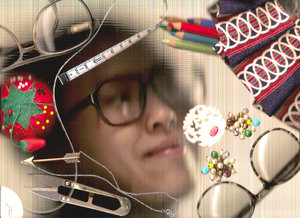 1. Where are you from and/or where do you live?
I'm originally from Japan, and I currently live in Brooklyn, NY. I am going to school, majoring in graphic design.
2. What was the 1st thing you made? How did you start sewing?
The first thing I made was an animal-shaped felt pochette for a community fair when I was like 8 years old. I made a few of them, and they were all hand-sewn. And the first thing I made with my mom's sewing machine was a little dress for a door ornament. Then I was hooked into making my own clothes about 10 years ago, from skirts, at first. I measured myself and came up with a simple A-line skirt, which I still wear at home. Nobody around me sewed anything (not even my mom), so I have taught myself pretty much everything I know about sewing so far.