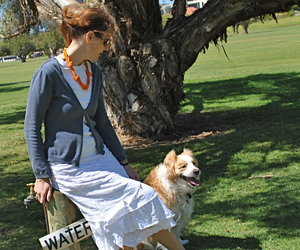 1. Where are you from and/or where do you live?
I live in Perth, Western Australia. Perth is a small city, and probably the most isolated capital city in the world! The term "only 6 degrees of separation" is so very true for Perth-ies. Both my husband and myself were born here, as well as all our three children.
2. What was the 1st thing you made?
My mother and both my grandmothers were both very creative and prolific seamstresses, so I was sewing from an early age. When I was little I made doll's clothes, cushions, pencil-cases and pincushions and so on, one of which I still use today, lol!