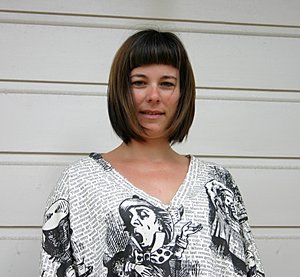 1. Where are you from and/or where do you live?
I am from Geneva, Switzerland. I also lived in Lausanne. About 2 1/2 years ago my husband and I decided to live abroad for some time. We first moved to Bermuda, a tiny island in the middle of the Atlantic Ocean. We lived there for about a year and a half. We then traveled in the USA, Europe, Asia and Australia for 8 months, before finally settling in New Zealand. We currently live in Wellington, New Zealand.
2. What was the 1st thing you made? How did you start sewing?
I started to knit during our 8 months journey to New Zealand. When we arrived here, about 6 months ago, I decided to start to sew. That was the perfect situation because I had time and wanted to do something with my hands. My first piece was a very basic apron because I love to cook.