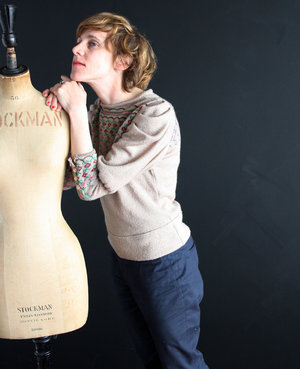 1. Where are you from and/or where do you live?
I am originally from France. I was raised in the Loire Valley near Le Mans, famous for the Le Mans 24 Hour Race. It is not far from Alençon in Normandy, a town known for its intricate lace: le point d'Alençon. [This feature is sponsored by the French expats' tourist board. ;-)] I came to work in England in 1996, first in a small town near Bristol, then in London. I have been working while studying Fine Arts: I am a part-time librarian and I recently completed a research project at the Royal College of Art. I often feel stuck here in London, but I guess these are not the best economic times to leave the city. Rotterdam is my preferred location: it oozes with down-to-earth creative energy. There, over the last 4 years, I have learned how to hand process and print my own film footage (mainly 16 mm). I am a film buff.
2. What was the 1st thing you made? How did you start sewing?
I remember hand-stitching fabric remnants. I was determined to hand-sew as neatly and regularly as the sewing machine itself.