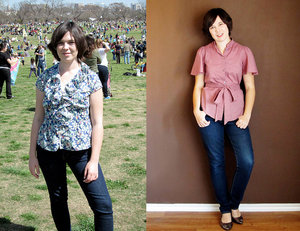 In celebration of this week's SXSW events in Austin, Texas – we are excited to profile a BurdaStyler and an Austin native!
Where are you from and/or where do you live?
I'm from Austin, TX and right now I'm a video editor for a website but I like to make sewing and designing more of a full time gig.
How did you start sewing?
I began sewing in high school but didn't start working with patterns until college after a few bad experiences turned me off from clothes sewing (who knew reading the pattern directions could be so helpful?). My favorite project in my studio so far is probably my Striped Tulip Skirt, not because it is especially intricate or a masterpiece but because it took me multiple attempts to get it right and I'm glad I stuck with the pattern and finally found a fabric that worked for it.