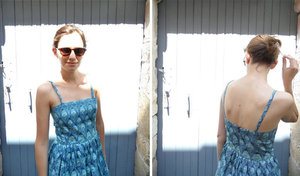 Where are you from and where do you live now?
Hi there, my name is Charlotte, I am 26 and I am from France. I grew up in Brittany but I have been living in Paris for more than three years. It's a great city even if sometimes I miss living by the sea… I have a 9 to 5 daily job that isn't far from home (quite great in a big city) so I don't waste a lot of time commuting every day and I can focus more on my sewing projects.
How did you start sewing?
I started sewing in 2005 because I wanted a floral dress that I've seen on a Cacharel runway show.