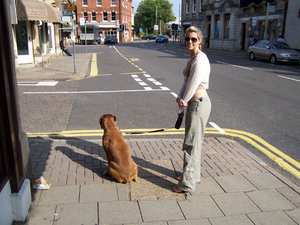 1. Where are you from and/or where do you live?
I was Born and bred in Manchester England, I discovered the true essence of Manchester in my teens and have loved it ever since.
2. What was the 1st thing you made? How did you start sewing?
The first thing I made was clothes for my cat when I was eight years old. She used to make horrendous noises and walk backwards to try and get away from my creation but I'd just think that maybe it needed something extra, maybe a bonnet. I come from a very creative family, my mother is a seamstress by trade and she was always either sewing, knitting or crocheting and my father was an avid painter. I have always been creative and into making things but it kind of took a backwards step and everyday life took over, until that is I was given a sewing machine for Christmas 2007 by my beloved husband and soon after I discovered BurdaStyle and I've been hooked ever since.
3. What role does sewing play in your life?
A happy release from the stresses of everyday life, I hate having to find time to sew, I would love to sew every day and I would love love love to be able to create something that i have designed. I enjoy following patterns and i love seeing the end creation but you see so many people on this site that have come up with amazing designs, I am always inspired to create something of my own but it never works. I always end up copying someone else's idea, I just wish I could come up with something to inspire others.
4. What is your favorite and what is your least favorite thing about sewing?
My favourite thing about sewing is seeing your creation come together and just feeling free from the world, I love taking my sewing machine table out into the garden and sewing in the sunshine. My least favourite thing is transferring all the pattern lines onto your chosen fabric, I usually end up skipping this part and just stick pins where the lines should be, but then as you sew the pins end up falling out and you then have to go back to putting your half sewn garment back onto the pattern piece in order to find out where the lines should be. I usually then end up hearing screams from my husband as he has stood on the pin that has fallen out!! Oooops!!
5. If you could make something for anyone who would it be and what would you make?
I would like to make something for my husband, he is a big muscley guy and he finds it hard to find clothes to fit him. He has a 20 inch neck and a 56 inch chest so I'm afraid the items for men on the site won't go near him. When I am a little more experienced I will try to make a pattern from his measurements and hopefully make him something he will be willing to go out in public in. So watch this space………..
6. What are you looking for on our site? What do you think should be improved and what do you really like?
love looking at everyone's creations and I wait patiently (well I try to be patient!!) every Tuesday to see what the new pattern will be. I check the site at least 3 times a day to see what has been posted. I love the community feel of the site and that we are all like minded people. The site is great and is everything you could ever want or need from an open source sewing site, the only thing that I would like to see, is when you are searching for something, whether its a member or a pattern, it would be nice not to have to know the exact name, and the search engine could say, we couldn't find anything that matched but we found this that is spelt similar. My favourite part of the site is the Creations and the blog, I like to see what people are doing and i love it when there is someone asking something that I can help with, or maybe I'm having the same problem and some one has posted an answer. I also love the way that members link to other items, whether its something they have used for inspiration or whether it is a blog or tutorial. I have found so many inspirational sites from doing this and I love it.
7. What is your motto?
Love life and be happy!!!
Her embroidery is awesome, and her skirts, dresses and bags are incredible too you have to check out Podge's creations also make sure to check out her blog too!