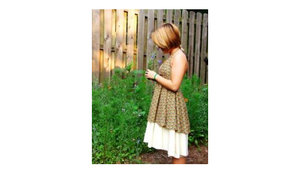 1. Where are you from and/or where do you live?

I'm from Tallahassee, Florida and I'm currently going to school at Georgia Tech and living in Atlanta, GA.
2. What was the 1st thing you made? How did you start sewing?

I don't really remember probably a pillow or tote bag out of scraps from my mom. The first thing I remember making on my own was a huge messenger bag for school. I started sewing because I wanted cool clothes and accessories that no one else had, I had always seen my mom sewing so it was easy for me to pick up.
3. What role does sewing play in your life?

I literally sew something everyday. I go to a school that is very structured and sewing is my creative outlet, not to mention way cheaper than buying clothes.
4. What is your favorite and what is your least favorite thing about sewing?

My favorite thing about sewing is when people ask me where I got something I'm wearing and I get to reply "I made it". My least favorite thing about sewing is when I mess up and have to spend 30 minutes ripping out seams.
5. If you could make something for anyone who would it be and what would you make?

I would make a cool sling for my dad (he broke his elbow) because he doesn't like his black one. I'd also love to make myself a fantabulous wedding dress someday.
6. What are you looking for on our site? What do you think should be improved and what do you really like?

I'm looking to learn more about sewing, I've learned a lot from this site and I look forward to learning more! I can't think of any improvements I love this site! I love to look at user creations, I think there are so many talented people on this site, I could sit at my computer and flip through the creations all day.
7. What is your motto?

I don't really have one, I guess it would be never give up, cause I never give up on my sewing projects.
Kgallagher3's creations are sweet feminine and stylish. Her Potato Stamped Anda was one of my personal favorites for the Anda Sewalong Mini Challenge. Her status say's she is sewing up fall clothes and I, for one, am excited to see what her fall clothes turn out to be