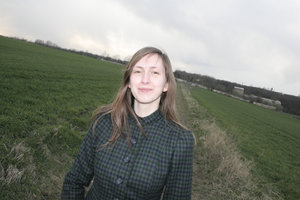 1. Where are you from and/or where do you live?

I originally come from a small town in Germany, called Eisleben, but since I started studying I live in Halle, which is only 30 km away from my hometown.
2. What was the 1st thing you made? How did you start sewing?

I think the really first thing I made was some patchwork pillow case, I must've been 13 years old. Then a long pause followed until 6 month ago I decided to start sewing again, because I wanted garments that actually suit and appeal me! I searched the internet and found BurdaStyle, and the story began ;)
3. What role does sewing play in your life?

Ask my boyfriend, actually half of the time I search the internet for fabrics and/or patterns, the other half I sew ;D No, that is not exactly the case, but I'm a little bit of a fabric-addict and sewing became my hobby number one. I don't have my own sewing machine and only have the possibility to sew, when I visit my parents on weekends or during semester break. I actually could buy my own sewing machine, but I think that would change my priorities to the disadvantage of my study …
4. What is your favorite and what is your least favorite thing about sewing?

I absolutely love to start a new project, to transfer the pattern, to cut the fabric and the first steps of sewing, because mostly they're the easiest and fastest ;) To finish a project completely is also very satisfying! Not so enjoyable is a project that just doesn't come to an end, because the fabric is difficult to handle and I have to rip seams and redo a lot of steps or I have to alter a lot until the fit is how I imagined it (which could take long, because I'm a little perfectionist).
5. If you could make something for anyone who would it be and what would you make?

I never thought about this opportunity, but I guess it would be really cool to make a dress for an actress for her Oscar night or something, but I think I have to practice a little bit until I get there ;)
6. What are you looking for on our site? What do you think should be improved and what do you really like?

Of course I love the patterns, the How-To-section and the other member creations! It is a great inspiration and very interesting to see what other people are doing! And the forum is a great platform when you have questions!

BurdaStyle is a really great site, but as I am from the design field I think you should check on the usability! Especially the forum and the profile site are a little bit confusing.
7. What is your motto?

I don't have a real motto, but in the past "Wait and see" turned out to be a good advice ;)
I cannot believe that Polychromatin only started to sew 6 months ago. Her creations are fun and daring. From the patterns she chooses, it is obvious that she is not afraid of a challenge. We look forward to seeing her grow and develop around the site. Best of luck at school!