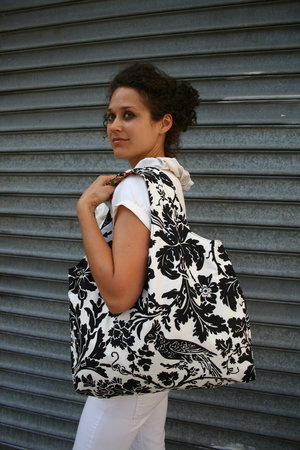 1. Where are you from and/or where do you live?
I grew up mostly in Arizona with frequent visits to Manhattan, cut my teeth in Los Angeles, and gypsy'd across America last summer before landing in Brooklyn.
2. What was the 1st thing you made? How did you start sewing?
Making has always been a natural and constant thing for me, so I don't have a specific answer to this question. I come from a family of makers. My dad is a fixer/maker/builder, and I have a box of things my mom and aunties and grandmas made for me as I was growing up, from ceramics to costumes to party dresses to stuffed animals. I also grew up in a family that would get excited about a pile of garbage because 'maybe we can make something out of this'.
With all that, though, I don't remember starting to sew until college. I remember trying to recover a couch and choosing really bad material. And I remember getting my roommates to dress up with me as a rock n' roll band for Halloween, and I made my costume from scratch: it was awful and too small and I obviously had no idea what I was doing and I looked like a hooker. A few years later, my ex-husband bought me a nice sewing machine, and it was onward and upward after that.
3. What role does sewing play in your life?
Sewing IS my life these days. Freelancing for BurdaStyle, I get to sew a lot of the beautiful garments you see in our Creations. And I've also been working on my Etsy shop, Led Thread, which keeps me busy and satisfied. I'm also doing a TON of custom work. Last year I dreamt of taking a sewing vacation (just sewing for a week), and now I dream of taking a vacation FROM sewing (no sewing for a week)! That said, though, I love sewing and the creative process and I am incredibly proud of how far my craftsmanship has come in the last few years.
4. What is your favorite and what is your least favorite thing about sewing?
I hate trying to get fabric to do something it doesn't want to do.
I love the sense of accomplishment I get knowing garments I've made are out in the world living separate lives that I know nothing about. I like to imagine what they are doing: maybe shoved in the back of the closet, maybe in the donation heap, but maybe on a tropical vacation or fancy party.
5. If you could make something for anyone who would it be and what would you make?
I would make myself a really avant-garde gown.
6. What are you looking for on our site? What do you think should be improved and what do you really like?
Ah, well, I really truly love BurdaStyle and I think it is a beautiful project. I am very excited about the site redesign, because right now it is a bit clunky and difficult to navigate. I love having a place where people can share their creations, and I really like all the positive feedback our members are so generous with. I like seeing how people execute the patterns, what fabrics they choose and what changes they make. I also use the How To's quite a bit to jog my brain if I'm coming up to a sticky construction issue. Oh, yeah, and the patterns!!
7. What is your motto?
There is no place to go save up.
Layla has been here at BurdaStyle since October of last year. In addition to keeping us laughing and being a major force behind our cookie consumption, she is also responsible for many of the patterns and creations put up by BurdaStyle (the Charlie bag, the Bella pants and Pete, the Men