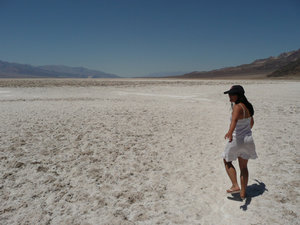 1. Where are you from and/or where do you live?

I was born and raised in Dortmund, Germany. Now I'm living in a region in the center of Germany which is famous for the river Rhine and its medieval castles.
2. What was the 1st thing you made? How did you start sewing?

Both of my grannies have been seamstresses and my mother used to sew a lot as well. So I've always been fascinated by sewing. I made my very own attempts to sewing nearly a year ago by making a dress for me. It was absolutely not wearable but it was such a joy to make that I've stuck to sewing.
3. What role does sewing play in your life?

For me sewing is a good compensation to my every day work. I usually sit the whole day in front of a PC. So for me it's joy being creative and it's somehow satisfying creating something I can touch and feel.
4. What is your favorite and what is your least favorite thing about sewing?

I really love everything about sewing – planning a project, choosing a pattern, buying the fabric (oh, that's one of my favorite things), tracing the pattern, cutting the fabric and seeing how an idea turns into a real piece of clothing. When I start sewing something, I always have a concrete imagination of the finished piece. So I don't like not finding the right fabric, the right buttons, … or when a project doesn't turn out as I imagined.
5. If you could make something for anyone who would it be and what would you make?

…….
6. What are you looking for on our site? What do you think should be improved and what do you really like?

What I love the most about BurdaStyle is that it is a steady source of inspiration it gives me. I love to see other members creations and how they turned i.e. a basic pattern into something so unique and special.
7. What is your motto?

I don't really have a motto. I try not to fear trying things and just do it. So I try not to fear making difficult clothes as a beginner, cutting expensive fabrics, working with knits or trying out new techniques.
You know senaSews from the Anda Sewalong Minichallenge I can't read German, so I was very excited to find that almost every blog post is written in both German and English. She shows us how she did her beautiful diamond smocking as well as tips for other patterns. I was sucked into her blog and I think you will be too!