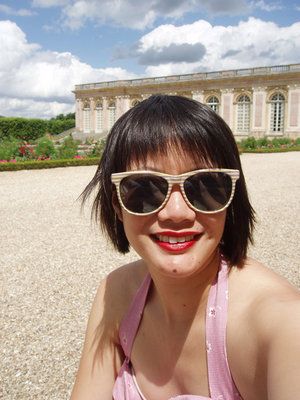 1. Where are you from and/or where do you live?



I am originally from Adelaide, Australia but moved east to Melbourne about 5 years ago where I live with my boyfriend, 2 cats and dog.
2. What was the 1st thing you made? How did you start sewing?
My grandmother was a dress maker in the Philippines and she and my mother and auntie would sew me clothes when I was little. I dabbled in a bit of hand sewing when I was much younger but didn't learn how to properly use a sewing machine until November 2007. I enrolled in an 8 week CAE beginners class and the thing I made was a pair of pj pants. I didn't realize how difficult it is to match unsymmetrical plaid though, so that was my first big lesson!



My Mum brought over her old Elna machine for me and I have been happily sewing away at home since. The second item I made was a 1950s style dress, as part of a 3 week project class at a new sewing lounge in North Melbourne called Thread Den. Since then I did a few other classes there too like a trousers class and a beginners pattern making class to build my confidence, and have been using many of the fabulous patterns from Burda Style to start making some items on my own at home.
3. What role does sewing play in your life?
It's my new favorite hobby and I think it's one that's going to last. I love projects and being able to have something to show for my efforts at the end. And I find it a great way to get my mind off work and other things – sewing is the best procrastinator! I get great satisfaction after finishing a piece of clothing I'm really happy with and being able to wear it or give it a friend to wear out. Since I have started doing more sewing I find myself thinking about the construction of clothes a lot more. When a see a dress or shirt I like, I don't just look at the cut and the pattern, I find myself inspecting the inside and seeing how it was put together, if there's a yoke, and getting ideas for adding detail.
I think it's an important creative outlet for me, and also makes me feel like I'm carrying on a family skill.
4. What is your favorite and what is your least favorite thing about sewing?



My favourite things are finding new sewing patterns to try and thinking of ways to individualize them. I adore hunting for fabric I LOVE and inspires me to turn them into items of clothing. I recently went to Paris and Lisbon and had a great time rummaging through fabric stores there to find something special. I also love blogging my projects once they are done and sometimes joke that I am making clothes more for the blog than for me! And I love meeting other sewers through BurdaStyle, my blog and at Thread Den and finding inspiration in each other's projects and sharing encouragement and ideas.



My least favorite thing would have to be doing all the measuring and cutting! It always takes so much longer than I think it will, and calculating measurements is definitely harder to do when you're tired which can make an after work class a bit of a challenge! Oh and of course unpicking… Which I inevitably seem to end up doing at least a bit of each project… Hopefully I am improving and doing less of this as I gain more experience.
5. If you could make something for anyone who would it be and what would you make?
Hmm… I would really love to be able to make a well cut suit for my boyfriend – Marc Jacobs style!
6. What are you looking for on our site? What do you think should be improved and what do you really like?
I love the patterns and looking at everyone's creations and uploading my own. And the
How Tos
are a god send too, so helpful! I love receiving comments from other members about my creations and I love leaving comments about creations that inspire me to make my own. I'd love if were a bit easier to find other members in my area.
7. What is your motto?
I don't really have one. But how about – find what inspires you!
Between her cute dolls and her cool clothes, myra_lee's is a master of choosing patterns for each piece she creates. You should check out her blog, it chronicles her adventures in travels, shopping, music and of course sewing.