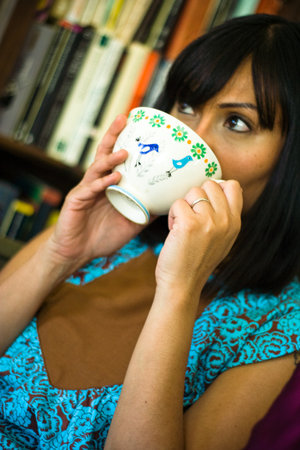 1. Where are you from and/or where do you live?
I was born in Guam and my family moved to Southern California (just north of Orange County) when I was three. I currently live in Hollywood, so I didn't stray too far from where I grew up.
2. What was the 1st thing you made? How did you start sewing?
When I was a little girl, I used to hand sew little cushions that I stuffed with cotton balls stolen from my mother's makeup drawer. The first thing I ever made with a machine was a super simple unlined mini tote bag. It's a shame that I didn't actually make an effort to learn how to sew until this year—in my mid 30s! I'd always wanted to learn, but for some unexplainable reason, I was extremely intimidated by sewing machines. I finally gathered the courage to enroll myself in a basic sewing class earlier this year (where I made the mini-tote) and I'm so glad I did.
3. What role does sewing play in your life?
For me, it's a well-needed creative outlet after a day at the office. Also, It's just so gratifying to wear/use something that you've made yourself—a feeling to which I'm sure all of you Burdastyle.com members can attest. I can honestly say that it's the most enjoyable hobby I've ever taken up, as well as the most addictive.
4. What is your favorite and what is your least favorite thing about sewing?
I've got two favorite things: 1) shopping for fabric and letting my imagination run wild 2) that feeling of exhilaration I get when I complete a project. What I like the least is deciphering pattern instructions. I'm primarily an aural and tactile learner and possess very poor spatial awareness —so sometimes diagrams actually serve to confuse more than to help. Oftentimes, I have to make a miniature model of the project in order to figure out the actual construction of it!
5. If you could make something for anyone who would it be and what would you make?
Purely fantasy of course—I would make an insulated cooling wrap for the earth to slow down global warming!
6. What are you looking for on our site? What do you think should be improved and what do you really like?
I'm looking for inspiration, above all, and there's plenty of it here! I love perusing member creations and I'm inspired by what I see on a daily basis. I'm also looking for stylish, versatile patterns, and BurdaStyle has got that covered as well. What's more, there's a real sense of community here, which I love. Everyone is so helpful and supportive. I honestly can't think of anything I'd change!
7. What is your motto?
My general motto is a quote by Bertrand Russell: "The good life is one inspired by love and guided by knowledge." My sewing motto is "Don't sacrifice enjoyment for perfection!" I sometimes take a lot of short cuts when I sew for myself, which I don't necessarily encourage, but I think it's important, when undertaking any creative endeavor, to relax, have fun and to not beat yourself up when you make mistakes. I mean, when it stops being fun, what's the point in doing it, right? That's what I say, at least!
Maya511 has a great sense of color and style, just take a look at her fun floral top or any of her many creations. She also has a blog which chronicles her sewing adventures.