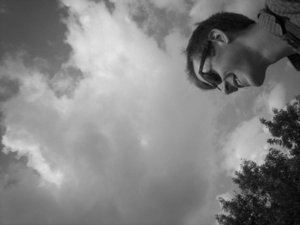 1. Where are you from and/or where do you live?
I am from Grand Rapids, Michigan; born and raised. I currently live in Grand Rapids and am attending Calvin College
2. What was the 1st thing you made? How did you start sewing?
The first thing I sewed for myself was a pair of short shorts, for basketball. My friends and I play recreation-league-intramural basketball at Calvin and we dress in 70's clothes, including short-shorts. I wanted a pair that matched the colours we picked for the team.
3. What role does sewing play in your life?
Sewing plays the role of helping define my style and attitude towards life. Sewing is a hobby, but I would say that the role is practical. I like making things that I will use. I have made a lot of bags because bags are functional. Making rather than buying changes how I view my possessions. I appreciate them more because I have put something personal into them.
4. What is your favorite and what is your least favorite thing about sewing?
My favorite thing about sewing is brain storming, looking at something and thinking how to make it for myself. My least favorite thing about sewing is not having time to sew.
5. If you could make something for anyone who would it be and what would you make?
I guess I would make a camera bag for my older brother. I would really like to see him appreciate my hobby in the same kind of way that I do
6. What are you looking for on our site? What do you think should be improved and what do you really like?
I'm looking for a place to be together with like minded people. People who like to create; people who prefer homemade to brand-named. I'm not sure how the site could be better, more guy-oriented stuff would be nice, but it makes sense that there is so much women's stuff.
7. What is your motto?
Make don't buy
Jeffrey is one of the most prominent men on our site. Not only does he have great creations to share with us, he has taught us all how to weave our own cloth in his awesome how to. This month Jeffery is featured in Burda Mode magazine. Congrats Jeffrey and we look forward to seeing more of your creations on the site.