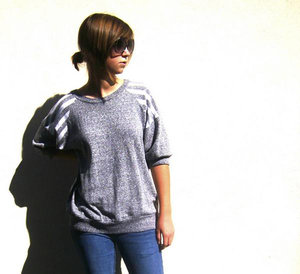 1. Where are you from and/or where do you live?

I was born in Illinois, USA & lived there until I was 10. Now I live in Mexico.
2. What was the 1st thing you made? How did you start sewing?

I remember making sock dolls, pillows & bags when I was younger. My mom sewed a lot when I was growing up, So I guess just watching her is how I started.
3. What role does sewing play in your life?

It's a job, hobby, pass time…I think its a great way to express myself!
4. What is your favorite and what is your least favorite thing about sewing?

My Favorite thing is being able to materialize the ideas running wild in my head, but then…It sinks when the ideas are too big & something doesn't turn out perfect.
5. If you could make something for anyone who would it be and what would you make?

Haha, I don't know! If it was someone famous I'd freak out & it wouldn't turn out right. But maybe someone on the BurdaStyle team or Rob & Corinne from ThreadBanger. And, I'd probably make them…a sweet bag, Or if I had super powers, would make them all neat dresses & (for the guys) suits. :]
6. What are you looking for on our site? What do you think should be improved and what do you really like?

I look for patterns & I LOVE seeing other peoples creations & taking inspiration from them. I can't think of anything that should be improved. BurdaStyle rocks my socks the way it is!
7. What is your motto?

"We live, We love, We forgive and never give up. 'Cause the days we are given are gifts from above, And today we remember to live and to love…" -SuperChic[k] (I guess this is a lyrics quote, but I love it!)
Schickchick has two websites to share with us, her handmade Etsy shop and her vintage clothing shop. For a while there she was making cool vests and taking cool pictures of them to the point that she was on the home page with every new post. How could we resist putting her as featured member. Great job Schickchick!