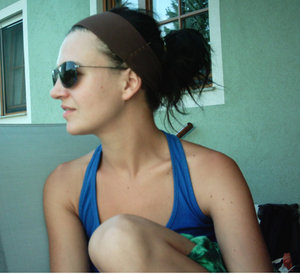 1. Where are you from and/or where do you live?

I was born in Vienna Austria and am back living in Vienna Austria
2. What was the 1st thing you made? How did you start sewing?

The very 1st thing I made was an old baby sock of mine I decorated with a few stitches in light blue wool with a very thick needle. I must have been 4 years old or so. my grandmother was a seamstress and my mum had a huge drawer with needles, buttons, threads, wool, fabric scraps, felt flowers and so on. luckily I was allowed to go in and out of there as my heart desired – it was sort of mine after a while. my mum had 2 left hands when it came to knitting and sewing. so I also taught myself crocheting and knitting when I was about 6. I sewed skirts and curtains for my Barbies until finally at age 11 we were doing a skirt in school. after that my mum decided it was time to unpack my grandma's old sewing machine. and that was the stepping-stone for my future. at age 15 I attended a fashion school and graduated age 19.
3. What role does sewing play in your life?

sewing plays a very big role in my live. it always did. I am always looking at clothes: how the seams are done and new sleeves solution. I do it all the time, during the television, on the street even in my daughter's school. it is something I cannot stop doing. if someone would take me away from sewing I think I would wilt like a flower.
4. What is your favorite and what is your least favorite thing about sewing?

my favorite is that I can work with different materials, colors and transform a female body into a stunning woman. I can transform ideas myself whenever I want to. the least favorite thing is that I have so many ideas coming in my head that I am not quick enough to see the finished project as fast as I would like to. I guess I am a bit impatient ;)
5. If you could make something for anyone who would it be and what would you make?

I love making clothes for you, you and you if you are a girl or woman.
there is no special person I would want to see in my clothes, cos I think there are enough famous and rich designers already who let stars shine. whoever would want to wear something I made is heartily welcome, famous or not. I love dresses.
6. What are you looking for on our site? What do you think should be improved and what do you really like?

on your site I am looking for pattern techniques and, as always, inspiration. I would also love to help others; one problem is only that all the talent I have in sewing and designing I very much lack in computing. so I cannot picture myself making a how to or uploading a pattern. I have two left hands and no brains for that ;oD I don't think there is anything to improve since I am absolutely happy with what you have done for everyone but it would be cool and I guess helpful though if BurdaStyle would have some kind of information point, were young designers could ask for things like "how do I take the next step" or "how do I best get organized to find a shop which will sell my clothes" or "where are the next trade shows /exhibitions in my location" (for example I as a member could give the information that in April 2009 there is "modepalast" in Vienna, which is a 3 day exhibition for young designers to present, sell & market their creations)
7. What is your motto?

my motto???? life is great and it gets better with every day. I also really like the fact that every day we are getting up, we get a new chance to make things better or different.
I would dare to say that fraufröhlich is one of, if not the most prolific member on BurdaStyle. Her simple-chick creations are so interesting and soothing. It has been a lot of fun watching her work progress. Wanna get to know her better? Take a look at her sewing room and fabric stash Check out her site for more information (it is in German but with be translated soon)