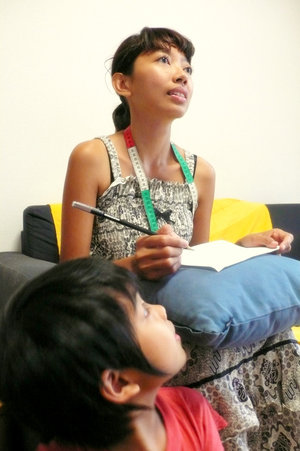 1. Where are you from and/or where do you live?
I'm originally from Jakarta, Indonesia. Earlier this year, I got married to my present husband who's been living in Tokyo, Japan, for about 10 years; so my son and I moved to our new home here. We've been living here for about six months now.
2. What was the 1st thing you made? How did you start sewing?
I think it was patchwork owl and cat dolls that I sew entirely by hand about 12 years ago. After that, I did take a fashion course for a year. When graduated, I got a job as a fashion stylist in a magazine. Since then, I stopped sewing because I was busy with the job and couldn't find the time nor the spirit to sew again.
3. What role does sewing play in your life?
I'm almost obsessed with it. After moving to Japan, suddenly I have more than enough time for myself. So about 4 months ago, I bought a sewing machine and started sewing again. I sew almost everyday now, sometimes I have to force myself to stop and take a walk outside or do something else. Since I started sewing again haven't bought any new clothes and I don't think I want to. Sewing also gives me the chance to make nice outfit for my five year old son.
4. What is your favorite and what is your least favorite thing about sewing?
My least favorite part is when I make mistakes with the buttonholes and have to unpick them, hate those tight zigzag stitches that I have to unpick carefully one by one.


One of my favorite parts is taking pictures of the process. I love taking pictures of fabric pieces after they're just being cut. Then I know that they will somehow transform into something that we can wear. It's almost magic to me, and I am part of the magic.
5. If you could make something for anyone who would it be and what would you make?
A jacket for my husband and more clothes for him. Menswear is more difficult than womenswear or kidswear because the lines and look are so different. Making dresses is easier, I can add ruffles or lace or embroidery to make it interesting, but men's clothing has to be simple, the details are subtler. It's a nice challenge, though.
6. What are you looking for on our site? What do you think should be improved and what do you really like?
Since I found Burdastyle, I visit it everyday to check on other's creations, reading the how-tos, and of course downloading the patterns. I also like to download the instructions that come along with every pattern, just to read it and learn the technique. I learn so many things from this site. The only thing that I think should be improved is the usability of the site. The forum is a bit confusing now, and it'll also be nice if we can have date on every post, and maybe some announcement on the front page when our favourite members have just posted a new creation.
7. What is your motto?
If you hit rock bottom, the only way to go is up
Verypurpleperson has the cutest collection of clothes I have seen in a very long time. From upcycling to menswear her creations are incredible! Her blog:Verypurplestuffs.blogspot.com provides a a great step by step look at all her creations.