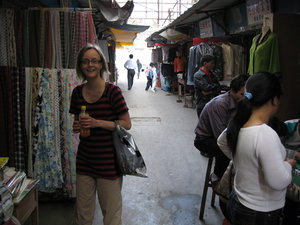 1. Where are you from and/or where do you live?

I grew up in a small town called Sundsvall in Sweden. Nowadays I live in Umeå, an equally small town further north.
2. What was the 1st thing you made? How did you start sewing?

The first thing I made was a midnight blue, asymmetrical absolutely smashing evening gown for my Barbie. In my teens I sewed a little for myself, and I took it up again a couple of years ago, all thanks to BurdaStyle. My grandmother was a source of inspiration. She sewed clothing for me when I was a kid.
3. What role does sewing play in your life?

I have a busy professional life, and sewing helps me relax and distracts my mind. And it is very nice to create something with your hands. For many years I tried different crafts, like embroidery, crocheting, but it was all too monotonous for me. Another aspect is the question of consumption. I try to sew more and buy less. I think of sewing my own clothing as "slow consumption", (you know, like slow food, only clothing). First there is the shopping of fabrics – fun! Then there´s the entertainment of sewing – more fun! And then wearing your own unique clothing – even more fun!
4. What is your favorite and what is your least favorite thing about sewing?

My favourite things is collecting fabric and planning projects in my head. And sewing them of course. And putting the scissors in a fresh new fabric. My least favourite thing is transferring the pattern to the fabric. I do it on the floor, because I don't have a big enough table, and it makes my back hurt.
5. If you could make something for anyone who would it be and what would you make?

A collection of stylish and personal office clothing in eco-friendly materials, for myself. Or something for my husband, a button down shirt maybe. Or for my little brother, who is a very picky customer. That would be a challenge.
6. What are you looking for on our site? What do you think should be improved and what do you really like?

I come to BurdaStyle for patterns, inspiration from all the member's creations. I've recently started to read more and more "how to's". I also read the blog and the forum. Basically everything on BurdaStyle is of interest. The forum is a bit difficult to navigate. I suspect that some interesting threads are buried. Maybe change the forum so you more easily find recently written replies?
7. What is your motto?

When it comes to sewing, my motto is: "When in doubt, baste!". I'm a painfully slow and cautious sewer, and I almost always make a test piece in some old fabric, before starting with the real fabric. I wish I could be more daring, and just whip something up.
Annika's great creations combine the perfect amount of color and style to create a balanced stylish look. Great Job!