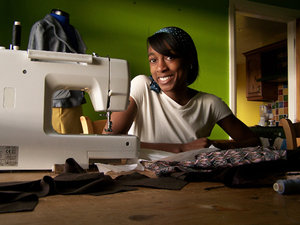 1. Where are you from and/or where do you live?

I live in a town called Thornhill which is south of Leeds in West Yorkshire UK, although I was born in south east London and moved up to Yorkshire a year ago.
2. What was the 1st thing you made? How did you start sewing?

I think the first thing I made was a scarf. A family friend came to stay for a while when I was young (about 7 years old) and while she was with us she taught me how to knit. I think this is when I started to make things with textiles, before I would just make crafty paper objects and toys. Before I had a sewing machine I would sew cushion covers by hand but they looked awful! I never really thought I would be able to make actual clothing but then my mum (after much pleading) bought me a sewing machine in my mid teens and I started buying simple patterns and trying them out. The first good things I made were a couple of skirts. I got the fabric for the brown skirt from a market stall in Lewisham and for the grey skirt – I found the fabric on the floor after the market had packed away! -although cheap, I still wear these skirts today!! (see homepage pics)
3. What role does sewing play in your life?

Quite a big role! I have always thought of my sewing as just a hobby, however since discovering BurdaStyle and all the great creations on the site and on members blogs I would really like to take it further and combine it with my graphic design work. Before I got back into sewing I would only knit things every now and again but now i'm sewing everyday and trying things I really thought I would never be able to make, like jackets and trousers.
4. What is your favorite and what is your least favorite thing about sewing?

My favourite thing would be the sewing up of the garment. I just love how the pieces suddenly transform into something that can be worn. And also altering patterns to see what interesting shapes and details you can come up with . My least favourite would be unpicking seams, it just feels like your not making any progress.
5. If you could make something for anyone who would it be and what would you make?

I would like to make some dungarees for my husband. He has wanted them for a while but I can't find a pattern anywhere for him, so if anyone knows please let me know! I would like to try menswear a bit more but at the moment there's lots for me to learn about womenswear first.
6. What are you looking for on our site? What do you think should be improved and what do you really like?

I, like some other members was looking for free patterns to use, but I not only found that, but also a wealth of great creations made by people of different backgrounds and abilities – this is what I love! the fact that there are so many inspiring creations and you can easily have your own page to show your creations to others and get feedback, even from those who are thousands of miles away!. Every member has different influences which surround them in their community and country but with the BurdaStyle site even if you're not in the same country you can still link up and be influenced by them and their creations.
7. What is your motto?

Have nothing in your house that you do not know to be useful, or believe to be beautiful"
William Morris
I would always seek to try and make beautifully useful things!
Bola only joined a short while ago, but has quickly become one of our most prolific members. Her great eye for design is evident in all of her creations. Visit her at RedBubble to purchase some of her graphic designs.