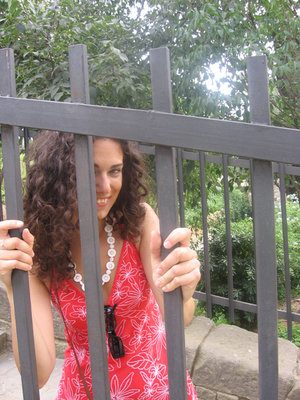 1. Where are you from and/or where do you live?

I was born in Belgrade, Serbia, and that's where I've been living ever since.
2. What was the 1st thing you made? How did you start sewing?

I suppose I started as a really young child, when I was 5 – 6 years old. I remember I used to make clothes for my Barbie dolls. I have always been interested in various creative hobbies – knitting, weaving, painting. When I was 15 I started sewing for real. I had a huge stash of Burda magazines that my father had been buying to my mother during the years, even though she didn't sew clothes. So, that was my starting point. I used to recycle old garments and make new ones out of them. I had no one to guide me, so I had to learn by try-and-error method.
3. What role does sewing play in your life?

Oh, it's a major thing to me. It is a way to express my creativity, more than a way to save the money (though it does save my money!). Plus, I love manual work, it calms me down when I'm nervous or sad. And the result always cheers me up :).
4. What is your favorite and what is your least favorite thing about sewing?

I don't like to cut the fabric and interface the pieces – especially when there's a lot of pieces. I find it very boring. And I love the sewing process and its outcome. Sometimes I can't force myself to stop and take a break; I get so involved with sewing that I don't eat nor sleep before the garment is finished.
5. If you could make something for anyone who would it be and what would you make?

I don't have any particular person on my mind. But, I love costume parties, and I'd love to make some avantgarde costumes.
6. What are you looking for on our site? What do you think should be improved and what do you really like?

Ever since I joined this site I increased my sewing skills so much. Members are so cooperative and kind, and I am so grateful for their devotion and time they take to write instructions for some tricky details. In return, I'm trying to participate as much as I can. And, of course, I'm always getting new ideas while browsing through other members' creations.

And site improvements? Recently I participated in one forum post on the site, and my wish list out there :).
7. What is your motto?

Break your own bounds!
AnaJan has uploaded 69 of her amazing creations on to BurdaStyle. In addition to that she has created two great How Tos and two very popular patterns. Thank you for contributing so much to this site, we can't wait to see what comes next from you!