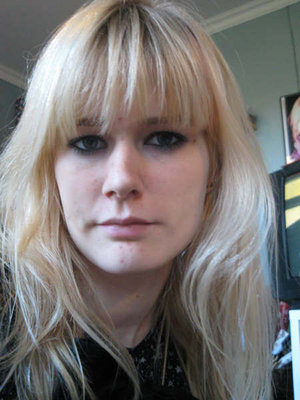 1. Where are you from and/or where do you live?

I'm from Kgs. Lyngby, Copenhagen, Denmark. There I lived whit my mother and a younger sister. For a short time I stay in Skælskør. I'm 21 years old.
2. What was the 1st thing you made? How did you start sewing?

Clothes for my Barbie I think. I have sewn as long I can remember, and as years have past I been better sewing and special for me. I love to sew dresses. But now I have so many dresses that I want to sew sewn other things, like blouses and blazer. I have sewn many make-up-bags for my friends.
3. What role does sewing play in your life?

Everything, I sew almost every day and when I don't sewing I think about it or looking for some inspiration. I want to live off sewing one day and have my own little shop. I also make other things, like earrings, bracelets, knitting and repair old furniture.
4. What is your favorite and what is your least favorite thing about sewing?

I love that people can make so beautiful things out of so few things. I'm not satisfied before my creations are perfect. Some times that's a mental problem for me!
5. If you could make something for anyone who would it be and what would you make?

I want to make clothe to the Danish singer Pernille Rosendahl from The Storm. It could be some kind of dress or jeans and shirt in black. I would use leather, pieces of laces, tutu, silk, feather and pearl.
6. What are you looking for on our site? What do you think should be improved and what do you really like?

I'm looking for pattern and inspiration from other members, and out of that I create my own still.
7. What is your motto?

I don't have any motto, but all my creations are labeled with "J.C.MUNCH" and my logo.
Jåne creations are sweet and at the same time very rock and roll. Check out her favorites!