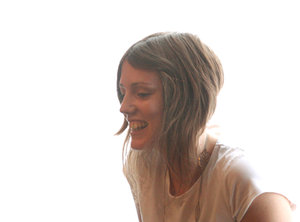 1. Where are you from and/or where do you live?

I am originally from a small town called Braintree in Essex, I moved south about 6 years ago to study fashion at Winchester School of Art and now I live in the Dock City of Southampton in Hampshire, UK.
2. What was the 1st thing you made? How did you start sewing?

I first made a quilted tea cosy shaped like an elephant when I was about 10. I remember thinking I was the bee's knees when I proudly gave it to my mum. I imagine she still has it in the loft or a cupboard somewhere. I think the first item of clothing that I made was a fairly awful blue and yellow corduroy top with a big ruffle down the front. If I can find either of these things I will definitely upload them so everyone can have a giggle.
3. What role does sewing play in your life?

I did a degree in menswear and designed and made an entire collection for a catwalk show at Graduate Fashion Week and also got chosen to show in Barcelona. I loved it but it was quite intense and I didn't really sew for a few years afterwards. I started again when I inherited my Nan's sewing machine. I am now slowly converting the spare room into a studio and have been designing a lot more. After a boring day at the office I love being able to come home and do something rewarding and creative. I would like to work in fashion design, ideally with my own website or shop with my friend Anna. Anna and I can be talking about anything together but the conversation will always come back to sewing. We have set up an Etsy shop (everythingforever) and getting my first order through there was amazing so for that to be my daily job would be really uplifting!
4. What is your favorite and what is your least favorite thing about sewing?

The part that stumps me is when I have to make decisions: I feel like I could make the same garment about 100 times with little variations. I will get excited about 3 different types of buttons or get torn between two colours of fabric and hate the moment when I have to choose. This indecision also creeps in when I am pattern drafting which makes the whole process a bit long and painful. I also think that someone should have invented a better way of attaching the pattern to the fabric for cutting out as pins are such a pain. It sounds like I generally hate the whole process but I do love pretty much everything else from having the beginning idea (or fining an awesome pattern on Burda) through to sewing, doing the finishing touches (I love making buttonholes) to wearing, selling or giving the finished garment away as a gift.
5. If you could make something for anyone who would it be and what would you make?

For me it would be making cool clothes for "normal!" people. I'd love to develop a collection for a concession in a store like H&M. It would be awesome to walk down the street and see people wearing something I've designed.
6. What are you looking for on our site? What do you think should be improved and what do you really like?

I stumbled across BurdaStyle by accident and was so amazed and grateful at the service you provide. Free (or really cheap) patterns for everyone. Hooray! I really like seeing so many other people making things and offering their knowledge to others, I think that people are really getting into sewing clothes and home wares for themselves again which is great because sewing is a skill that shouldn't die out. Having the ability to comment on other peoples creations and to receive comments is great. It would be good to have the option to receive an email if someone posts a comment on your garment or sends you a message. And as suggested above, a gallery of the first things that people ever made would be fun!
7. What is your motto?

It's not mine but it's a sentiment that I quite like:
"You can't build a reputation on what you are going to do."

- Henry Ford
Follow CandyJoyce on her blog, her Facebook group and make sure to check out her awesome Etsy shop. Also make sure to check out her top ten favorite BurdaStyle creations