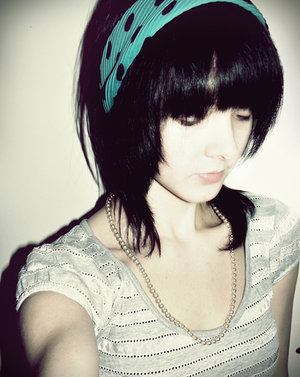 1. Where are you from and/or where do you live?

I'm from Germany. I come from Halle/Saale and now study in Flensburg.
2. What was the 1st thing you made? How did you start sewing?

I didn't really start with sewing, i started stitching. There were tons of boring jeans or shirts that i would stitch stars on, or pictures of 'Emily Strange' because i didn't have the money to buy the clothes (later I used fabric colours). Then i moved on to making easy things like skirts of old dresses/shirts and tote bags and those felt puppets that are on here too.
My mum and her sisters have always made their clothes by themselves. And I am glad I grew up in a family where handcrafts were still something normal. Otherwise I would have never started sewing. Plus we have all the stuff you need for sewing, I never needed to buy zippers or buttons or anything like that. My mum knows a lot about sewing and can help me with everything.
3. What role does sewing play in your life?

I haven't been sewing that much before. Only a few pieces a year. And then I've spent a year abroad where I didn't have time for sewing nor did I have my beautiful sewing machine with me. But now I finally rediscovered sewing as a passion of mine. I dared to use patterns too – I've always been afraid because they look so confusing. And now that I have holidays I started making one piece after another and am really surprised and proud of what they came out to be. I've never thought I could sew a vest! My next aim will be making pants!
4. What is your favorite and what is your least favorite thing about sewing?

What I love about sewing is creating something unique and let your fantasy play. You can imagine your perfect prom dress and try sewing it. And although it might not be perfectly made, it will still be the best dress ever because you put so much effort and love in it. And it means a lot more than any bought dress.
Or that old shirt of your mum that has a history of itself and that she didn't throw away yet. You wouldn't even think of wearing it because it shows the belly or whatever. But since the fabric is so nice you can make a top or skirt of it and continue the history of that piece.
What I don't like about sewing is first of all that fabrics are way too expensive. Nowadays clothes are so very cheap. So why spend lots of money on fabric to create something? For me – as an admitted shopaholic :D – it takes some motivation to get away from buying clothes and rather create unique pieces myself.
And then most creations take tiiiime. I always get so excited and want to see the result as soon as possible (I think that's also why my creations are always so ugly inside haha). For me it's hard to stop before the piece isn't finished, so sometimes there are working nights involved. Because if I'd stop it is most unlikely that I continue the next day.
5. If you could make something for anyone who would it be and what would you make?

Currently im really into the series 'Gossip Girl'. It's a great series and with lots of stylish clothes that inspire me. If I could sew something for anyone, I would like to make a dress for one of the characters – my favorite one is Jenny Humphrey, she creates clothes too :] – and she would wear it in the series.
My own self made wedding dress will definitely be on the list too.. when the time comes.
6. What are you looking for on our site? What do you think should be improved and what do you really like?

I really love this site. You get to know other sewing addicts all around the world, can find patterns and share them, the how to's are very cool too, you can post your creations and see what others think of it and you get a lot of inspirations by the creations of others!

But I think patterns on here should be for free. I heard that they used to be.. And having to scale each picture to 400×555 pixels it really annoying too.
7. What is your motto?

Don't throw away clothes. Fabric is so expensive that you should think twice before throwing something away. There is always something smaller that you can make out of it!
Lizzie225's incredible creations have been catching our eye every time she uploads a new one. Check out her top ten! .