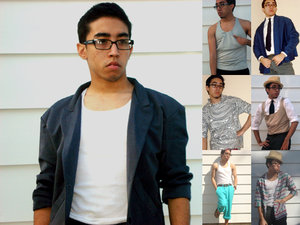 1. Where are you from and/or where do you live?

I live in New Jersey, in a little town or actually a borough called Riverdale. It's cute but very quiet.
2. What was the 1st thing you made? How did you start sewing?

The very first thing I made was a sweater that was this gray cashmere with black buttons , which took some time to get the sewing done just right, since it was my first project. After I had finished it , I wore it to work the next day and everyone loved it, but when I got home I accidentally put in the dryer after the washing machine and it shrunk . A couple of years ago, I started sewing certain things that I wore that were either getting torn or worn out from use and started to fix them by hand until later my sewing developed to a point where I can make my own clothes. My aunt had such a profound influence on me because she knew how to sew and would fix and sometimes make clothes for me.
3. What role does sewing play in your life?

At this point in my life, sewing is a necessity because I rarely go out to buy clothes because its too expensive especially now and would rather make it with fabric I can buy to make shirts and pants that's less than the retail price in certain stores. Since I have a sewing machine, it is probably the best investment I have ever made.
4. What is your favorite and what is your least favorite thing about sewing?

My favorite thing about sewing is the process of making the pattern and actually sewing the pieces together. Its like solving a puzzle with great results at the end once it fits perfectly. The least favorite thing about sewing is that I sometimes brake the needle which is a pain to replace, especially if it's late at night and you want to wear that garment the next day.
5. If you could make something for anyone who would it be and what would you make?

I would love to make an outfit for my aunt because she was the one who got me into sewing and right now she is in Iraq for her second tour. I would love to make a cute dress for her so she can wear it to work or to parties because she deserves it and she would be thrilled to receive a gift from her nephew.
6. What are you looking for on our site? What do you think should be improved and what do you really like?

When I first looked at this site several months ago, I really liked how everyone posted everything they created for others to see and it was very unique for a site to show handmade clothes or how to's. This is what intrigued me into looking for other people who can be creative and make a plethora of garments just like me. I love the how to's and wish it came with like a video or like a youtube- like instruction guide to make certain clothes. Other than that, I think the site is one of a kind because there really is no other site like this.
7. What is your motto?

My motto is to live your life to the fullest because you have only shot at this and you can't exchange for another one.
Jem1022's wonderful creations are so imaginative and unique that it's nearly impossible not to feature them. As you can see, he has an amazing eye for design and style that just draws the viewer in. Check out his favorite top ten creations on BurdaStyle and keep up the great work!