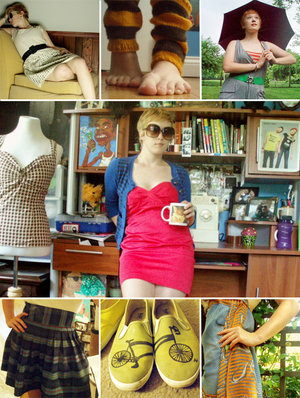 1. Where are you from and/or where do you live?

I have lived in a suburb of Nashville Tennessee for all but one year of my life and have finally begun to appreciate this region for its craftiness and thrift stores. It can get pretty country out here in a city only known for music, but if you know the right places to go for a drink or or a craftacular you will definitely survive.
2. What was the 1st thing you made? How did you start sewing?

I can't be sure of the first thing I made but I can take a good guess that it was a macaroni necklace, or something else with pasta. There have always been projects to work on for as long as I can remember, which set a good foundation for craftiness later in me. It wasn't until high school that I began to investigate the DIY way of doing things, but I was really into thrifting and eventually taught myself to sew so that I could rearrange the old pieces and band t-shirts to fit in a decent way. Soon after I became a knitter and have spend the last 4 years learning more.
3. What role does sewing play in your life?

As an knitter and apparel design student sewing plays a huge part of my life now. Not only has it vastly improved my Etsy shop, but now I can create any piece of clothing I am inspired to, be able to sell it, and sincerely enjoy what I am doing. It always surprises people to meet a 21 year old that is so into knitting and sewing, but I love it and haven't looked back since learning! The past few years have been devoted to learning and creating my shop, Ravelry page, my blog Kerseymere, and my account here on BurdaStyle.
4. What is your favorite and what is your least favorite thing about sewing?

The best part of any project for me has to be when you get to take lots of pictures of the finished product, which is something I love to do anyway. As for the worst it would have to be cutting out the pieces, because I always seem to get really bored during that step.
5. If you could make something for anyone who would it be and what would you make?

Hmm…lets see, if I could make absolutely anything it would have to be some kind of couture dress, but a cross between something that Christian Joy would make and something Miss Van would paint. Once this amazing piece is real I'm not sure what I would do with it, maybe keep it on permanent display for inspiration or something.
6. What are you looking for on our site? What do you think should be improved and what do you really like?

I absolutely love this site and have seen it grow tremendously over the last year! I do love that there are free patterns and am very happy that the site kept them, yet would love a few more baby items as well as knits. Also I like that we are able to have friends, but wish we could interact a bit more somehow. As for the beta site, I really like the photos, especially the "best of " months, and that there is a wall now. I cannot wait until it is ready to be the main site, and will continue to use it often to try it out.
7. What is your motto?

"I could make that!" is something that comes out of my mouth often, especially when in places like American Apparel or some cute boutique that specializes in simple clothing I cannot afford.
Ashchaser has some awesome creations. Take a look at some of her inspiration and don't forget to take a look at her store and her blog