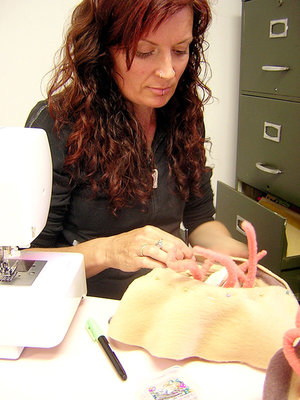 1. Where are you from and/or where do you live?

I was born and grew up in Bournemouth on the south coast of England but since I've moved about a lot. I spent 3 yrs in Portugal and Spain and 8 yrs in France and now here I am in Vancouver, BC. We've been here for just a year and love it!
2. What was the 1st thing you made? How did you start sewing?

The very first things I remember sewing were little felt mice and bears. My brother and I spent lots of time with our grandparents and they were both pretty good at various crafts and happy recipients of anything hand made by us. My grandmother used to knit all the time so I guess it was natural that I had to sit there creating too.
3. What role does sewing play in your life?

My sewing passion really took off when my son was a baby and I found myself a little isolated and in need something to help fill my days, I got a sewing machine and started to make clothes but soon went back to my first interest of making toys. Sewing is something that I do for me. Its all to easy to lose track of yourself in all the day to day sewing and creating helps me to express myself as an individual.
4. What is your favorite and what is your least favorite thing about sewing?

My favourite thing about sewing is that moment when it all starts to come together, when what was once a piece of flat fabric takes on a whole new life. My least favourite thing is cutting out, with toys its very often fiddley and time consuming.
5. If you could make something for anyone who would it be and what would you make?

I would love to make some kind of outrageous toy for Jean-Paul Gaultier…I admire him so much! He was once stood behind me looking in a shop window in Paris and I was too star-struck and shy to speak to him…what a missed opportunity!!
6. What are you looking for on our site? What do you think should be improved and what do you really like?

I look for inspiration and great clothing patterns on BurdaStyle site. I think the How to section could be a little easier to navigate but it really is a wonderful site a mne of information and the patterns are really up to date.
7. What is your motto?

My motto as far as sewing is concerned is measure twice cut once..or is that woodwork?
Scrumptiousdelight's creations are awesome, just plain old awesome. Check out her top ten favorite creations. You can find photos of her creations at her Etsy shop or at Flickr. You can also see them in person at the London Miles Gallery in London. Also at Stitch Wars in Florida and Mortal Plush