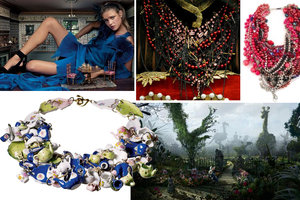 I tend to see the world through rose colored glasses and find heaps of inspiration hidden within innocent fairy tales of imaginary lands full of beauty and intrigue. There is a bit of a resurgence of fairy tale fashion happening now, and I'd like to see more of it. Tim Burton's Alice in Wonderland comes out sometime this year, Roald Dahl's novel adapted for the screen by Wes Anderson, Fantastic Mr. Fox, the stop animation wonder made quite a splash, and we'll never forget our childhood favorite fairy tale coming to life in Spike Jone's Where the Wild Things Are (which I have yet to see as I've mixed feelings).
I have to say, cinema this year (well, last year really) has been right up my alley. There were 3 fashion documentaries worth mentioning, Valentino: The Last Emperor (loved the pugs! loved the seamstresses!), that Vogue one where Grace Coddington really steals the show- talk about someone who lives in a fantasy world! and Lagerfeld Confidential was just plain surreal. Remember how his fingers were always dripping in Tom Binn's rings? Well, Binn's just keeps on getting better & better (and more famous which makes me sad, but happy for him I guess): Binns has designed a 35 piece collection for Disney Couture with prices ranging from $100 to $500 which will appear on a larger scale in stores such as Bloomingdale's, Macy's and boutiques including Kitson and Fred Segal. It features tea-cup necklaces and heavy, macabre, decadent body decor.
In honor of Alice in Wonderland, Parisian department store Printemps asked Alexander McQueen, Christopher Kane, Bernhard Willhelm, Haider Ackermann, Manish Arora, Ann Demeulemeester and Maison Martin Margiela to invent one-of-a-kind dresses for Alice. These beauties are pictured above, as is Binn's Alice jewelry.
So out with it! Who is making fairy tale fashion out there? I want to see pictures! xoxo