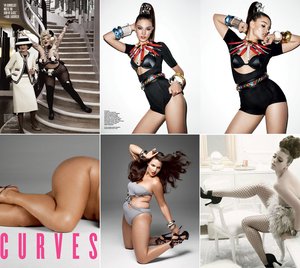 On January 14th, V Magazine's size issue hits select news stands and there is already much buzz about over the argument of professional models vs. "actual, real, normal, regular, realistically (or whichever term you choose)" proportioned women. V magazine, which is known for pushing the envelope on fashion journalism, invited Karl Lagerfeld (infamous for being "fat-phobic"), to shoot a fashion spread of burlesque dancer Miss Dirty Martini for the issue (pictured above left), after Lagerfeld called German magazine Brigitte "absurd" for banishing professional models and depicting real women in their pages for good. Renegade fashion photographer Terry Richardson shot a professional model next to a "normal" sized woman (pictured above right) for the issue as well. Does one look better than the other? Don't they look like Photoshopped images of the same girl? A couple of years back fashion officials in Madrid set a minimum body-mass index for runway models. Efforts gained urgency after 21-year-old Brazilian model Ana Carolina Reston died of anorexia in November 2006, weighing only 88 pounds (40 kilos). Clearly some changes need to be made in the industry.

I know we've heard much from BurdaStyle members about wanting to see more patterns for realistically-sized women's bodies and your desires for us to utilize actual "plus-size" models for our larger sized patterns (as you've quite pointed out that our beloved Alden is not plus-sized according to the real world) in photo shoots. It's too bad we cannot afford Hungry author and international plus-sized model Crystal Renn (bottom right), who I find absolutely stunning, with her Natalia Vodianova eyes & pout, to pose for us. She is the only plus-size model to have ever appeared on a Harper's Bazaar cover and has been spotted on the runways of Vena Cava and Heatherette. Lets hope this trend will stick.

What do you think of the use of professional models? Would you like to see larger women on runways? In magazines? Do clothes look better of waif-like figures?