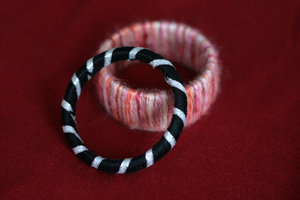 If you have a few too many plastic bangles on hand, turn them into stylish yarn- and ribbon-wrapped bangles, particularly for the fashionistas on your holiday gift-giving list. Festive stocking stuffer, anyone? These are quick to whip up, and if you are a knitter and crocheter with yarn lying around, you already have most of the supplies! Learn how to make them <a href= "http://www.burdastyle.com/projects/assorted-fabric-bangles&#8221;&gt; here.
This perfect Last-Minute Gift is brought to you by Alicia Kachmar. Alicia Kachmar is a jane of all trades, born and raised in Pittsburgh, but now living in New York City. Formerly a teacher at such institutions as The New York Botanical Garden and The New-York Historical Society, she is currently a writer and runs a crafty business on <a href= "http://www.etsy.com/shop/EternalSunshine&#8221;&gt; Etsy and beyond, crocheting up smiling and frowning objects like safety cones, s'mores, silver-lined clouds and gourmet cheeses. Have a crochet design challenge for her? She loves those! She also enjoys long bike rides, collecting and wearing vintage aprons, baking pies, reading classic novels and generally adventuring. Check out her <a href= "http://www.aliciakachmar.com/&#8221;&gt; website!
We can't wait to see your fabric bangles!