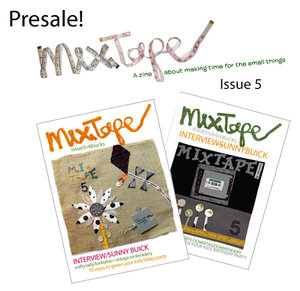 Most of you know our wonderful Nikkishell, her great Sew Alongs and even her Mini Challenges but what you may not know (though you should) is her great craft magazine MixTape. If you haven't been following the zine, you should. The MixTape zine talks about all the great projects that are being done, news in the craft world, book reviews, how MixTape is doing, what will be coming up next and much, much more. The 5th issue of MixTape features articles like:
 Sunny Buick Interview, Lowdown on Lino, 
10 ways to green your kids birthday, 
book reviews, 
Crafty Lady Profile "Claire" aka loobylou 
and tons more! This issue is now available for presale! So, go to the site, read the blog and catch up on past issues
or get your copy of the newest MixTape today!