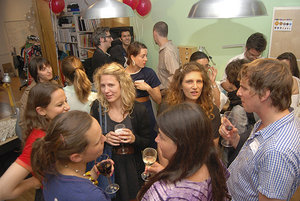 Check out the <http://www.burdastyle.com/albums/5/images&quot;&gt;photos
The studio almost burst with the amount of people that came- we had to take out furniture, even our beloved pattern table.
The room was certainly abuzz with creative energy. We had a good turn out of members: (wzrdreams, Kasia26, cmintrator, Desira_Pesta, bellamabella, motozulli, Julia) as well as tons of smart and creative people from DIY, fashion, media and the online scene.
Some of the people who have inspired us through the years joined in our celebration. Admired Esther Dyson came, Robert Kalin, founder of Etsy (who taught Benedikta and Nora Illustrator and got them on the opens source track), Etsy's new CEO Maria Thomas – super nice and smart! – as well as tons of our Etsy friends.
We were especially happy to welcome independent designers that use BurdaStyle patterns for their line! Check out the following:
- Layla Delridge Ledthread

- Das Design Team ruffeoheartslilsnoty

- Desira Pesta Desira Pesta
And of course our sweet new addition to BurdaStyle contributor Alison Kelly (known from Project Runway, who is always wearing her beautiful line Alison Dahl) and also a young guy named Alex Yoo (founder a fun site where you can design men's shirt online: alexander-west.com)
People were certainly having fun and celebrating all that is BurdaStyle: "Awesome party — very colorful! Burdastyle is a fantastic idea, and it's great to see it flourishing. Viva la DIY!" says Tom Bennett of Pond5.
After Benedikta and Nora introduced team and welcomed the guests we turned up the music and danced like there was no tomorrow. As Robert Kalin from Etsy said, "The dance floor was as jumpin' as BurdaStyle's online community, with joy until late in the night." Unfortunately we did remember there was a tomorrow and decided to pack it in. Though it was certainly hard to get Jeff (Hikru's fiance) and Mike to stop (break) dancing. As everyone left they got a bag of goodies: personal measurement cards, buttons, and lollipops.
There was a lot of work that went into this party and we just want to take a minute to give the team a shout out: We all worked hard on our customized T-Shirts, playing around with Hikaru's iconic button design. Alden organized the party with the huge help of Layla. Juniors was responsible for our big super cheese-chocolate cake, picked up by Sabsi. Tristan caught the perfect mood with the perfect music. And finally to everyone who contributed and attended the party, thank you.
There will be a video next week, stay tuned!
Check out pictures:
Antwan Duncan was our photographer and his pics really captured the moment.
And Bre Pettis took some awesome photos, as well!