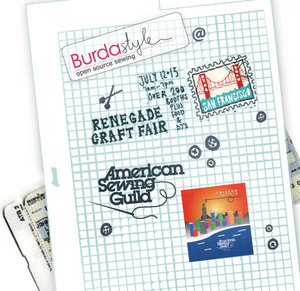 We are so excited. As we said yesterday in our Letter From the Editors, we have big plans this weekend.
BurdaStyle will have a booth at the first Renegade Craft Fair in San Francisco. It will be July 12 and 13th from 11 am to 7 pm, at the Fort Mason Festival Pavilion. Admission is free so you have no excuse not to show up. We will have lots of goodies for all of you that stop by; really cool buttons, stickers and more. We will be there with fellow Brooklynites and friends from <a href"http://www.etsy.com/&#8220;&gt;Etsy and "http://www.threadbanger.com&quot;&gt;ThreadBanger along with over 300 other vendors! If this Renegade is anything like the ones in Chicago and Brooklyn, it will be incredible. If you are in the Bay area shoot us an email and come stop by our booth. We are excited to meet everyone from the other coast.
All of you in the mid-west do not fear, we are not ignoring the central time zone. Nora will be in Chi town at the American Sewing Guild annual conference. It is being held at the Hyatt Regency O'Hare and it should be a bunch of fun. If you are around make sure you find her among the crowd.
Have a great night and see you this weekend (hopefully).