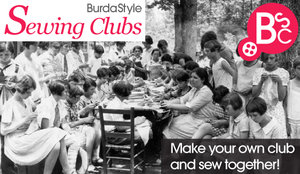 The BurdaStyle Sewing Clubs are up and running! Since we introduced the concept to the BurdaStyle community in April, we have had such a wonderful response from people like you who were willing to share their love of sewing with fellow members. Many of you have begun to establish regular meetings, and have already started to tell us how fun meeting like-minded sewers is. We are truly thrilled, and look forward to hearing more on the progress of your clubs!
In order for you to promote your club on blogs and social networking sites, we have designed a custom Sewing Club Badge for you, which you can display on your blog or website. Each badge contains your specific city and state (or city and country for international leaders), in order for interested people in your area to know about your fabulous BSC. Other people who may not live in your area can follow the link and find a sewing club in their city too!
Sounds good?
Send us an e-mail at team[at]burdastyle[dot.com, Attn: Sewing Club Badge. Include your city and state, or city and country, and we'll send you the file. Each badge is a 125px square listing your club's city and state.
And join our BSC Flickr Group too at http://www.flickr.com/groups/burdastylesewingclub/, where you can post pictures of your group projects, snapshots of members and anything else from your Sewing Club fun. Leaders please tell your club members to join as well!
We have also created a Forum group on the BurdaStyle website just for Club issues. Tell us how we could help to make your club a success, and connect with other BurdaStyle members, including prospective members for your club.
We also need to make sure that all our information is up-to-date. To be sure, we need the following from all BSC Leaders:
• The number of members in your club.
• The names of each club member.
• Weekly, Bi-Weekly or Monthly Meeting Dates (if established)
• Meeting Times (if established)
• Meeting Location (This can be the meeting address or, if you prefer, just the city and state)
• Group Website, if created

This information will help us to connect interested members to you, and help us plan future incentives for BurdaStyle clubs, including the upcoming Club Packets.

Thank you so much for your hard work and dedication. We look forward to receiving more updates on your sewing clubs!
Best,
David from the BurdaStyle Team