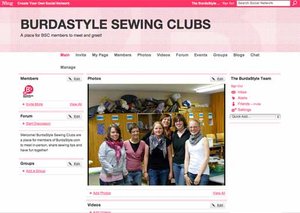 With over 200 BSCs in existence, we wanted to create a place for all the clubs to meet and mingle. Share group pictures, discuss sewing tips and techniques, and plan group meetings with BSCs all over the world on our Ning social networking site! Go to BurdaStyleClubs.ning.com today to sign up and start the fun!
BSC Leaders should create groups for their clubs. Please title all groups as "BSC [City, State, Country],"or "BSC [City, Country]" if international, in order for members and prospective members to easily find your club.
If you have not done so already, join The BurdaStyle Club Flickr group, and post pictures of your club meetings, group creations and anything else you'd like! Feel free to send us group photos directly too! Send them to team[at]burdastyle[dot]com along with a short description of the group's last meeting itinerary and information on your next meeting date.
Also, be sure check out our new forum category at burdastyle.com/forum/. Scroll down to the second to last category to advertise your club, offer comments or suggestions or meet other club members!
Interested in creating a sewing club in your area? Send an e-mail to team[at]burdastyle[dot]com. And for a complete list of all the current BSCs, please visit http://www.burdastyle.com/blog/show/917.
Best,
David
BSC Coordinator