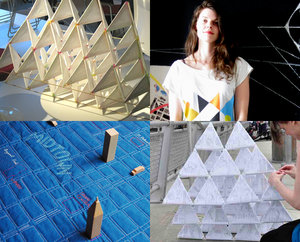 Artist Emily Fischer talks with us about creating kites for FlyNY and the creation of her soft maps. If you haven't checked out her creations, head on over to Haptic Lab you will be blown away.
How did you become involved in Fly NY?
I had a brief abundance of time in spring 2009 to indulge in the discovery and practice of kite-making; after I was laid off from my job in architecture I had to channel my superfluous creative energy somewhere.
Are you participating in this year's FlyNY? If so, what is your concept for this year's design?
Yes. My entry is called "Sky Mirror", made of five flat 24" faceted mylar panels connected by nearly invisible translucent zip-tie hinges (a rather humble detail that took me days to figure out- it's always the simple solutions that are the hardest to arrive at). Sky Mirror is inspired by the work of artists such as Olafur Eliasson who create interventions that disrupt or reveal natural phenomena. The kite is highly reflective, which makes it almost invisible in flight. It mirrors the sky (not the ground below) because of the way the kite string loops around the facets, turning the panels out when the wind blows- it looks like a silvery cloud. The kite also reflects the sun, creating ribbons of reflected light on the ground that look like glowing smoke.