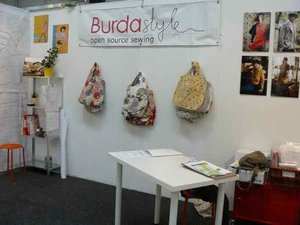 The Melbourne Stitches & Craft Show is only a few days away (update: 11 – 15 March! )and I will be there representing BurdaStyle. Not only will there be a BurdaStyle Fashion Show each day showcasing some of our favourite garments but i will also be running a Charlie Bag workshop. Stop by our stall in the Exhibition Pavillion to hang out and have a chat, we're alongside the Wardrobe Refashion Reconstruction Zone and right near the Incubator which is full of wonderful Indie Crafters.
Other stuff happening at the show include:
The exclusive Australian premiere of Handmade Nation
FREE Craft Bars where you can have fun with papercraft, sewing, knitting or embroidery. Simply turn up, choose your "craft cocktail" from the menu and have a giggle!
Blogs Unplugged Meet your global community for a chat, or update your own blog. Swing by and meet some of the faces behind your favourite screen names
ThreadBanger Our fabulous friends will show onstage screenings of their well-known online 'How to' classes in a video format
There is much to learn in the Craft Labs and Studios,competitions, and oh so much more!

See the Show Guide for what's on.