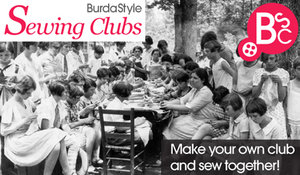 [Updated 7/1/2011 – For information on how to start a club or connect with one of your own, please visit this dedicated blog post.
Badges to promote your BSC can now be found directly on site. Download them here.]
Several members have expressed the wish to meet with other sewing enthusiasts near them. So we thought it would be great to help initiate BurdaStyle Sewing Clubs!
A BurdaStyle Sewing Club (BSC) is a group that meets regularly to discuss sewing related issues. Each one is uniquely tailored to fit its members, and each leader is given control over what is discussed, taught and created.