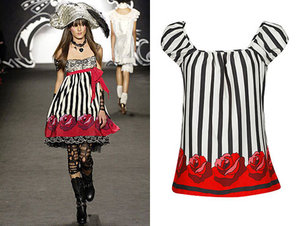 Above: left, dress from Anna Sui's Sring 2007 RTW; right, Forever 21's Maven Top from nitrolicious.com nitrolicious.com
Below: Acne's cage skirt; Norwegian Wood's cage skirt; Topshop's cage skirt
"It's time for those who rip off the work of others to know that it just won't fly anymore." – Zac Posen
Where does inspiration stop and flat-out copying begin?
A bevy of designers, including Zac Posen and Diane Von Furstenberg, have been fighting for the Design Piracy Protection Act for quite some time. Currently, no law exists in the US to protect clothing designs from copyright infringement, which is why it's so easy to buy a knock- off of the handbag you've been coveting on Ebay or Canal St.
If this bill is passed, what does this mean for the indie crafting world, as well as the fashion industry as a whole? On one hand, it would ensure that indie designers, who have quite often been victims of intellectual theft by bigger companies are better protected; it would mean that all the hard work gone into designing and creating clothing for sale are not all attempted in vain.
On the other hand, will the bill potentially stifle the creativity of young designers and crafters? Painters and artists often exchange ideas- in the past, this inspired artistic movements. When asked about their favorite fashion designers or influences, fashion students usually have a long list of names they're able to recite by rote.
How does one specifically pinpoint where design elements come from, or who they've truly been inspired by?
Additionally, there are those who argue that imitation is the highest form of flattery, and that if the clothes made by these high-end designers were made more affordable so that everyone would enjoy them, there'd be no need for knock-offs. What do you guys think?
-Amanda