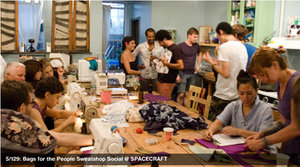 On July 18th, BurdaStyle, Bags for the People & Etsy will be at 303GRAND (in Brooklyn NY) with an all day event called "The Sweatshop" from 1pm-6pm.
Bags for the People is a non-profit organization that provides people with a sustainable alternative to plastic bags. The organization makes re-usable bags from recycled clothing and fabric and handed them out at New York City's Green Markets for free. In addition to giving out free bags, Bags for the People holds workshops and events to help people make the switch from plastic to re-usable and teach the importance of sustainability.
There will be up to 15 sewing machines set up in the store and loads of fabric and patterns available to create a hands-on experience of designing your own unique reusable bag. There will also be sewing tutorials, complimentary drinks and snacks and music playing all day.
Check out the 303Grand website for more information
EMAIL TO RSVP FOR THE EVENT – info@303grandnyc.com