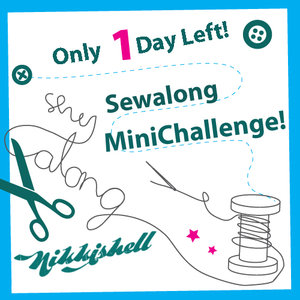 There's only 1 day left for the Sewalong MiniChallenge!
If you haven't uploaded your entry yet, you still have until 11:59 pm U.S. Eastern Time on Saturday March 15th!
Don't forget to upload it into the MiniChallenge Entry category!
RULES:
• You need to be a registered member to take part.
• You must use the Sidonie skirt pattern.
• You must upload your creation into the new 'Mini Challenge' category by March 15th.
• When you upload your creation you must give a detailed description of how you made your version of the skirt, the alterations you may have made and materials used etc.
• How-to's and pattern alterations are encouraged and may earn you Brownie points!
The mini challenge will be judged by you the members. Voting will start on Tuesday the 18th of March, more details about how to vote will be given at a later date. When voting you should take the following into consideration:
• Creativity and variation
• Difference in appearance from original
• Skills and techniques used
• And of course your favourite!
• You can vote once only
Can't wait to see the rest of the creations!
If you are having any troubles uploading your creation, please let us know by emailing answers@burdastyle.com. We will do everything we can to help out!