Backstage Report

Inside Meg's Sewing Studio

Meg did a complete makeover on her studio, click to see the reveal!

Backstage Report

Kit Sale

Shop BurdaStyle.com kits at 50% off!

Editors' Pick

Portrait of a Lady: 7 New Women's Sewing Patterns

Ruffles, flounces and raised waistlines round of this Victorian inspired collection from 09/2016!

Pattern of the Week

Long Sleeve Dress

Need a quick style option? This slightly flared dress slips on effortlessly and sews up quick!

Pattern Collections

Set Sail: 9 New Plus Size Women's Sewing Patterns

Confident, sexy and beautiful encompass this stunning collection from the September 2016 issue
On-Demand Courses
Available anytime you want, no need to wait for a start date. So, what are you waiting for? Let's sew something together!
Some people like to talk about the powerful sound of the engine of their car… but we prefer...

Confident, sexy and beautiful encompass this stunning collection from the September 2016 issue of...

On BurdaStyle.com we sell over 4500 digital sewing patterns! Digital sewing patterns are P...
Pattern of the Week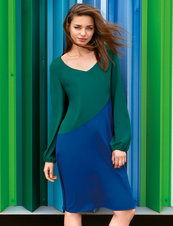 Produced by burda style magazine