Sewing Lesson

Fringe Jacket

Check out this sewing lesson with diagrams on how to make our new fringe jacket pattern!

Editors' Pick

Free Style: 11 New Western Patterns

For fashionistas of all ages! This collection combines the best road trip movie looks

DIY

Mother's Day Gifts

Check these fast, easy, and fun DIY gifts that you can make for your mom!

Academy

How to Rotate a Dart

Check out this video on how to rotate a dart as well as our handy dandy dart guide!

Pattern of the Week

Triangle Back Blouse

This blouse features an open triangle back with strap for support!
Learn How to Create Digital PDF Patterns
This online course will teach you how to create your own patterns in Adobe Illustrator, so you can modify, grade, tile and print your patterns all from your computer!
Info

Produced by burdastyle

Type

PDF

Size

N/A

Difficult

Novice

Rating
Mother's Day is fast approaching and now is the time to figure out what to get… or ma...

Hi BurdaStylers! Here is my finished gold godet skirt, and it fits great (and is fun to wear). Th...

Check out this DIY to see how you can add accent and contrast pockets to your garments!
Pattern of the Week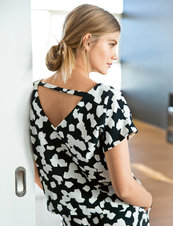 Produced by burda style magazine